One of the funniest comedians in Hollywood, Conan O'Brien has been a late-night television staple for decades. After being a behind-the-scenes writer for other comedians, O'Brien's big break came when he was the surprise choice to host the daily talk show, "Late Night with Conan O'Brien" on NBC, which followed "The Tonight Show," hosted by Jay Leno. After Leno decided to leave his slot, O'Brien was named the replacement, moving to the prime 11:30 time slot. But Leno didn't leave late-night TV — he instead had another show that started at 10 o'clock. Leno's new show "didn't do well. He wanted to go back to the 11:30 spot, and NBC let him do it," NPR recapped. NBC proposed "The Tonight Show" with O'Brien be pushed to after midnight, but the host declined and moved his talent to TBS for ten years with "Conan."
In 2021, "after 28 years of hosting daily late-night shows," O'Brien ended his TBS show. But this wasn't the end for O'Brien, who revealed he'd be moving to HBO Max to host "a weekly variety show on HBO Max." And this is in addition to his podcast, "Conan O'Brien Needs A Friend." O'Brien's life has seemed like a magical ride — working alongside some of the funniest people in entertainment. He's even been a mentor to future comedians and actors. And his gift to be naturally funny has been a constant throughout his career.
Calling all Coco fans, this is the untold truth of Conan O'Brien.
Conan O'Brien's Massachusetts upbringing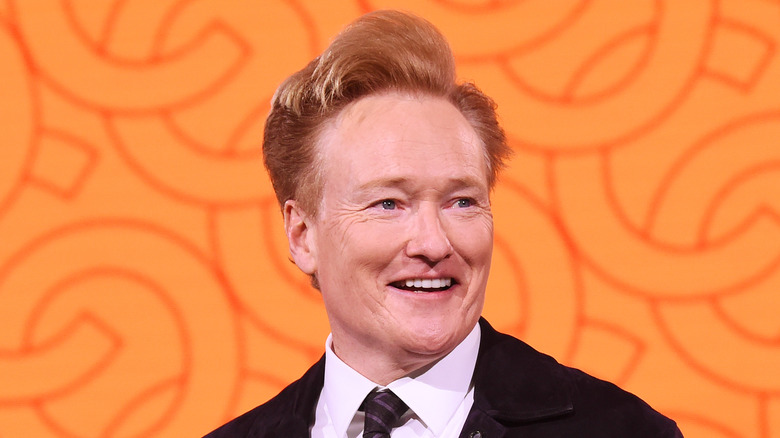 Never one to shy away from his heritage, Conan O'Brien grew up in a huge Irish family. He is one of six children. His mom Ruth was an attorney at a Boston firm but paused her career duties to stay at home and raise her kids, according to Ropes & Gray. O'Brien's dad, Thomas, was "a physician, epidemiologist, and professor of medicine at Harvard," The Boston Globe reported. While in high school, a young O'Brien began to showcase his writing skills. "He was managing editor of the school newspaper" at Brookline High and also "won a national writing contest."
To cap off his high school career, O'Brien became the class of 1981's valedictorian. And alluding to his future career, O'Brien was the student "selected to give the welcoming address at graduation" (via Boston.com). Looking back at his early academic days, O'Brien remembered the influence of two well-educated and successful parents. "So much of my early life is trying to be a straight-and-narrow successful guy," O'Brien remembered. And his path towards entertainment was certainly far from his mind. The comedian recalled thinking, "I should be a lawyer and a statesman."
Life at Harvard for Conan O'Brien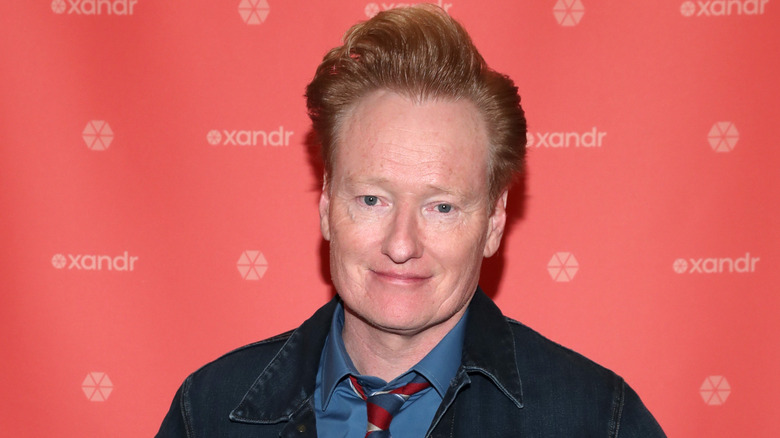 After high school, Conan O'Brien stayed close to home for higher education. He began at Harvard University in 1981, where O'Brien's dad was also a professor. As a writer in high school, O'Brien was looking to join the staff at The Harvard Crimson — the university's daily newspaper. In fact, Jeff Zucker, the former NBC executive, and O'Brien's future boss, was a student at the same time and president of The Harvard Crimson, as revealed by The Boston Globe. But O'Brien's roommate suggested the young man look into joining The Harvard Lampoon instead, a publication focused on comedy. "O'Brien wrote several humor pieces for Lampoon editors, who were so impressed that they named him the only freshman writer chosen that year," Boston.com reported.
Despite the early praise, O'Brien still felt out of place in his new environment. "I came from this public high school, I really didn't know where I fit in. And suddenly, people were pointing me out as 'Oh, yeah, that's the guy that got on the Lampoon freshman year. They didn't take anybody else, and they took him,'" O'Brien remembered. He also confessed to feeling insecure at that time, "especially a place like Harvard where everybody's a genius at something." But O'Brien turned out to live up to a "genius" title. He was elected twice as the president of The Harvard Lampoon and graduated with distinguished honors — magna cum laude — for his American History degree.
Conan O'Brien's famous girlfriend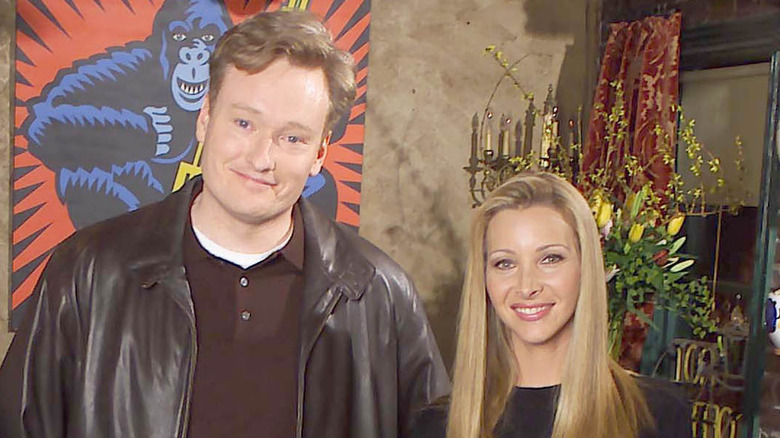 After writing for The Harvard Lampoon, Conan O'Brien decided to try comedy writing as a full-time profession. O'Brien and one of his Harvard classmates, Greg Daniels, both headed west after graduation to live in Hollywood. According to Boston.com, the two young men "lived in a run-down neighborhood and shared a beat-up old car" in Los Angeles. Both O'Brien and Daniels found jobs writing for "Not Necessarily the News" on HBO. The sketch series often featured news clips with witty commentary dubbed over, via IMDb. After a few years with HBO, O'Brien worked for the late-night Fox series "The Wilton North Report." Daniels explained that while at Fox, "O'Brien began creating pretaped comedy pieces (or 'remotes') that presaged the ones he now uses on his own show."
Outside of writing, O'Brien studied acting as well. He joined an "improv class where he met a struggling young actress named Lisa Kudrow." In an interview for More Magazine, Kudrow remembered O'Brien's big personality after meeting in classes. "He was really smart, really funny, and he thought I was funny," she said (via the Daily News). The two even dated for a brief time, but, as Kudrow confessed, "we were better as friends." And he was a great friend to encourage Kudrow to pursue an acting career. O'Brien reportedly "inspired her to stick it out and eventually become a member of the renowned Groundlings comedy troupe in L.A."
Behind the scenes at Saturday Night Live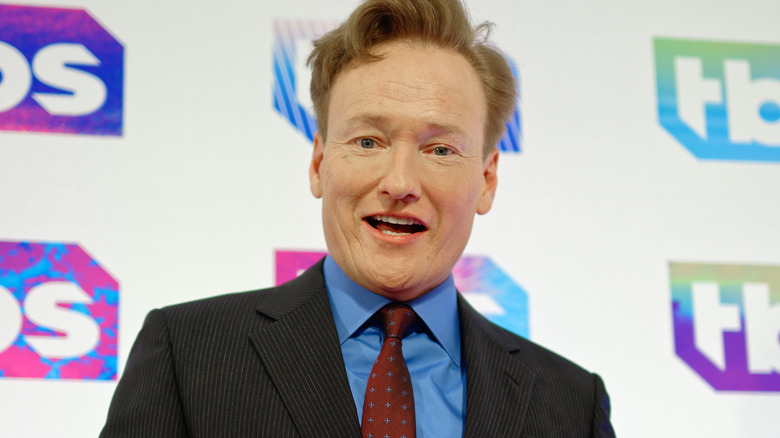 After working for various TV series, Conan O'Brien landed an amazing opportunity. He joined the writing staff of "Saturday Night Live." Executive producer Lorne Michaels hired O'Brien in 1988 to join the team. At this time, the featured actors included Dana Carvey, Jon Lovitz, and Phil Hartman. "It was big-time television in the classic sense," O'Brien told Boston.com. "It was Rockefeller Center, big bands, studio audience, Tom Hanks, Bruce Willis, the biggest stars in the world, musical legends, costumes, an army of people building sets," he remembered of his time in New York City. One skit that O'Brien wrote during his tenure was the "Nude Beach" sketch featuring Matthew Broderick. The skit involves a bunch of men at a nude beach, who are uninhibited to openly look at and talk about the other guys' prized possessions.
One of the stars of "SNL" during O'Brien's time, Mike Myers, had a fond but also slightly creepy memory of the writer. While appearing as a guest on O'Brien's late-night show, Myers showed a letter given to him by O'Brien when the two worked together. The note said, "Mike — I'm going to destroy you. I'm not sure how, I'm not sure when. But I will destroy you. And the best part is that no one will believe I had anything to do with it. Yours, Conan." Even with the comical threat, Myers believed in O'Brien as an actor and wrote him into various live sketches.
He had an 'anxiety attack' while working on The Simpsons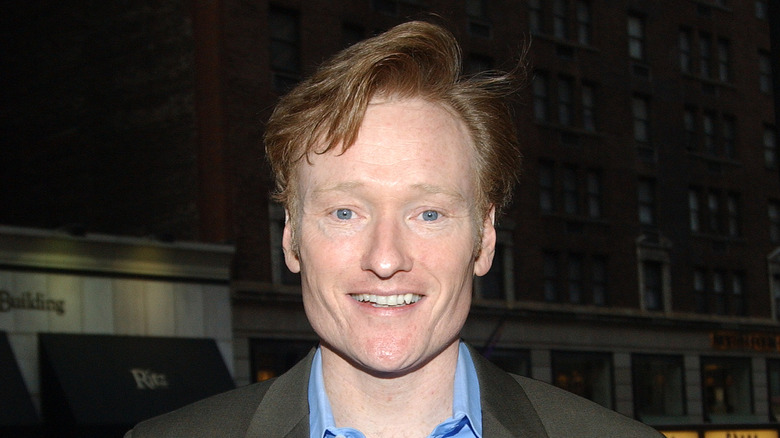 Conan O'Brien's hot streak briefly ended in 1991. He wrote a TV pilot episode starring Adam West — the late former Batman — for NBC but the network passed on the show. This left O'Brien unemployed — but not for long. O'Brien joined "The Simpsons" as a writer later that year in 1991. O'Brien officially has three writing credits for the animated series during his two-year stay. As recapped by Screen Rant, O'Brien's work on the series showed "his versatility as a writer as each one of the three episodes focuses on a different character." O'Brien also wrote "some material in the Halloween special and an unproduced episode."
Looking back on his start at the famous animated series, O'Brien recalled feeling out of place, even with all his experience in Hollywood. "I felt like the all-star basketball team had finally decided to let someone else in, and I got to play with them," O'Brien confessed to Boston.com. And he remembered, "I had a huge anxiety attack the first day. They sent me off to write a script, and I just thought, 'I'm not going to be able to do this; I shouldn't be here; I'm not funny enough to be with these people.'" But O'Brien found his footing and even became so comfortable that he would amuse his fellow writers. The comedian reportedly performed "impromptu bits," some of which were used later in his career for late-night TV.
Conan O'Brien's golden opportunity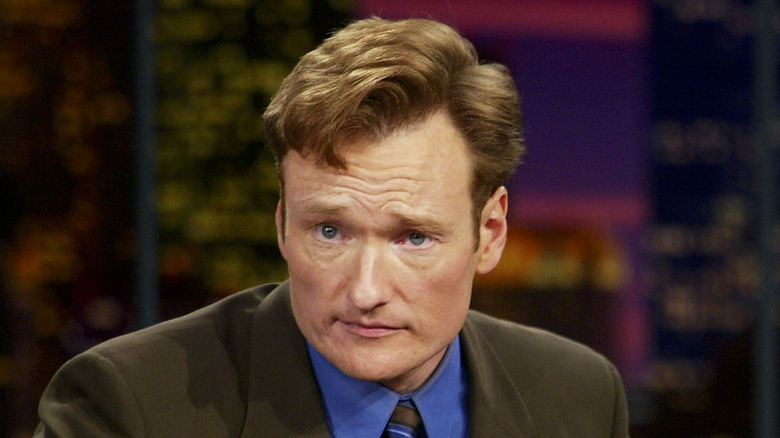 After a career as a comedic writer, no one could have seen Conan O'Brien's lightning-fast rise into hosting duties, except, perhaps, one man: Lorne Michaels, the producer of "Saturday Night Live." The two knew each other from O'Brien's writing days, but the comedian had no idea how much the producer believed in him. In an interview for NPR, O'Brien explained that when NBC was looking for someone to host the "Late Night" talk show on its network, "Michaels took a complete Hail Mary pass and said, I know this writer, and he has, you know, very little performing experience besides some improv, but I think he could be good." With the recommendation from Michaels, the writer remembered, "I went to an audition and, because I had no chance, was completely relaxed in the audition and did really well." Looking back at the whirlwind scenario, O'Brien described it all as "dumb luck."
What makes O'Brien's style of comedy so unique displayed itself immediately after landing his late-night hosting duties. For example, he wrote a satirical article for The New York Times published on the day of the debut, criticizing himself. "Last week, this writer had the opportunity to watch a test show in Rockefeller Center's legendary studio 6-A. Frankly, I was not impressed," O'Brien wrote about himself. "Despite the considerable power of his raw sexuality and mesmerizing intellectual presence, this 'Late Night' may very well end up the late 'Late Night,'" he concluded.
Conan O'Brien the music man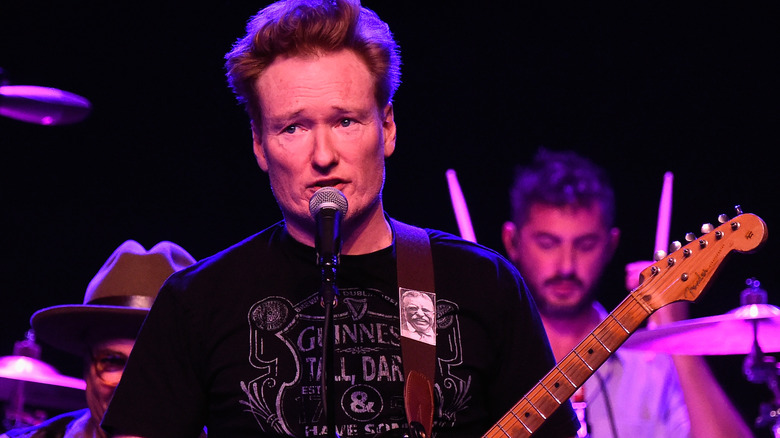 When rehearsing for his late-night show, Conan O'Brien likes to stay active by playing music. "I'm plugged in most of the time to like a mini amp so I like to play along and I make up songs on the spot that are usually pretty terrible," he explained in an interview for KCRW. "But I have always been a big music fan," he admitted. And though he considered himself a "hack guitarist," O'Brien confessed he'd rather be the musical guest "than be the comedian."
As much as O'Brien downplays his abilities as a guitarist, he's played alongside some of the best musicians. O'Brien even released a live album with guitarist Jack White from The White Stripes. The album, "Live at Third Man," was recorded with the two guys "in front of a small audience of 300 fans," Spin detailed. The show, which happened while O'Brien was on his own tour, included "a duet with White on a cover of Eddie Cochran's '20 Flight Rock.'" And for those who weren't at the show, the two reunited for a performance of Cochran's song on an episode of "Conan." The late-night host sings and plays guitar while the house band and White rock out.
In another musical segment on "Conan," the host and Jack Black play together. Black, also a comedian and musician, challenged the host to a guitar battle. The two guys show off their individual skills on guitar before jamming together.
Little known roles with Conan O'Brien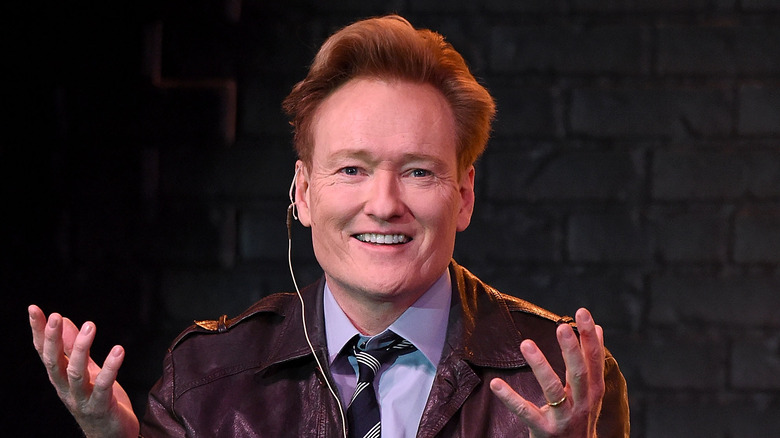 Conan O'Brien is instantly known as a late-night host, but throughout his career, this comedian has been involved in smaller projects. For example, he lent his voice as Santa Claus to the Nickelodeon animated series "The Backyardigans." The kid's show later gained even more popularity thanks to a viral TikTok trend featuring the song "Into the Thick Of It!"
O'Brien also appeared in an episode of "How I Met Your Mother." Fans could easily miss the comedian, as he only appeared as an extra, standing in the background of a bar, as seen on YouTube. Screen Rant detailed how O'Brien landed on the set of the long-running comedy series. "When Neil Patrick Harris served as a guest on O'Brien's talk show the year before, it was revealed that O'Brien outbid himself for the walk-on role at a charity auction," the article explained. And while the creative team wanted to create a cameo role for O'Brien in the series, the late-night host "felt that it would be funnier if he just randomly appeared in the background." The team liked the idea, especially "because it's not uncommon for celebrities to appear unnoticed in New York City bars."
Another non-speaking cameo for O'Brien was in a music video. The video for "Everyday" by the Dave Matthews Band features 30 Rock actor Judah Friedlander hugging strangers. Then at one point, Friedlander surprises O'Brien with a big hug.
The famous actors who once assisted Conan O'Brien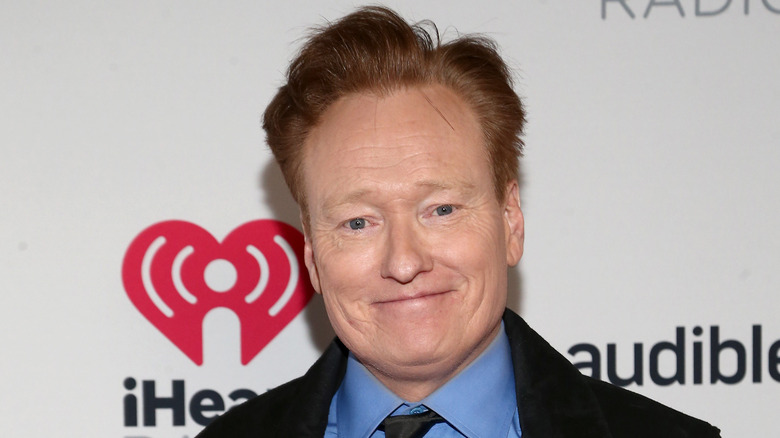 Due to Conan O'Brien's long-running spot in late-night television, he's inspired many future comedians. And he also interacted with interns who went on to be major stars themselves. For example, John Krasinski used to be one of O'Brien's interns. "My job was actually to just hang out backstage with you, just before you went on," Krasinski said during an interview on "Late Night with Conan O'Brien." He added that his early experience involved listening as the late-night host would "run through some monologue jokes." And after laughing at one of O'Brien's jokes, Krasinski claimed the host thought he was fake laughing. O'Brien reportedly then said, "All you kids do is go home and smoke pot and listen to Pearl Jam."
Another one of O'Brien's interns was Mindy Kaling. At the time, she was 19 years old and a sophomore in college. In an interview on "Conan," Kaling said to the host, "you are my comedy hero." As far as her actual job, she revealed it may have come across as creepy. "I would just kind of follow you around," she confessed to O'Brien.
Amazingly, O'Brien had three interns who all went on to be stars on "The Office." In addition to Kaling in 1999, and Krasinski in 2000, actor Ellie Kemper also was an intern for "Conan" in 2005.
The charitable side of Conan O'Brien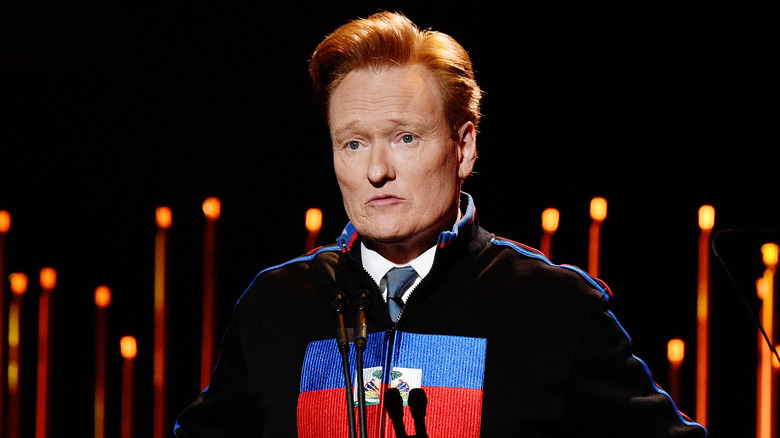 Though some say laughter is the best medicine, Conan O'Brien also gives back to the community in more ways than telling jokes. He's been involved with multiple charities throughout his career, according to Look to the Stars. For example, O'Brien was the host of the "Beat the Odds" awards ceremony supporting the Children's Defense Fund. The comedian told The Hollywood Reporter about the event, "It's our favorite night because it's the one night they sort of have their priorities in line in this town." O'Brien also once helped raise money for a Breast Cancer organization. He partnered with Waterpik to be one of the star personalities for a celebrity online auction the company hosted.
The comedian could have helped even more in his life, but he was once banned from a charity event. O'Brien was set to appear in the seasonal charity special "Idol Gives Back" for the singing competition "American Idol," per Reuters. Executives from the show, which aired on Fox, approached NBC to see if O'Brien would be allowed to participate in the charity special. And even though O'Brien had just ended his brief run as "The Tonight Show" host, O'Brien's contact didn't allow any other TV appearances. While the clause was nearing expiration, sadly, the timing didn't work out for O'Brien to be a part of "Idol Gives Back."
Conan O'Brien's thoughts on politics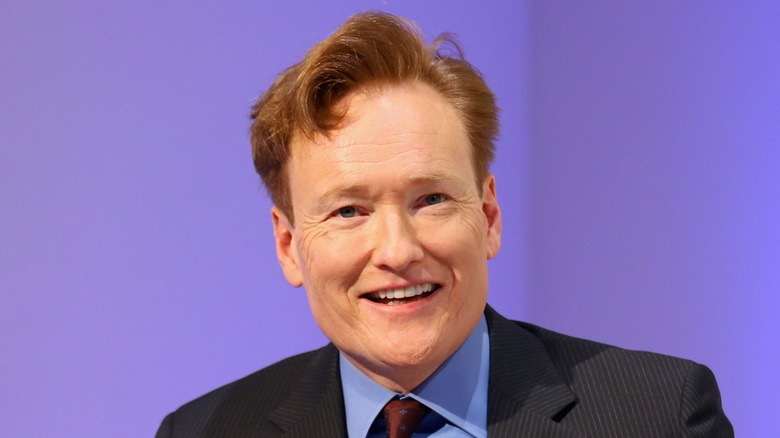 As a late-night host, it's practically required to discuss politics on air. And even before Hollywood, Conan O'Brien was actively involved in politics. "I grew up in a liberal household," he explained on his podcast series "Conan O'Brien Needs A Friend" featuring guest Hillary Clinton. "And I grew up working for people like congressmen Drinan and Barney Frank. And really being committed to a lot of those sort of core ideals of the Democratic party," O'Brien remembered. But the comedian also revealed that he didn't consider the subject his favorite as a professional. "I am not a political comedian. That is something that I've always stayed away from," he said.
O'Brien also confessed that he didn't agree with Donald Trump as president. "As a dad, I'm embarrassed," O'Brien told Clinton. And he added that several times he apologized to his children, "I'm sorry that this is the president that you've got." As "Conan" began to wind down towards the end of the series on TBS, O'Brien didn't want to spend any more time talking about former president Trump. He vowed to limit his Trump jokes for the final two months of the series (via The New York Times).
Some of O'Brien's best political work didn't involve Trump at all. As reviewed by The New York Times, the host visited "Israel and the Palestinian territories." And despite receiving some criticism, the review felt O'Brien "displayed an admirable willingness to take risks."
The scary tale of Conan O'Brien's stalker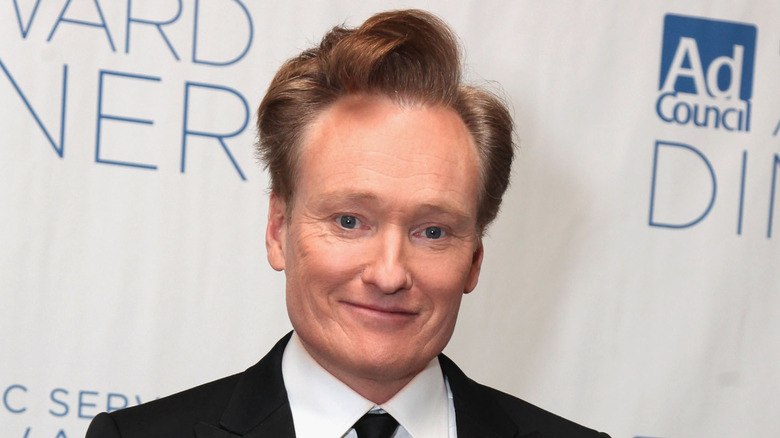 Conan O'Brien has devoted fans, thanks to his clever comedy and distinct personality. But one man took a terrifying interest in O'Brien. David Ajemian was a priest from Boston who wrote "menacing postcards and letters" to the late-night host, according to The New York Times. The report stated that Ajemian allegedly sent these notes, "some written on a parish letterhead," to the comedian's private home and to the TV studio for over a year. "The priest said in his correspondence that he had followed Mr. O'Brien's career since they both attended Harvard," per the article. The priest claimed in one letter that he was one of O'Brien's "most dangerous fans." And according to law enforcement working with the case, Ajemian continued to send these letters even after being asked to stop.
Perhaps the scariest note to O'Brien involved a part that talked about someone who "once dodged a bullet in your building, and so can you." Ajemian was finally arrested in New York after he tried to attend a taping of O'Brien's late-night show. He was "charged with stalking and harassing the talk show host." Ajemian pleaded guilty to the charges and was required to avoid O'Brien for two years. And he was placed on administrative leave from his church, according to The Harvard Crimson.
Who is Conan O'Brien's wife?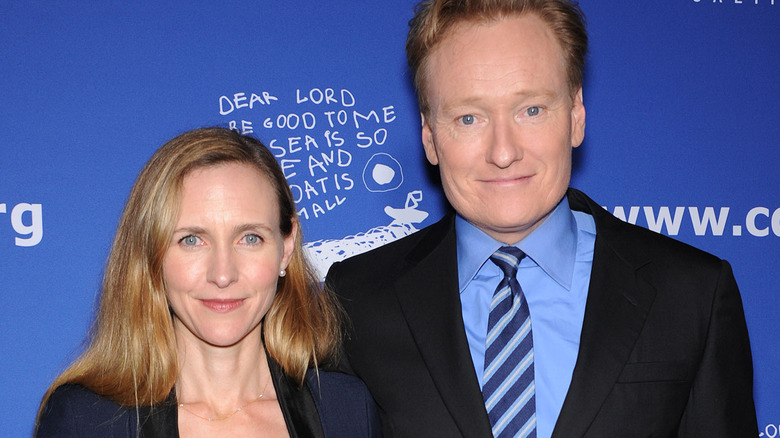 Conan O'Brien went into filming a segment expecting to get some laughs, but came away with something much more meaningful. In 2000, O'Brien met his future wife Liza Powel, via E!. At the time, she was an executive for an advertising firm. In the sketch, O'Brien brings a furniture salesman for "an advertising makeover." While at a meeting to discuss ad ideas, O'Brien meets Powel while joking around. In an interview for Piers Morgan on CNN, O'Brien looked back on that magical day and described how he was caught off guard. The comedian said he "instantly" fell in love with Powel. "Somewhere in the vaults at NBC there's footage of me literally falling for my wife on camera," O'Brien claimed.
After their meet-cute, O'Brien and Powel began to see each other romantically. "The couple dated for nearly a year and a half before tying the knot in January 2002 in her hometown of Seattle," E! reported.
Life as a dad for Conan O'Brien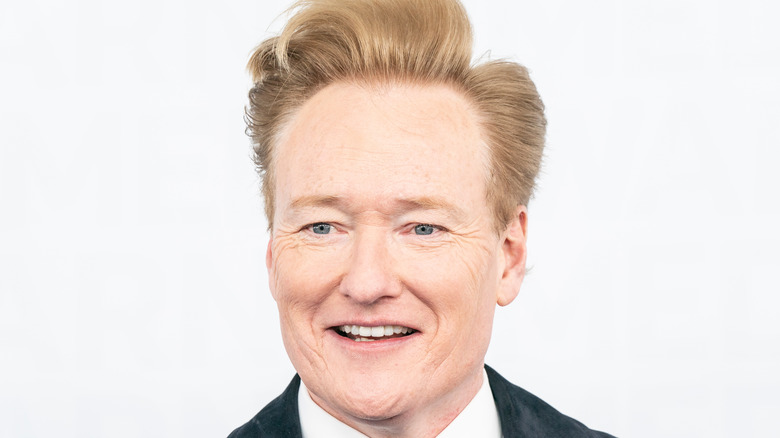 Outside of his duties in the entertainment industry, Conan O'Brien is entertaining his children. The comedian has two kids, his daughter Neve and son Beckett. In an interview for People, the late-night host explained what it was like to be a father of two. "Being a dad is the greatest, except for assembling things," he said. "I remember my father trying to tighten a bolt and hurting his fingers. That's what I'm doing now — except I break (the toy) before she even gets to play with it," O'Brien explained about Neve. 
In fact, much of O'Brien's parenting experience and advice involves his comedic spin. He called himself a "Tiger Dad" in an interview for Fatherly, explaining, "If my kids don't get straight A's, I threaten to practice the violin." And he also joked about how being a celebrity came into play as a dad. "I want my children to have as unhappy a childhood as I had. I don't take my children to premieres," he said.
At least one person believes that O'Brien has three and not two kids. A man who looked a bit like O'Brien claimed to be his illegitimate son, Boston Magazine detailed. Greg Keating, a man in New Jersey, posted a video on YouTube sharing details as to why he thinks the late-night host could be his real father. Keating said about the possibility, "In the video it's all speculation. But I can't count it out."
How much is Conan O'Brien worth?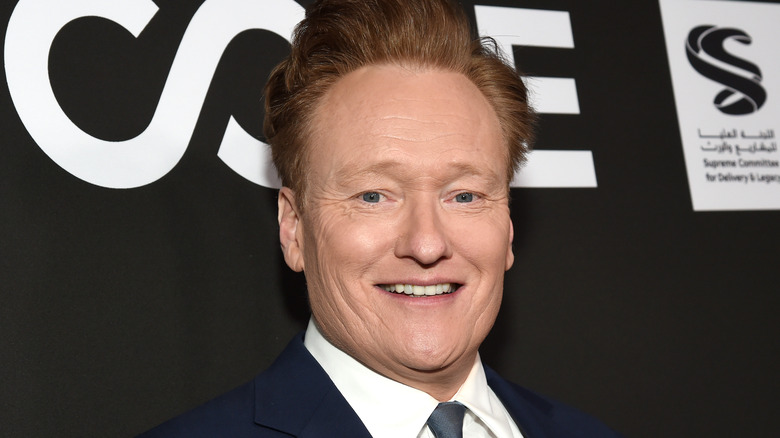 Starting off in Hollywood as a writer just after college, Conan O'Brien has been in the entertainment industry since the '80s. And being a late-night host for close to 30 years came with huge paychecks. Thanks to his role as host, and other ventures, O'Brien was worth an estimated $150 million in 2021, according to Celebrity Net Worth. The comedian appears to have spent some of his earnings on his musical hobby. Website Equipboard claimed that O'Brien owned several Gibson guitars.
Slightly more expensive than his guitars are O'Brien's real estate properties. He purchased a mansion in the Brentwood neighborhood of Los Angeles in 2008 "for more than its $10.5-million asking price," the Los Angeles Times reported. The house included luxurious features: for example, "a wood-paneled library that adjoins a 1,500-bottle wine room." 
O'Brien and his wife sold the pad in 2012 for about $1.5 million under the purchase price, per Variety. Fortunately, O'Brien had earned a reported $32,500,000 payout after leaving NBC. The O'Briens relocated to another mansion in the Pacific Palisades neighborhood that reportedly cost over $19 million. And the location put O'Brien and his wife nearby other celebrities like Steven Spielberg, Whoopie Goldberg, Adam Sandler, and Goldie Hawn.
Source: Read Full Article