Okay, after The Bachelorette's hometown dates, I can't be the only one who totally wishes they were part of Pilot Pete's family. For one, the Cuban food looks delicious. Their Californian home looks lovely both on the ground and from the sky. I mean, they even sing-song German prayers together, for crying out loud.
Good news to everyone like me: Even though Pilot Pete may be a tad occupied right now, there might be another eligible member of the Weber fam. I am, of course, referring to Pete's hot younger brother, Jack: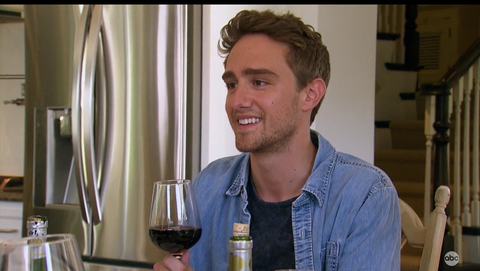 During dinner, Jack takes Hannah to the side to make sure that his big bro's heart isn't about to crash and burn—which totally means he's a caring bro (or just does what Hot Producer tells him to). He also describes himself as the more pragmatic brother, so if Peter's a little too much of a hopeless romantic for you, there are still options within the family. Twitter was literally all over him:
Bachelor Nation realizing Pilot Pete has a brother…#TheBachelorette pic.twitter.com/hS2mvufRjQ
Fuck Peter on the bachelorette I'm here for his younger brother
I think that Pilot Pete's brother should be the next Bachelor #bachelorette @BacheloretteABC
ok but is peters brother single 😗😗😗 #bachelorette
Pete and Jack even have cute matching IG handles, because it seems like Peter isn't the only one with wings. Pilot Pete's bro's username is…@JettinJack. According to his bio, he's currently a certified flight instructor in Camarillo:
Nothing quite like the jump from a C172 to an SR22!
A post shared by Jack Weber (@jettinjack) on
Happy Birthday to the best Aviator I know! Thanks for always leading the way for me and for pushing me to be the best I can be. Can't wait to join you and Bud in the APL soon! #FLAP
A post shared by Jack Weber (@jettinjack) on
(Side note: Bella Thorne follows him?!)
Pete posted an adorable pic of the two when Jack officially became a commercial-rated pilot:
Congrats to the newest Commercial rated pilot in the Weber family! @jettinjack #flylikeapro #buckleupadventurecalls #abrotherscockpit
A post shared by Peter Weber (@pilot_pete) on
And there's just generally a lot of wholesome IG content of the pair:
Portos for more Cuban Food
A post shared by Peter Weber (@pilot_pete) on
Obsessed with this country 🇨🇺
A post shared by Peter Weber (@pilot_pete) on
As for his relationship status, after a stalk of Facebook, Twitter, and LinkedIn (I mean, just to cover all bases) my results are…inconclusive. He does have a bunch of photos with one woman in particular, but his most recent IG post with her was in December 2017. They could still be together or Pete's bro is a lot less petty than I am when it comes to deleting pics of exes off social media.
Personally, I'm mainly sad that there will be no more of Jack this season, but we still have to put up with Jed. Sigh.
Source: Read Full Article