"The Republican party needs to change, and to be honest with you, I am the poster child for change," Jenner said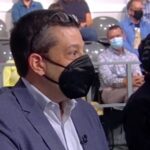 Jenner then touted how, even though she's always been a Republican and has "conservative economic values," she considers herself "socially progressive."
When asked by Joy Behar if she was as bothered by the Jan. 6 insurrection as she was by the country's immigration issues — which Jenner cited as the deciding factor in her choice to run — Jenner once again hesitated, but conceded that "it wasn't right."
"Obviously it wasn't right, and we can't have that in our country. We need to bring people together is what we need to do," Jenner said. She then criticized how people are "put into a box" based on their political beliefs, and argued that she is someone who's out of the box.
"The Republican party needs to change, and to be honest with you, I am the poster child for change," Jenner added.
You can watch the full segment from "The View" in the video above.
Source: Read Full Article