The following article includes mentions of sexual harassment and gender discrimination allegations.
If your first reaction on hearing the news that Mike Richards was the most likely candidate to replace Alex Trebek as the full-time, permanent host of "Jeopardy!" was, "… Who?" — you are far from alone. Which means that when it comes to the "untold truth" of this guy, we're pretty much talking about, well, all of it.
After the tragic death of the iconic game show host in November 2020, "Jeopardy!" began airing with a series of guest hosts, including — for mysterious reasons to some longtime fans — the controversial Dr. Oz. And despite a strong, fan-led campaign to get LeVar Burton in the prime spot, multiple reports in early August 2021 revealed that the network planned to go with the pretty unknown Richards in the end. Even if we're a little (okay, a lot) disappointed that it's not going to be the former face of "Reading Rainbow" on our screens every night, we still think it's a bit unfair to send a lot of hate and criticism toward Richards before we'd even given him a chance. After all, if there's one thing Richards knows well, it's the ins and outs of "Jeopardy!".
From details about his personal life to his more behind-the-scenes background in showbiz, here's what we were able to uncover about Mike Richards.
Mike Richards has a long history in producing game shows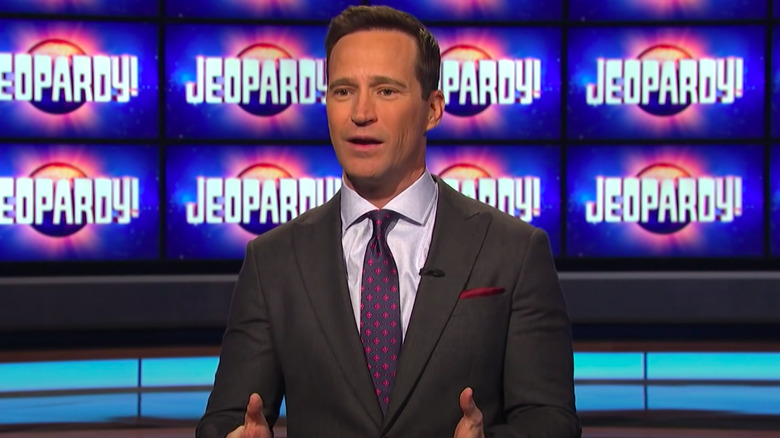 Even if you're a little fuzzy on the details, Mike Richards is not new to game show hosting. Back in the day, he was known for hosting The CW's dating game show, "Beauty and the Geek," for one, as well as the once-beloved "The Weakest Link." He is also a prolific executive producer, including on "Wheel of Fortune," "Let's Make a Deal," and "Jeopardy!" — the later of which he is now reportedly set to host. This has raised, well, a few eyebrows.
When Richards first stepped up to guest host the show in February 2021, during the second episode taped following Alex Trebek's death, he characterized it to USA Today as a last-minute emergency solution after the scheduled guest host dropped out. However, according to reporting by The Ringer months later, this might not be totally true. "A planned host had a minor conflict during one of the show's upcoming tape days," the outlet noted on insider claims. "'Jeopardy!' staff and crew told the host that they could work around it — only for Richards to step in and insist on hosting himself, according to the sources, one of whom described feeling surprised that Richards characterized his presence onstage as an emergency substitution."
Curious, very curious. As for Richards himself, he further explained of continuing Trebek's "legacy" in a YouTube video, "'Jeopardy!' is an incredibly important American institution. It's about making people that are smart the most important people in the room … I stepped in to keep the show going."
Serious allegations have been made against Mike Richards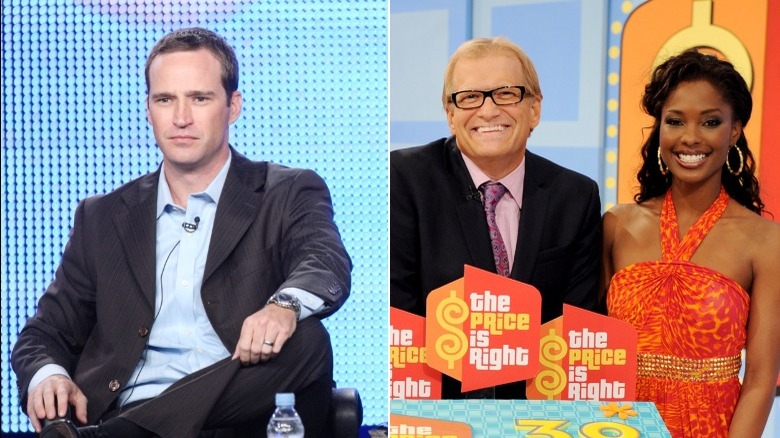 Unfortunately, Mike Richards is no stranger to scandal or controversy. In particular, he was listed as a defendant in two discrimination lawsuits stemming from "his 10-year run as executive producer of the 'The Price Is Right,'" per Variety.
In 2011, former show model Lanisha Cole claimed that Richards and fellow EP Adam Sandler sexually harassed her, berated her in front of her peers, and wrongfully fired her, according to CBS News. Richards was dismissed from the suit before it was settled in 2013 (via The Washington Post). Meanwhile, model Brandi Cochran also sued Richards and the other producers for harassment and gender discrimination. She was initially awarded $7,763,440 in damages in 2013, per The Hollywood Reporter, after alleging that she was often harassed, especially after she became pregnant, and was later fired after giving birth. While the court's original decision was later overturned the following year, a settlement was eventually reached. Other models, including Shane Stirling, Dian Parkinson, and Holly Hallstrom, reportedly also attempted to bring up gender discrimination on the show, but with little success.
Responding to these allegations in an August 2021 staff memo, Richards stated in part (via CNN), "I want you all to know that the way in which my comments and actions have been characterized in these complaints does not reflect the reality of who I am or how we worked together on 'The Price is Right.'"
If you or anyone you know has been a victim of sexual assault, help is available. Visit the Rape, Abuse & Incest National Network website or contact RAINN's National Helpline at 1-800-656-HOPE (4673).
Mike Richards has some Emmys under his belt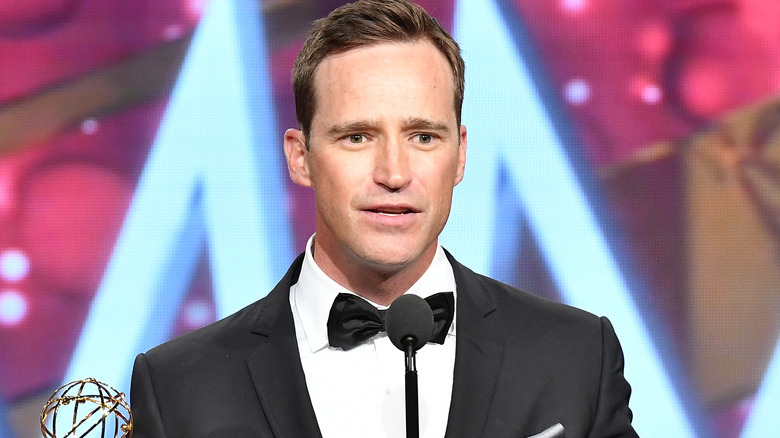 Not to be confused with the actor Michael Richards, who has won Emmy Awards for playing Kramer on the iconic sitcom, "Seinfeld," producer-turned-host Mike Richards also has a few Emmys under his belt. But as an executive producer and not an actor, he shares his nominations and wins with everyone else on the production team.
Mike Richards has worked as an EP on some of the most iconic game shows on TV, "Jeopardy!" just being one. As previously mentioned, he has also been an executive producer on "The Price Is Right," as well as his own baby, "Let's Make a Deal." For these three game shows, he has been nominated for 17 Daytime Emmys and won four — all in the Outstanding Game Show category.
Now don't get us wrong, even if he's no Kramer, that's still pretty impressive. While accepting his latest Emmy on behalf of "Jeopardy!" in June 2021, the longtime EP said, "This means so much to us, especially given the year we've all had. I want to dedicate this award to Alex Trebek. We've heard from so many of you since he passed, and we know how much he meant to you; he meant the world to us, as well." Calling Trebek a "legend," Richards added, "He believed that 'Jeopardy!' was more than just a game show. He loved it because it stood for facts, competition, and the celebration of intelligence. I felt so lucky to be able to work with him."
His love for Jeopardy! started in childhood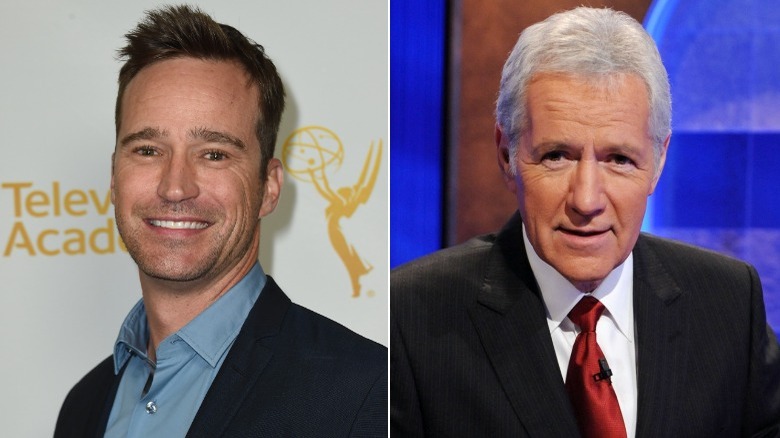 Mike Richards had always wanted to be a contestant on "Jeopardy!" He even revealed to the show's YouTube channel that, back when he was a kid, his mom even bought him subscriptions to The Wall Street Journal and Encyclopedia Britannica so he could study and brush up on his trivia game. But who knew he'd actually grow up to not just participate behind the scenes, but to also host the iconic show. 
In a 2021 interview with Parade, Richards explained what he loved and still loves about "Jeopardy!" — including, of course, his love for Alex Trebek. "As a kid I remember Alex and the mustache. His voice was so good and familiar. My emotions towards the show haven't changed," he said. But Richards went on to explain how the show was also meaningful in another, more practical way. 
"I am still as blown away by the contestants as I was then. It made me have that craving to be smart. Of course, I tried to figure out the clues, but as a kid, it is really tough," Richards said, before noting that the apple doesn't fall far from the tree: "I love watching my kids get one or two right in an episode that directly relates to something they learned in school. It validates their hard work."
This Jeopardy! producer and host seems pretty outdoorsy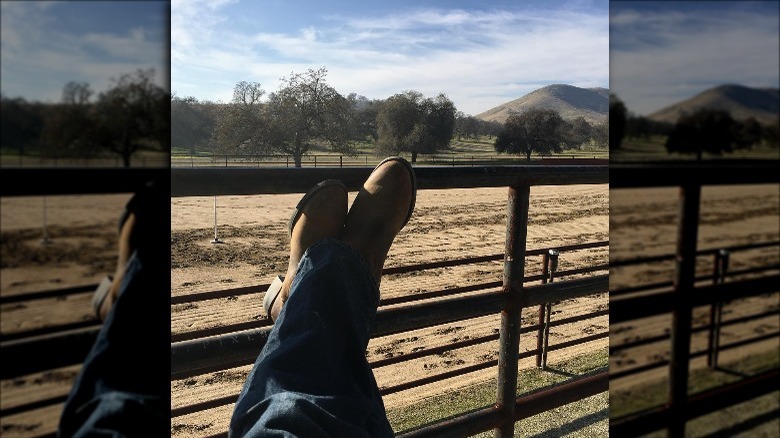 Since he's not quite as famous as, say, predecessor Alex Trebek, we had a bit of a hard time finding out a whole lot about who Mike Richards is as a person. This task proved to be a bit trickier than for your average television star, and this was especially true considering most of what he posts on social media has to do with promoting the shows he's working on. However after a (very) deep dive, we were able to pick out one or two non-work-related photos that Richards shared.
A few times, Richards has posted pics from a boat on his Instagram account. One such picture, which was shared in August 2014, he helpfully captioned, "I'm on a boat!" We assume this is a reference to the Lonely Island classic, "I'm On a Boat," but cannot independently confirm this, as of publication. Richards has also posted photos from "the ranch," including snaps of a peaceful firepit and a kid (presumably his son) riding a horse in the distance. 
Speaking of, he may be private about his family life, but we do know that he shares two sons with wife Stephanie Richards. Between the family's outdoorsy activities and tuning into the game shows he produces, Mike Richards may be a Hollywood elite, but he clearly enjoys the simple things on his days off.
Mike Richards started his first show in college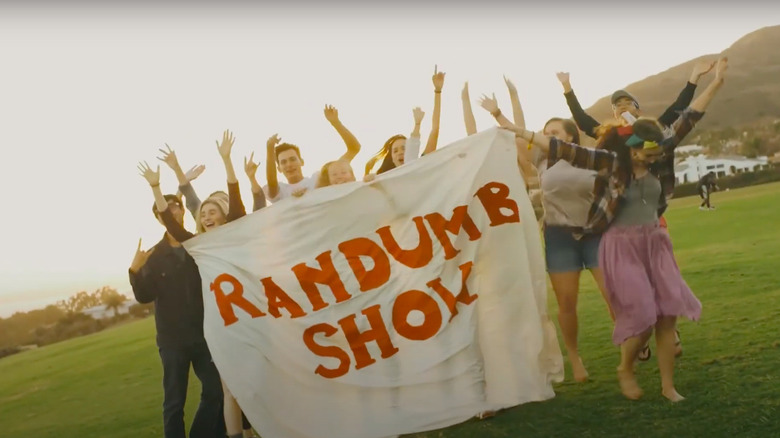 Mike Richards may be a powerhouse in the television and game show world now, but everybody has to start somewhere. For Richards, it was The Randumb Show, a weekly late-night comedy talk show that he wrote, produced, and hosted during his college days at Pepperdine University.
"I created it so that we could have campus 'stars' on and interview them," he later told Parade. Eventually those "stars" came to include actual stars, including Kim Fields ("The Facts of Life"), Anson Williams ("Happy Days"), and DJ Casey Kasem. "Kim Fields was so kind and complimentary of all of the kids working on the show. Anson, who is an incredible director, told me to write. He said if you write, you will always have work. And Casey said you can be successful in this business being kind or not. He chose kindness," Richards noted.
The producer and host also added, "I did the show for two years and produced 44 episodes. It was the beginning of my love affair with television. I often slept at the TV station so I could work all hours on the show. I hung the lights, built the sets — all because I just loved it!"
Jay Leno gave Mike Richards his first break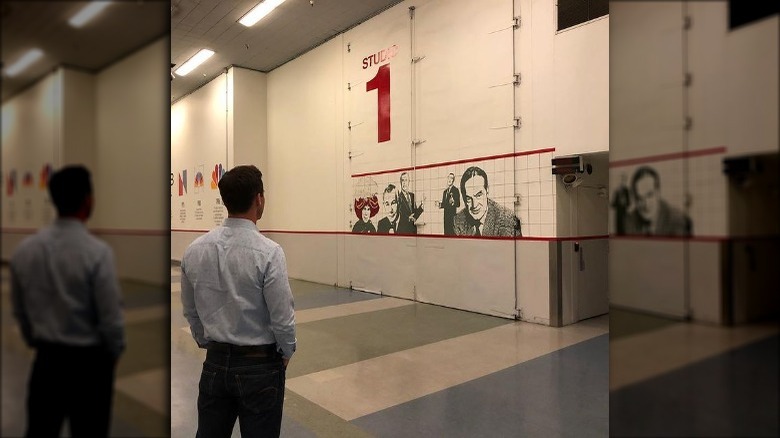 While he may have gotten a head start in college, Mike Richards' first official big league TV job was working as an intern for none other than Jay Leno. In a pretty emotional Instagram post shared in April 2018, Richards wrote, "21 years ago (almost to the day) I stared at this historic stage with pictures of my TV heroes on it and interviewed to be an intern on 'The Tonight Show with Jay Leno.' I got the internship, which turned into a Production Assistant job…which lead to where I am now." Richards continued, "My dream was to work anywhere in TV…my stated goal was to Executive Produce and host a show I created." Mission accomplished, as he added, "Just shot a pilot presentation I co-created next door to this stage. I got to host it and was the EP."
In the same post, Richards also described how the ambition that fueled him back then is the same thing that drives him today: "I was so hungry to be a part of all of this back then and the more I get to do it, the hungrier I get."
Source: Read Full Article