When Ree Drummond was growing up, she never envisioned a life as the wife of a cattle rancher. She danced ballet, attended college in California, and was in the midst of moving to Chicago to work on a law degree when her life took an unexpected turn, according to her blog. One night while back home in Oklahoma, she went out to a bar with some girlfriends. That is the night she met her "Marlboro Man," her fun nickname for her husband Ladd Drummond, and her life changed forever.
Drummond has been known as "The Pioneer Woman" by her fans for more than a decade. Many of her early followers also knew her husband, Ladd, simply as Marlboro Man. As Ree noted in her book "The Pioneer Woman Cooks," she considers herself to be an "accidental country girl." The sparks flew between Ree and Ladd immediately upon meeting, and she admitted, "A strict vegetarian, I fell hard and fast, and before I knew it we were married and living on his ranch in the middle of nowhere." She admitted, "I had no idea how I'd wound up there, but I knew it was exactly where I belonged."
An overheard remark led to a lasting nickname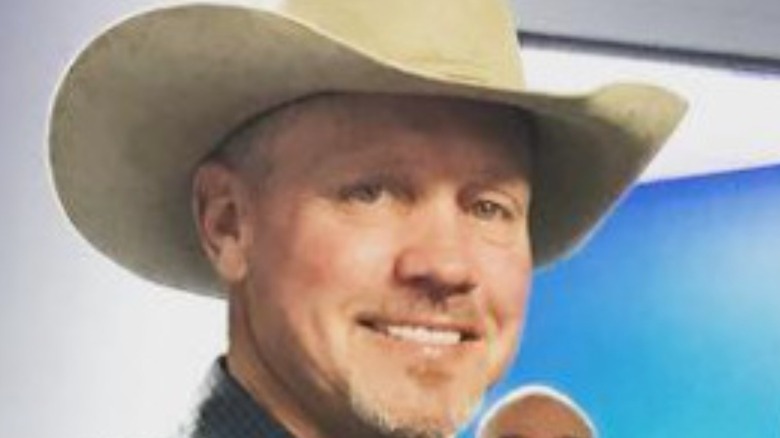 Ree Drummond described her eventual husband as "a mysterious cowboy with steely blue eyes and a muscular, work-honed body" in "The Pioneer Woman Cooks." During a night out for drinks with girlfriends back home in Oklahoma, she noticed Ladd Drummond across the bar. Ree shared their meet-cute in Country Living, and admitted she noticed his cowboy boots and his hair, writing, "The stallion's hair was very short and silvery gray — much too gray for how young his face said he was." Despite that, it was "just gray enough to send me through the roof with all sorts of fantasies of Cary Grant in 'North by Northwest,'" she explained. Ree described him as "Marlboro Man-esque," a nod to the decades-old tough guy cowboy image created to sell Marlboro cigarettes.
The Marlboro Man nickname didn't develop during that initial meeting with Ree though. As she explained on her Pioneer Woman blog, it emerged during a baby shower Ree threw for her best friend Hyacinth. During the shower, someone saw Ladd and asked, "My gosh, who is that Marlboro Man sitting on the porch?" Ree overheard it, and felt it fit Ladd. When she started her blog a decade into her marriage, she recalled that Marlboro Man reference. As she explained on The Pioneer Woman, it was "way back then I thought you should never reveal your real name on the internet," Ree explained. "So I just referred to Ladd as Marlboro Man," and it stuck.
Ree Drummond still gushes over her Marlboro Man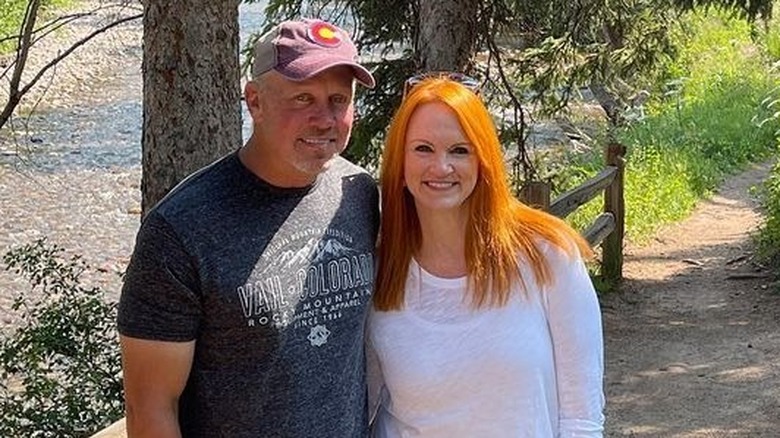 Ree Drummond married her Marlboro Man in September 1996, and they still make an effort to connect with one another, she wrote on her Pioneer Woman blog. "Ladd and I always wind up together on the couch in the evenings, no matter how busy we've been throughout the day," she noted. "We both have a soft spot for old Westerns, any of 'The Godfather' movies and '80s flicks," and "We're on the same page with snacks too. Queso for us and popcorn for the kids!" Ree noted.
The Food Network star told People, "Every good idea I've had has come from him" and she detailed one habit that always brings them back together, even after disagreements. While they like their space when sleeping, "our feet always touch." She explained, "I know that if our feet touch before we go to sleep at night, we're not going to bed upset or angry." Ree added, "As long as our feet touch, it's all good," regardless of what else may have happened earlier in the day.
Ree and Ladd's lives are very busy, with his cattle ranch, her Pioneer Woman brand, and a handful of grown kids. She's admitted, "I sometimes don't know how I got this cowboy who somehow grasps all of this very modern-day stuff I'm doing" with her blogging, books, and show. Despite that, "he has just always understood what we're trying to do" she gushed. "He really is my number one confidant."
Source: Read Full Article