Gizelle Bryant is returning for Season 6 of "Real Housewives Of Potomac," a show she's been a part of since its debut in 2016. When Gizelle joined the show, she had moved back to Potomac from Baltimore after ending her seven-year marriage to megachurch pastor and activist, Jamal Bryant. The two share three daughters: Grace and twins Angel and Adore.
Outside of being a high-profile preacher's ex-wife, Gizelle also came from a prominent family. According to The Daily Dish, her dad, Curtis Graves, served as a member of the Texas House of Representatives from 1967 to 1973 and was the first African American to have that post since 1899. He also worked for NASA for 30 years and is a fine arts photographer.
Like her father, Gizelle has an impressive resume herself. According to her Bravo bio, the reality star has "multiple philanthropy projects and entrepreneurial ventures" and "generates funds to revitalize various major cities in order to help those in need or in transition." She also launched a cosmetics line, EveryHue Beauty, in 2017 and wrote a book titled "My Word" in 2019. It appears Gizelle lives up to being "a sophisticated woman in the Potomac social scene, and with her outspoken, no-nonsense demeanor," as she's described in her bio. So let's take a look back at her transformation over the years!
Gizelle Bryant appeared to have a happy childhood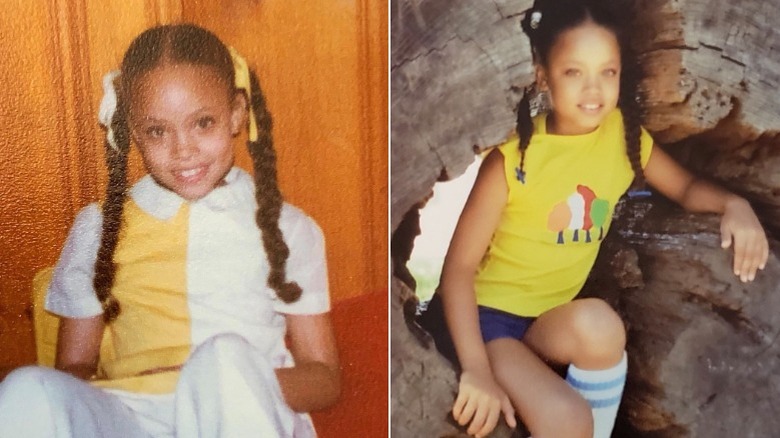 While we associate Gizelle Bryant with Potomac, the "Real Housewives" star was born in Houston, Texas. Yet according to the Daily Mail, the reality star and her two siblings grew up near Potomac in Washington D.C., where her father worked as a member of Congress. Gizelle shared some throwback photos of her childhood, which from her captions appeared to be a happy one. In one photo of her younger self, she wrote, "Yellow & white ribbons in my hair. 💛 Yep you couldn't tell me I wasn't SHARP."
It appears that Gizelle has always been close with her parents and remains that way to this day. Her father has appeared on "Real Housewives of Potomac," recently voicing his concerns over her rekindled romance with her ex. Gizelle's mother has appeared with her daughter on TV as well, (well, her voice has, at least) on Bravo's Chat Room. Gizelle also frequently posts them on her Instagram, including a throwback of her and her mother when Gizelle was a teen. 
After finishing high school and leaving home, Gizelle stayed close for college and attended Hampton University, a historically Black college in Hampton, Virginia. There, she got a degree in marketing and joined the sorority Alpha Kappa Alpha. In 2015, Gizelle gave her sorority a shoutout on her Instagram by posting a photo of her wearing their letters. It's clear Gizelle is proud of where she came from and happy to share things from her past!
Gizelle Bryant joined Real Housewives of Potomac at age 45
Gizelle Bryant joined the cast of "Real Housewives of Potomac" when the show debuted on Bravo in 2016 and has been a regular ever since. In 2020, the mother of three told Entertainment Weekly why she and some of her costars have been able to last on the show so long. She explained, "I don't want to compare us to other franchises, but I feel we as a group are able to hear each other when there are issues and drama — to the point where we can then understand why one is mad at the other."
Gizelle joined the show as a single mom after divorcing her husband of seven years, pastor Jamal Bryant. According to Showbiz CheatSheet, the two split when Gizelle learned that Jamal had reportedly been cheating on her and even reportedly fathered multiple children with other women. The reality star revealed, "I felt like it was a lifestyle, as opposed to, you made a mistake one night. So I just didn't want to sign up for that." She added, "At the time, I had two 1-year-olds and a 2-year-old. Three girls. They're beautiful. And I said, 'I'm not doing this. I'm not gonna be disrespected.' So yes, I packed up and left." 
While married to Jamal, Gizelle served as the first lady of his Baltimore megachurch. But Gizelle was able to find even more success on her own, becoming a reality TV star, author, and businesswoman.
At age 46, Gizelle Bryant launched a cosmetics line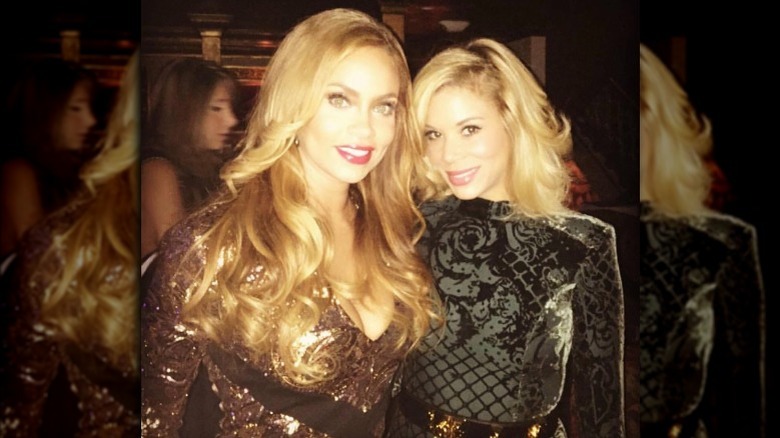 In 2017, "Real Housewives of Potomac" star Gizelle Bryant launched a makeup line called EveryHue Beauty. In 2017, the reality star opened up to People about why she chose to start the line, explaining, "I could never really find one foundation or tinted moisturizer that matched my skin tone that didn't read orange or yellow or red, so I had to mix things, which becomes expensive so I really wanted to create something in which you didn't have to do that anymore."
Gizelle added that creating her business was more work than she originally thought. She admitted, "I, with my silly self, thought it would take six months [to create]. This literally took me close to two years." She continued, "There were some formulations that we came up with that were good but they weren't great and I didn't want to come out with something that wasn't great that I didn't believe in."
The entrepreneur also discussed how her age factored into her product, as it made her feel a different way about skincare. Because of this, Gizelle included vitamin C, vitamin E, aloe, and SPF in the tinted moisturizer she created. She revealed, "At this point of time in my life since I'm past 45, I'm about healthy skin and protecting my skin and trying to look this beautiful forever."
Gizelle Bryant dated a retired NBA player when she was 47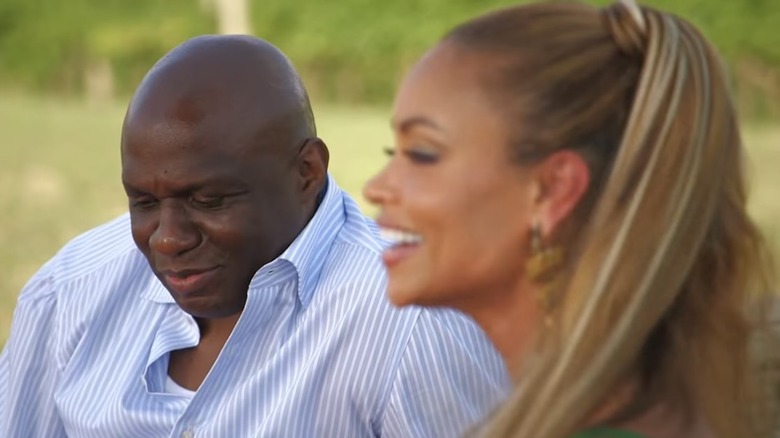 During Season 3 of "Real Housewives of Potomac" in 2018, Gizelle Bryant dated retired NBA player Sherman Douglas. Gizelle told The Daily Dish at the time, "Sherman is a fantastic guy, like totally fantastic. However, I know I'm a lot to deal with. I get that. So the key to having a relationship with me is communication." 
The two first split after a year and half together, with Gizelle claiming that Sherman "lacks the ability to communicate." Yet it appeared she had mixed feelings about their breakup. She explained, "My daughters were sad. And it made me really kind of want to work at the relationship harder than I would normally. Because normally, I'm like the Breakup Queen." She added, "So knowing that my girls loved Sherman, I really wanted to work on it a little harder."
Gizelle eventually got back together with Sherman before calling it quits for good in 2019 after he stood her up at a wedding. Gizelle explained in an episode (via People), "I gave this man a second chance. Why are you wasting my time?" She continued, "He just cares about other people. He doesn't care about me. and if he cared about me, he wouldn't be doing this." As for if that was the real reason they broke up, Gizelle would only admit, "Our relationship was in a good place, but then he did something very bad. So he's gone forever."
At age 48, Gizelle Bryant became an author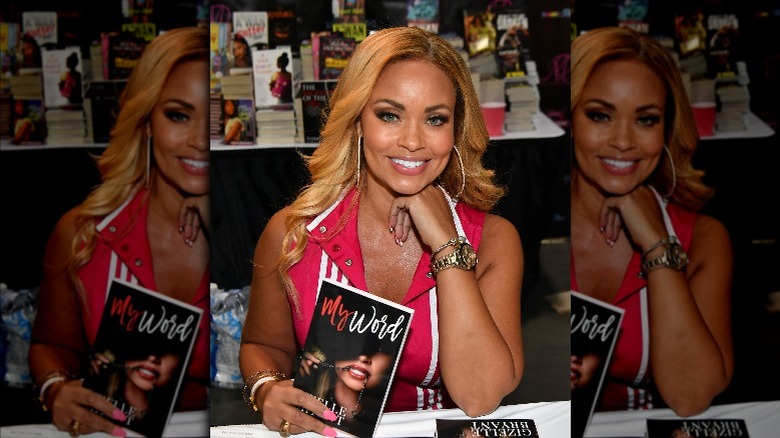 In 2019 at age 48, reality star Gizelle Bryant added "author" to her resume when she released her fiction novel, "My Word." The book is loosely based on the "Real Housewives of Potomac" star's life as the first lady of a megachurch and appears to touch on her ex-husband, Jamal Bryant's, reported infidelity. The book's description reads in part, "After marrying her college sweetheart, Ginger Williams gave up her own professional dreams to help her husband follow his dream of building a megachurch." It continues, "But with a bigger spotlight comes more temptation, and the power is corrupting Jeremy in ways Ginger never imagined." 
Gizelle promoted the book on her Instagram, posting a photo of the cover. She shared her excitement in the caption, writing, "I'm SCREAMING! My book MY WORD is here! 😁 This book is loosely based on my dramatic, happy, fun, sad, crazy life. It is a GREAT READ!" The mother of three also shared with Bravo TV why she decided to write the book in the first place, saying, "I have lived a very interesting life. I am now in a space where I want to share tidbits of my story in a fictitious way on my terms."
And it appears it was a great idea because, according to Showbiz Cheat Sheet, Gizelle's book reached number one on Amazon within 24 hours of its release. She also won an African American Literary Award for Best Fiction.
Gizelle Bryant split from Jamal Bryant for a second time at age 50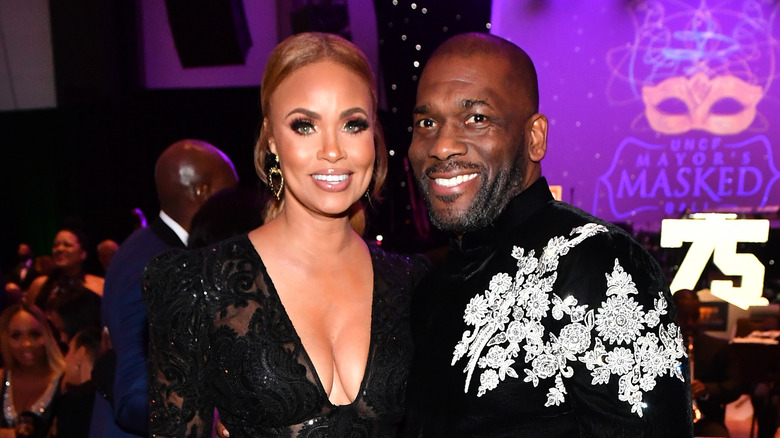 During the Season 4 reunion of the "Real Housewives of Potomac," Gizelle Bryant confirmed (via Showbiz Cheat Sheet), that she and her ex-husband Jamal Bryant were giving their relationship a second chance after divorcing in 2009. Yet Gizelle's costars, daughters, and even father weren't on board with them rekindling their romance, and the two split again in 2021.
While there were rumors that Jamal was once again unfaithful to Gizelle, she revealed that the reason for their breakup was the COVID-19 pandemic. She explained (via AOL), "We were working on us getting back to together … but he lives in Atlanta [and] I live in Maryland … with the pandemic, we just realized it's not the right time." She added that the two remain on good terms, saying, "We've been in each other's lives for 25 years. He is one of my best friends [and] I to him. I don't know anyone more than I know a Jamal Bryant. No, we're not together but yes we are still in each other's lives."
Gizelle didn't hold back, though, when it came to what she's learned from their relationship. She told listeners of her new podcast, "Reasonably Shady," (via Insider), "Do not lose yourself in whatever relationship that you're in. Make sure you maintain your strength, your independence, your self-worth because it can easily get wrapped up into him." It's clear Gizelle maintained all those traits through her years as a popular "Real Housewife."
Source: Read Full Article