The Teen Mom OG cast might change once again because Bristol Palin quit the show. It has yet to be announced whether she will be replaced by someone new, but the cast has weighed in on what they think should be done. Find out what they said about not wanting her to be replaced with a new cast member.
Bristol Palin announced she has quit the show
Palin announced that she decided to not return for another season of Teen Mom OG on Instagram. She revealed her reason in the caption of a photo of herself.
The caption read, "teen mom OG wasn't a fit for me, it took away my peace.. and honestly – my peace has a price tag that no one but God can afford $ doesn't impress me, I don't entertain bs, and walking away from this show allows God to rebuild me (and my little fam) in the right direction. I have love for all the girls on the show, and wish them the best of luck in all their future endeavors!!"
This probably wasn't shocking to some fans. Palin previously complained about how she was portrayed on the show.
Part of that caption read, "No matter how bad @teenmomtries to portray my "life" ….. my babies, my family, my close friends – they know the TRUTH. I'm a pretty great mom, work my a** off, show up, and hustle everyday to give my kids a pretty great life. @mtv doesn't want to talk about faith, show work ethic, or juggling three kids alone, they don't want to show the humble process of starting over after a divorce, building a career, or any real life issues. All they want with my little segment each week is some fake fill-in Farrah Abraham/Jerry Springer BS, and it's simply not true."
The remaining cast members said they'll miss Palin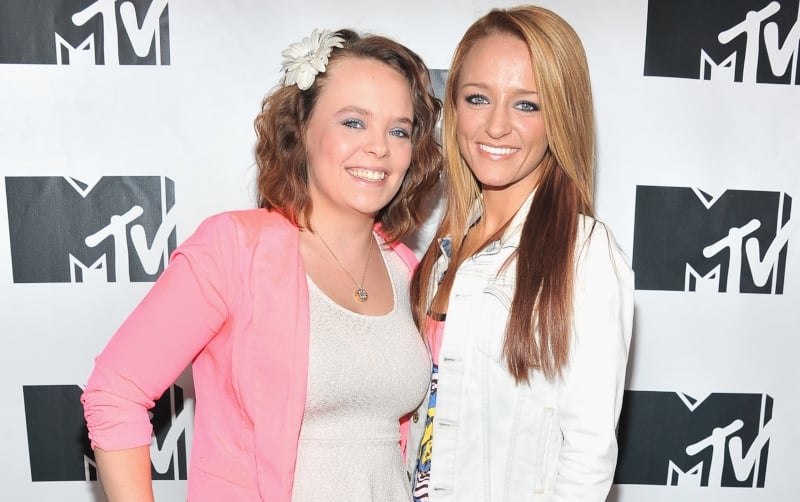 The remaining cast members Amber Portwood, Maci Bookout, Catelynn Lowell and Cheyenne Floyd were sad to see Palin go. Bookout commented on Bristol's post saying, "Will definitely miss working with u pretty girl," and "Definitely still have to get the boys together! Xoxo."
Portwood also tweeted her reaction to the news. A fan wrote, "I love that Bristol didn't make threats about quitting she just quit she knew her families sanity was worth more and mtv just betrayed her horrible ladies need to learn to put their roots down and stop letting MTV make them look cra! @KailLowry @_mermaidbarbie @AmberLPortwood."
Portwood responded with, "We actually know how to put our foot down very well indeed but this is something I saw coming a mile away. She's an amazing woman with a great family but this is top 10 on the charts so more exposure. It sucks but the OG's are still here. Good luck Bristol we'll miss you hun."
The cast doesn't want her replaced
It seems like Palin's spot would naturally be filled by someone new. However, the rest of the cast isn't on board with that idea.
"No, we're good," Portwood told Us Weekly. Bookout seconds the idea by saying, "No new friends." Lowell added, "No, I'm good with just four."
Time will tell if they'll actually get what they want. If someone new is added to the cast then they would already know the cast members probably won't be happy about it.
Source: Read Full Article