Fans of The Rookie were left feeling a little disappointed at the end of the latest episode, which aired on ABC on Monday night.
While viewers have been loving the chemistry between fan-favorite characters Lucy Chen and Tim Bradford, they felt that the couple wasn't given enough air time in the instalment.
WATCH: The Rookie's Nathan Fillion makes drastic change to appearance – 'it has to go'
Despite several sweet 'Chenford' moments in the episode, which saw the couple attempt to hide their romance from their colleagues, fans took to social media to complain.
Commenting on a post from the show's official Instagram account, which shared a snap of Lucy and Tim watching a Little League game, one person wrote: "Y'all did not just end it like that," while another asked: "Where was the chenford we saw in a promo?"
A third viewer commented: "Y'all are such a tease. We need more! You got a bunch of single hopeless romantics living vicariously through #Chenford," while another agreed, writing: "Please give Tim and lucy more screen time. I feel like I haven't really seen them together the past few episodes unless it's them taking another big step in their relationship. Give them some more bonding time at least. Show us the magic!!!!"
MORE: The Rookie star's identical twin brother revealed – and he's famous too
MORE: The Rookie's Nathan Fillion reveals incredible gift he bought former co-star
"I feel cheated. I'm disappointed. The episode was good. They may just be really good friends and that's all," wrote another.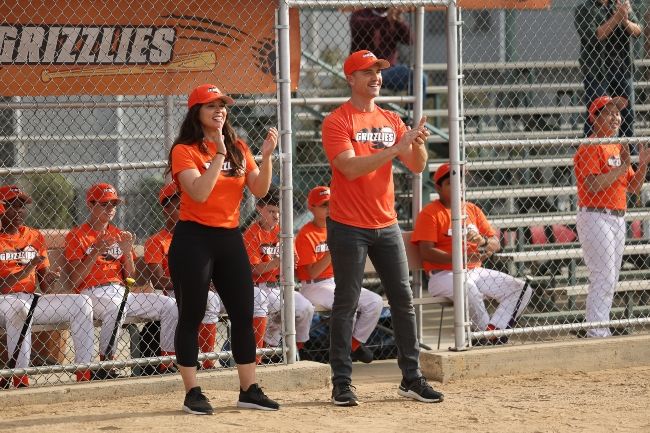 Eric Winter and Melissa O'Neil as Tim and Lucy
Speaking about the slow-burning romance, showrunner Alexi Hawley said: "What I'm really proud of is that we didn't take any shortcuts. We made it very organic. And I think the audience appreciates that."
"There have been moments along the way where I got a little worried. The moment when they were driving together, where he was saying that she couldn't do undercover. She told him she loved him and ended up making him really uncomfortable. And then she was like, 'Psych!' That was a moment where the audience could have come after us. But they got it, right? They got that it was organic to the storyline," he told Give Me My Remote.
On what's in store for Tim and Lucy in season five, Alexi added: "I felt really satisfied that we've gotten to this place where we've earned the next step. But we can't make it easy, and we can't make it fast. [The fans] definitely will be all on board for where we're going."
Source: Read Full Article