[There are spoilers ahead for the first season of Euphoria. If you haven't watched or haven't finished it yet, feel free to remove yourself from this narrative to avoid spoilers.]
There's a lot to love about HBO's Euphoria. For starters, the vast majority of the cast is ridiculously good looking, and each character has more layers than you would find in your nearest onion. The makeup will make you wonder why TF you weren't more creative with your eyeliner in high school, and the wardrobe will motivate you to throw out everything you own in favor of a leather harness. Oh, and Zendaya is an absolutely queen.
But there's one thing that really bugged me the entire first season, and particularly in the finale: Lexi (Maude Apatow) didn't get sh*t for a plot line.
From the get-go, Lexi is characterized as Rue's former best friend. They were super close as kids but they've grown apart recently, Rue says, which is pretty normal when it comes to high school girls.
Despite that, Rue still hits Lexi up for pee in the very first episode when she thinks she'll fail a drug test. When Rue has a breakdown in front of a class at school, Lexi goes to check on her, and Rue promptly rips her a new one without so much as a thank you. In summation: Rue's a shitty friend to Lexi, but Lexi does nothing to deserve that.
And Lexi's plot line outside of Rue is also pretty lackluster. For starters, she doesn't get her own episode like most of the other characters. I mean, McKay got a full hour for god's sake, and it was just Nate Jacobs Lite™. When Lexi does get the spotlight, it's usually because her older sister Cassie (Sydney Sweeney) is the one who *actually* has the spotlight, and Lexi needs to be on-screen feeling insecure about that.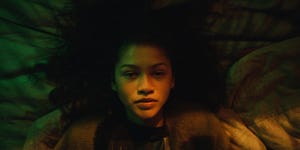 Even in the finale, when Lexi drunkenly asks Cassie at the winter formal how she picks guys to hook up with, the audience doesn't even get to see the result of that pep talk. It felt like the perfect opportunity for Lexi to go and get hers, but we get nada. Nothing. No ass for Lexi.
Ever since Maude's three-episode arc on Girls, I've been looking forward to seeing her get her "big break" (her parents are Leslie Mann and Judd Apatow, so I know her big break basically happened when she came out of the womb, but still). When I heard she was going to be on Euphoria, I was absolutely pumped to see what her role would be and what she would do with it. By making her character someone who always gets pushed to the side, the producers underutilized her in what could have been a breakout role (in a show of many, many breakout roles).
Hope you enjoyed last night's episode 😉 @euphoria
A post shared by Maude Apatow (@maudeapatow) on
And of all the characters on Euphoria, Lexi was hands-down the most relatable. These high schoolers are dealing with some really intense shit, and it's incredible that HBO is shedding light on issues like teen addiction, depression, trans rights and abuse, but that's probably not actually the experience of the average 16-year-old.
Like, we've all been that person who asked her more experienced friend to teach her how to kiss because she doesn't know how. We've all been sidelined for the new girl who's more exciting, interesting, and has better eye liner. We've all been the girl who's covered for their sister while she cheats on her boyfriend rather than being the one doing the cheating. That's what high school girls are *actually* like.
Thankfully, Euphoria is getting a second season, which means there's still time to give Lexi the spotlight she rightfully deserves. Justice for Lexi, and Justice for every girl who's metaphorically worn the Bob Ross costume.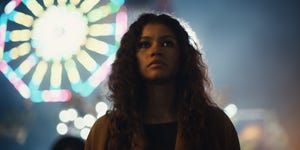 Source: Read Full Article