Power Book II: Ghost Season 2 was the show's most explosive thus far. For the first time, Tariq St. Patrick (Michael Rainey Jr.) truly found himself following in his father's footsteps. With his college life and his life working as a drug dealer imploding onto one another, he found himself leaning on his friend and sometimes lover, Effie Morales (Alix Lapri). However, as fans soon discovered, there is more to Effie than meets the eye.
Still, Lapri says she and Effie are very different.
50 Cent offered Alix Lapri the role of Effie on the spot
Effie has been in the Power Universe for quite some time. Though she and Tariq have become more connected and intimate in Ghost, Effie has known the drug dealer and his best friend Brayden (Gianni Paolo) since high school. In fact, the trio sold drugs together at Choate boarding school, and when the boys tried to shut Effie out, she turned on them, getting expelled and taking over the school's drug pipeline for herself.
Above all else, Effie has always looked out for herself. Calculating and intense, Power Universe executive producer Curtis "50 Cent" Jackson knew Lapri was right for the role when he met her on the set of Den of Thieves. In fact, he offered her the role on the spot.
"A lot of people don't actually know about when I first auditioned for Den of Thieves," Lapri told TV Insider. "I got the callback. After I finished, the director [Christian Gudegast] leaves and says, "Hold on a second." He comes back with 50. He walked into the room and pretty much was like. "Yeah, she is the one." It's very unheard of for that to happen on the spot."
Alix Lapri says she and her 'Power Book II: Ghost' character Effie aren't the same
Though it does appear that Effie has love for Tariq, we know that she comes from a very different background than Tariq and Brayden. Her loyalty is always going to be to herself first. We saw that when she lured Lauren (Paige Hurd) to her death in the second season of Ghost. However, Lapri says she and Effie aren't the same.
"We do have quite a few things in common, but for the most part, we are very different," she explained to TV Insider. "With Effie, as you said, she will stop at nothing to get what she needs. She will hurt anyone in the process, get into trouble and not really care at all. With me, I'm very sensitive. My relationships mean the most to me, more than anything. We're different in that she can be cold, and I'm a warm spirit. There is a contrast, but we are similar in that I have an edgy side. My energy is strong and bold when I enter a room."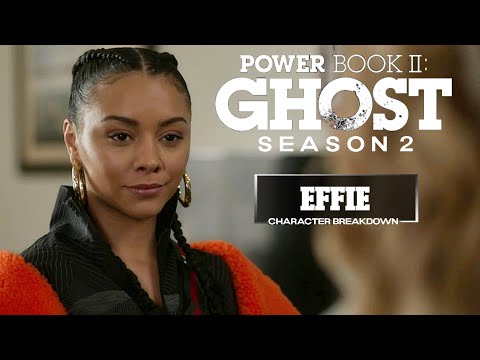 'Power Book II: Ghost' Season 3 will reveal more of Effie's backstory
At present Effie and Brayden are keeping the truth of what happened to Lauren from Tariq. We're certain that when he finds out, it will change the dynamic of their friendship forever. More than that, the third season of Ghost will reveal much more of Effie's backstory
"Effie's mom is a mess. But I'll tell you about that later," Power Universe creator Courtney A, Kemp revealed in a 2020 Instagram Live. "And if you guys remember, close readers of the series, Effie's brother is dead. He was murdered, so keep that in mind."
Source: Read Full Article