Jersey Shore: Family Vacation returns with season 5 on Jan. 6, 2022. In an extended look at the new season of Jersey Shore: Family Vacation, Mike "The Situation" Sorrentino changes his nickname from "BDS" to "BSDM." Plus, the new season involves plenty of drama. Here's what we know.
'Jersey Shore: Family Vacation' cast take a trip to international waters in season 5
"Is this considered the United States still?" Sorrentino asks the front desk person in the latest clip from the new season. In November 2021, the cast of Jersey Shore: Family Vacation headed to the Florida Keys to film.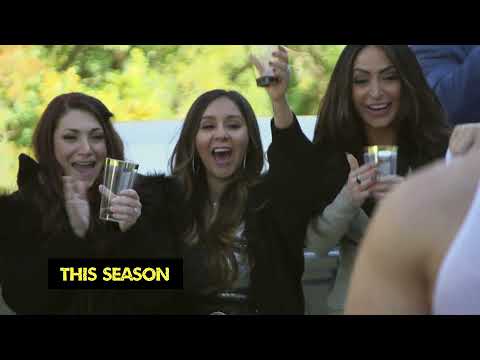 Eagle-eyed fans on Reddit pieced together the roommates were filming at the Isla Bella Resort in Marathon, Florida. In a later thread, an employee from the resort talked about what it was like to work there while the MTV series was filming.
Based on the clips in the teaser, it looks like the Jersey Shore stars get into plenty of fun in the Florida sun. From a floating tiki bar to jet skis, there's a lot going on in season 5 of JSFV.
'Big Daddy Sitch' becomes 'BDSM' in new 'Jersey Shore' clip
Speaking of unpacking, it looks like Sorrentino packed a little extra for this vacation. "It is BDS, but now I guess you'd say it's BDSM," Sorrentino tells cameras wearing leather chaps, a vest, and a choker necklace. "What are you wearing?" his wife Lauren Sorrentino asks off camera. We can only assume someone took Baby Romeo off the new parent's hands so they could have some alone time, but we'll have to see how this scene plays out.
Sorrentino appears to be the focus of another portion of Jersey Shore: Family Vacation Season 5 when his "Blessification" takes place. In the original trailer for the new season, fans noticed clips of a backyard party where everyone was wearing white. Thanks to the new teaser, we know this is a "Blessification" wherein "The Situation" appears to be baptized.
New season of 'Jersey Shore: Family Vacation' means new drama
According to the latest season 5 teaser, "there are storms brewing" among the Jersey Shore: Family Vacation cast. "Is he talking to other women right now?" Angelina Larangeira asks an unnamed woman, presumably about her husband Chris Larangeira. At the end of season 4, the couple talked about going to therapy together. It's unclear where their relationships stands in season 5, but it will come up at some point.
Plus, the Sorrentino's appear to be involved with some drama in the new season. "We have a f****** five month old to deal with," Lauren says. It's unclear who she's talking to or why.
Deena Cortese and Jenni "JWoww" Farley also appear to get upset at some point in the new season. Fans will have to tune in to episodes every Jerzday to find out what it's all about.
Pauly DelVecchio mentions a 'dead body' in season 5 teaser
"Bro, if there's another dead body in this place, I'm out of here," Pauly DelVeccchio says in the new teaser. Thanks to an employee from the Isla Bella Resort, we know this is probably from the murder mystery game the roommates played during their trip.
"One of the funniest stories is they played a murder mystery game late at night," the employee said on Reddit. Things seem to have gotten intense, as "someone called the police about the body floating in the ocean." 
Watch new episodes of Jersey Shore: Family Vacation starting Jan. 6, 2022 at 8 PM ET on MTV.
Source: Read Full Article