Cobra Kai Season 4 went all-in with its stunts, from leaps across rooftops to mid-air flip kicks. The cast and crew put plenty of work into getting the Netflix show's epic scenes just right, and the Screen Actors Guild has taken notice. Cobra Kai's stunt ensemble has been nominated for the SAG Award for Outstanding Action Performance in a Television Series. In a recent interview ahead of the awards show, coordinators Ken Barefield and Don Lee revealed how they made those stunts happen.
'Cobra Kai' Season 4 brought in a new stunt and fight team
To some eagle-eyed fans, season 4's stunts might have looked a little different from previous seasons. That's because the show's stunt and fight team had a personnel change between seasons 3 and 4. Husband-and-wife duo Hiro Koda and Jahnel Curfman acted as the stunt coordinators for much of the series, earning Emmy Award and SAG Award nominations for their work. However, they did not return for season 4.
Speaking to Entertainment Weekly back in April 2021, Curfman revealed Cobra Kai "decided to go in a different direction" for season 4. An alleged source told the publication that it was due to a "scheduling issue with production."
Instead, stunt coordinator Ken Barefield led the stunts in season 4 alongside fight coordinator Don Lee. While Lee was a newcomer to Cobra Kai, Barefield had assisted with stunts on the series since 2018.
'Cobra Kai' Season 4 stunt and fight coordinators reveal their choreography process
In an interview with Backstage, Barefield and Lee discussed how they worked with the cast to tell a story through choreography. After working with the cast for so long, Barefield learned each actor's strengths. Lee said he and Barefield used that knowledge to their advantage.
"We train with them, and we choreograph to their strengths versus what may cinematically look cool," Lee explained. "If you can't do the move 10 out of 10 times, it's not worth putting on film, because we don't usually get more than two or three takes. You want to highlight what the actor can do."
Barefield's and Lee's work even involved looking back at the entire Karate Kid franchise to connect those stories through choreography.
"We would literally dissect everything and say, 'Oh, remember this in The Karate Kid Part II at an hour and three minutes, when he did this? Let's put this here,'" Barefield added. "And it shows in the season."
Input from the cast members was also important since they would be the ones telling the stories.
"[The actors will] be like, 'Well, this doesn't make sense here.' I love that about the actors, because now they've incorporated the rhyme and the reason," Lee said. "If you understand why you're doing it, you understand how to deliver it."
The cast members proudly do their own martial arts stunts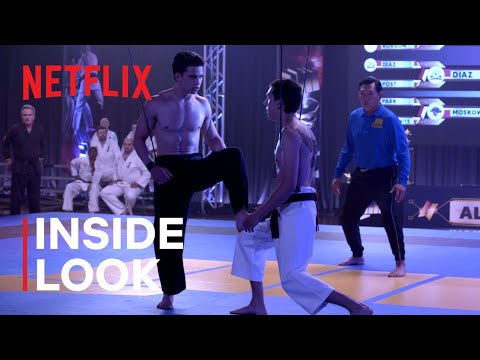 While the Cobra Kai cast members do have stunt doubles, most of the stuntwork is done by the cast itself. As seen above, the actors touched on the high-stakes nature of season 4, which culminated in the All-Valley Tournament.
"Especially on this season, we've progressed to a point where it's like, 'What can you do next?'" said Mary Mouser, who plays Samantha LaRusso.
Peyton List (Tory Nichols), who had no martial arts training before Cobra Kai, said it's "been a dream" to work with Lee and Barefield. Meanwhile, original Karate Kid actor William Zabka expressed how proud he was to see the younger cast members come so far.
"I've watched these kids, who are now young adults, grow from absolute novices to martial artists," he said. "It's their own expression, like it was for us when we did Karate Kid."
Cobra Kai Seasons 1 through 4 are now streaming on Netflix.
Source: Read Full Article