The following article mentions sexual abuse and substance abuse.
The '90s hip-hop scene continues to impact today's music and fashion scene. During this era, the careers of artists such as Notorious B.I.G. and TLC skyrocketed, bringing fresh sounds and diss tracks galore to the music world. Additionally, hip-hop soul arose, thanks to industry trailblazer Mary J. Blige.
With her unique style and songwriting skills that pulls on our heart strings, the singer-turned-actress has stamped herself as a renowned name in the industry. Let's not forget her accolades — Blige is a 9x Grammy award recipient with 31 nominations, as well as a winner of 81 other awards in the acting and music fields. Blige's vast impact continues to inspire the pop culture landscape decades after her debut in the early 1990s.
Blige did not emerge from a family of music industry professionals, so the path to stardom didn't come easy. However, the singer's raw talent from a young age captured the eye of many in the rap game. Before becoming the hip-hop queen of soul with millions of followers, her beginnings start as a teen growing up in the housing projects of Yonkers, New York. Fortunately for Blige's fans, they'll get the chance to chronicle her life in the Amazon Prime documentary, "My Life," premiering June 25, 2021. In the meantime, let's take a look at Mary J. Blige's transformation from 17 to 50 years old.
Mary J. Blige caught the attention of Diddy after getting signed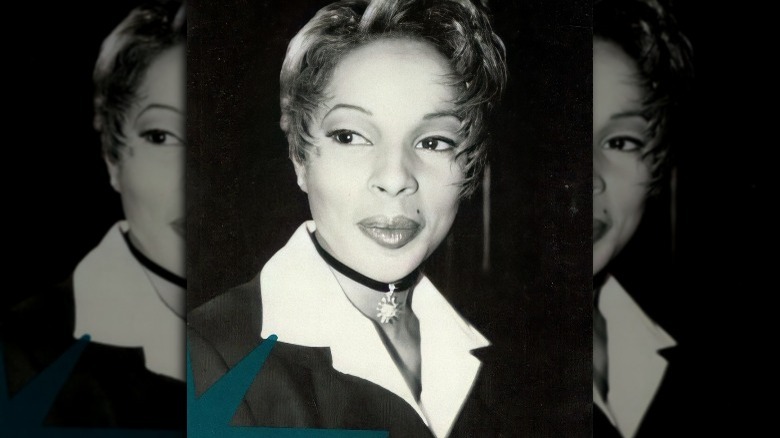 By the age of 17, Mary J. Blige had already faced a lot of trauma in her life. From sexual abuse by a family friend to her struggle with drugs and alcohol abuse, the singer's tragic life story helped shape both her identity and music. Blige sought refuge in singing to vividly express herself and her emotions, and she discovered her niche at a young age. According to an interview with Vulture, Blige won a talent show at the age of seven years old for her rendition of an Aretha Franklin song.
Fast forward a decade later, the "Real Love" singer recorded herself singing Anita Baker at a mall, and her mother's boyfriend at the time passed it on to a co-worker who had a deal with Uptown Records. The record label was impressed with what they heard, and offered Blige a deal.
It was at Uptown Records that Blige began working with Grammy award-winning producer Sean "Diddy" Combs. Recognizing her tomboyish personality and inspiring backstory, Blige said the in-demand Combs invested into her development. "I was never as ambitious as he is. He wanted it so much more," Blige told Vulture. "And so because he would push, I would push. I was a dreamer and wanted things, but I never was as ambitious as Puff." The singer's professional relationship with Combs would prove to be one of the best collaborations in pop culture history, with Mary J. Blige's debut album being the result of one of their many sessions.
Mary J. Blige's debut album made her hip-hop's "It" girl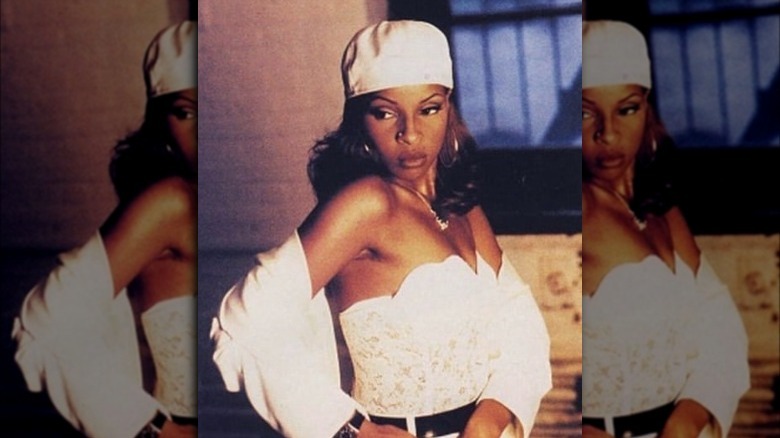 Mary J. Blige's life and career changed after July 22, 1992, when she released her debut album, "What's the 411?" Blige's debut album was a success, peaking at number six on the Billboard 200 and topping the Top R&B/Hip-Hop Albums chart. Additionally, it was certified triple platinum by the Recording Industry Association of America (RIAA). With timeless hits such as "Real Love," "Reminisce," and "You Remind Me," the metrics speak for themselves when describing the impact of Blige's debut. "What's the 411?" not only introduced the world to Blige, but it launched her into super stardom as the "it" girl of hip-hop.
At the time, Blige didn't understand the magnitude of fame she reached from her debut. "I wasn't conscious that I was doing something different in that moment. I just knew that I loved hip-hop and R&B, and I was doing what I loved," she explained to NPR. "And I didn't realize what we had done 'til later, like 'Wow, we created a whole genre of music.'"
Blige also found herself having a hard time adjusting to her newfound fame. She turned to drugs and alcohol to self-medicate to cope with both being a celebrity and the memories of her past. According to the singer, it became easier to get what she needed to cope. "I had money, and I had access to all the things that I used to tear my life down," she told Vulture. "I went crazy. I could get any drug, anything, at any moment."
'My Life' channeled Mary J. Blige's true emotions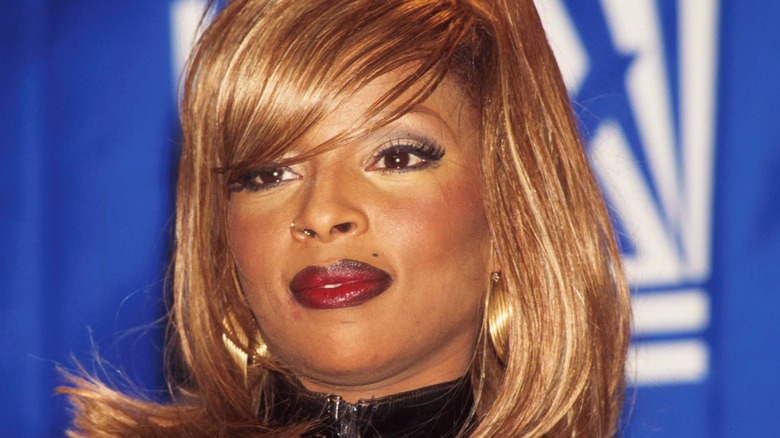 Despite adversity, Mary J. Blige remained consistent in creating meaningful music. Blige channeled the pain of her past and her rocky relationship with Cedric "K-Ci" Hailey of the group Jodeci into 17 soulful hits that would become what we know as the singer's second album, "My Life." The album featured some of Blige's most notable hits, including "I'm Goin' Down," "I Love You," and the title track. The album dominated the charts, and forged the way for Blige to be nominated for her first Grammy. Despite not taking home the prize for the album, she won her first Grammy award in 1995 for Best Rap Performance By A Duo Or Group for "I'll Be There For You / You're All I Need To Get By," a collaboration with Method Man.
Similar to her debut project, Blige didn't expect her follow-up to be as successful. "I didn't know what it would do or how successful it would be," she captioned an Instagram post celebrating the album's 25th anniversary. "I was in so much pain and was ready to check out and I know I needed to say these things to get them off my chest."
She continued, "I released this album to the world and it opened the doors to people who were in pain just like me. It touched so many people lives in the world and it gave me confirmation that I wasn't alone…" Fortunately, she came to realize just how wrong she was.
Mary J. Blige found love in Kendu Issacs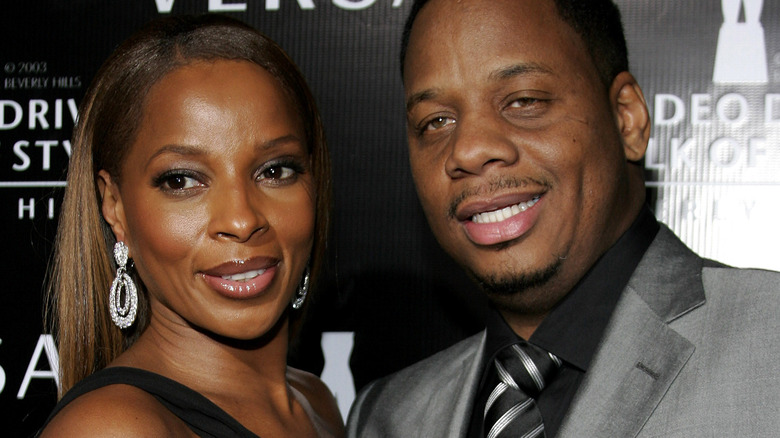 In the early stages of her career, Mary J. Blige recalled to Vulture that she was "very depressed, and I just felt like I wanted to check out" — that was until she met record producer Kendu Isaacs, who would later become her manager. The couple married in a private ceremony at her Bergen County, N.J. home in December 2003, as reported by People. The ceremony was pretty low-key, with only 50 attendees and a home-cooked buffet of food. Additionally, Blige and Isaacs skipped out on a honeymoon in preparation of the former's tour for her sixth studio album, "Love & Life." Who says business can't be mixed with pleasure?
During a 2011 "Behind The Music" appearance (via Vulture), Blige praised Isaacs for saving her from becoming a "slumbucket alcoholic"; she also says she "felt safe for the first time. I had never felt truly loved." Thanks to Isaacs, Blige found herself free from her dark days and much happier. At the time, things seemed to be falling into place for the singer.
Mary J. Blige faced hardship in the 2010s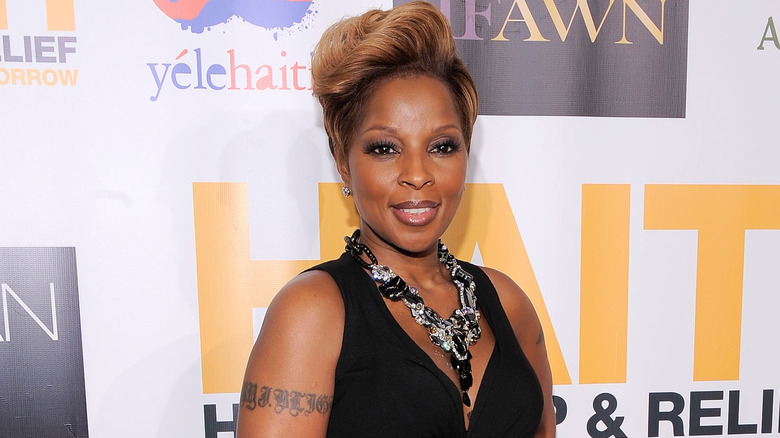 The 2000s saw happier times for Mary J. Blige. The "Be Without You" singer consistently put out music, won several awards, and even got the opportunity to sing at former President Barack Obama's 2008 inauguration. Life was good for Blige — unfortunately, it wouldn't be long before trouble came knocking in the mid-2010s. The singer appeared in a Burger King commercial that faced backlash for its racial insensitivity. The unaired commercial nearly ruined Blige's career.
She slammed the fast food giant for the commercial, claiming the concept shown was completely different from what she presented when she first onboarded the collaboration. "I agreed to be a part of a fun and creative campaign that was supposed to feature a dream sequence," she told CNN at the time. "Unfortunately, that's not what was happening in that clip, so I understand my fans being upset by what they saw. But, if you're a Mary fan, you have to know I would never allow an unfinished spot like the one you saw to go out."
In addition to the failed commercial, Blige ran into financial issues upon discovery that she owed millions to the IRS. "I had the Burger King commercial, then my taxes and my business were all over the TV, and then it was this, then it was that," she told The Guardian. "I was like, 'What the hell is going on? Have I been abandoned?'"
Despite facing hardship, Blige didn't let it get in the way of her finding a silver lining in the situation. "It's not the things I did right that informed me," she continued. "It's all the mistakes I made that are helping me to better my life. Because that was a disaster."
Mary J. Blige sought a peaceful life after divorce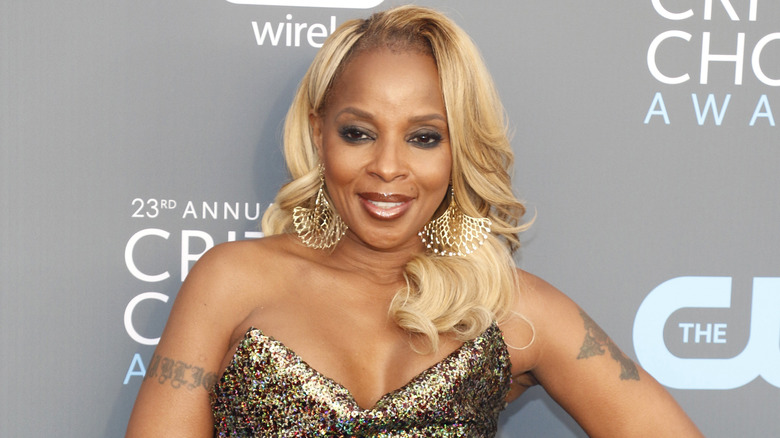 The second half of the 2010s marked a new life for Mary J. Blige. Aside from her bumps in the road during the decade, Blige had bigger fish to fry in her personal life — especially with her husband, Kendu Isaacs. Blige filed for divorce from the producer in 2016 after 12 years of marriage, per People, citing "irreconcilable differences" and "asked to terminate the court's ability to award spousal support to Isaacs." After a year of separation, rumors surfaced that Isaacs cheated on Blige with Starshell, a rising artist who the latter considered her protégé, per Amo Mama. Blige confirmed Isaac's infidelity, claiming that he spent over $420,000 on "travel charges" incurred while he was having an affair.
The singer even recanted her statements of her praising Isaacs. "Well, when I look back, I see that we all want what we want. And we want it to be the way we want it to be," she told Self magazine in October 2019. "I wanted a savior. I'd been hurting so long, and so much, and so bad." In hindsight, Blige admits that Isaacs "he did not deserve that credit" when it came to her sobriety.
Instead of holding a grudge about the divorce, the "Just Fine" singer found the strength to forgive in order to move on. "I'm not happy about a lot of things," she confessed in an interview with Variety. "I thought someone loved me, right? Turns out, he was a con artist and he didn't, and now he's coming after me for all my money." Blige and Isaac's contentious divorce was finalized in 2018.
Acting is Mary J. Blige's second calling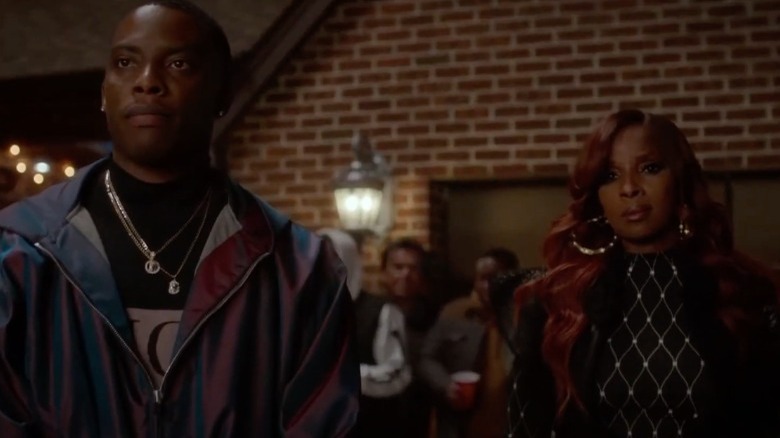 In 2017, Mary J. Blige showed off her impressive acting skills when she starred in "Mudbound" as Florence Jackson. Her role earned her two Oscar and Golden Globe nominations, per IMDb. The role was quite interesting for Blige because it forced her out of her comfort zone by making her go as natural as possible. She told Vulture, "I'm used to my nails now, and I'm addicted to lashes. I'm Mary J. Blige. I mean, like, this is what I do. I wear wigs, I wear bob wigs." The role also made Blige dig deep into herself and appreciate her inner and outer beauty. She added, "I had to completely strip down to my own natural hair texture, which I've always been afraid of. People were saying how beautiful I was. I didn't know I was that beautiful for real." We already knew this, though!
"Mudbound" later became one of the many TV shows and films the singer-turned-actress starred in. In 2019, Blige appeared in the Netflix original series "The Umbrella Academy" as Cha-Cha, a time-traveling assassin. She is also a recurring character on Starz hit drama series, "Power," in which she plays heavily involved 'queenpin' Monet. Blige spoke of her "Power" character during an interview with USA Today. "What made this role special to me is not just that she's a queenpin and she's a powerful woman," said Blige. "She is a survivor, a single mother trying to raise her children, a woman who survives and lives in a male-dominated world and male-dominated business."
Mary J. Blige is focused on her happiness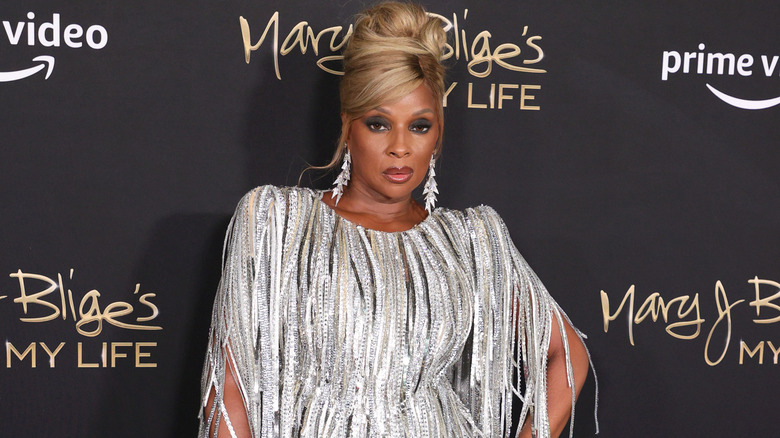 It's clear that Mary J. Blige has accomplished a great deal in her life and her music career. At 50 years old, Blige's fans are wondering when the singer will trade in her dancing boots for baby shoes. Blige has a long line of priorities ahead before having children — the most important one being herself. "Right now it's about me and little Mary. It's like that's my baby, my little girl," she explained in an interview with Self magazine. "She needs my help…and I'm not going to ever let anybody hurt her again."
Looking back on her hit sophomore album, "My Life," Blige can finally say her life has done a complete 180-degree flip. "I love it. I love the fact that it is my testimony, and I'm here to speak about it. The fact that it was a dark, suicidal album, and I'm here now to celebrate 25 years—I'm living," she continued. "I love it…. It always was one of my favorite albums, but now it just means so much more, because since then I've been through a tornado of stuff. That album takes on a whole nother life form [now]. My life, right now, is different." Indeed it is, and so is the rest of her fans' lives now that she's in it.
If you or anyone you know is struggling with addiction issues, help is available. Visit the Substance Abuse and Mental Health Services Administration website or contact SAMHSA's National Helpline at 1-800-662-HELP (4357).
If you or someone you know has been the victim of sexual assault, you can call the National Sexual Assault Hotline at 1-800-656-HOPE (4673) or visit RAINN.org for additional resources.
Source: Read Full Article