LUMINOUS ★★★★
Australian Chamber Orchestra, Bill Henson and Lior
Hamer Hall, August 11-12
In the similarly vibrant dualities that underpin their respective crafts, celebrated photographer Bill Henson and ACO artistic director Richard Tognetti are kindred souls.
Both share a yen for fusing tradition with trailblazing and the accessible with the experimental, but this is far from a common crossover – a term too blunt to capture the kind of artistic exchanges at work here.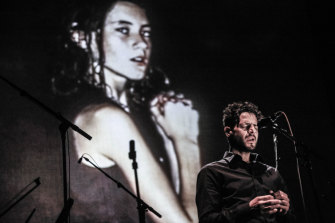 Lior performing in Luminous at Hamer Hall.Credit:Julian Kingma
Applying rigorous technique to a more unbuttoned aesthetic, theirs is a practice that vaults the borders between conventional genres, refracting and rebounding ideas that at once feel revelatory and yet somehow inevitable.
Given the manifest synergies shared by Tognetti and Henson, it's little wonder their collaboration has had such longevity.
This is the third outing for Luminous since its premiere in 2005, and 15 years on the projections of Henson's images set to a reflexive musical backdrop remain a remarkably fresh experience.
This is thanks largely to the timeless yet trendy vibe of Henson's achingly cool shots: images of Turner-esque skylines and moody waifs that could simultaneously be mistaken for some lost Caravaggio masterpiece or a perfume ad from the pages of Vogue.
Much of this Luminous program channels a multifarious identity, the polystylism of Schnittke melding neo-classicism with modernist angst; Peteris Vasks' violin concerto Distant Light delivered with jaw dropping zeal by Tognetti, fluctuating between cinematic romanticism and a more avant-garde sound-world.
Largely, the combination of imagery and music is strikingly affecting, but certain corners of the evening – notably the occasional contributions of vocalist Lior singing Britten, Purcell and, for some inexplicable reason, R.E.M – seem to be gilding what is an already glittering lily.
Source: Read Full Article