What was once so dear is now over! Kim Kardashian filed for divorce from Kanye West in February, and now she's ready to move on. (For his part, West is reportedly already dating model Irina Shayk). Kim is quite clear about what she wants in a partner — and actually has been for quite a while. On the "Keeping Up With The Kardashians" series finale — which was filmed before their divorce filing and aired June 10 — Kim revealed (via People) that she's eager to date someone who doesn't live so far away, relishes working out with her, and even enjoys watching the same TV shows as her.
" … The little things are what I don't have. I have all the big things," she told her "momager," Kris Jenner. "I have the extravagant — everything you could possibly imagine [from Kanye] and no one will ever do it like that. I know that. You know what I mean? And I'm grateful for those experiences," she added. "But… I think I'm ready for the smaller experiences that I think will mean a lot." 
While Kim has been wanting to move on for a while, things have also progressed for the rapper. In addition to dating Shayk, West is now taking firm steps to draw boundaries between him and the Kardashians. And it all starts with social media, of course!
Kanye West unfollowed these Kardashians on Twitter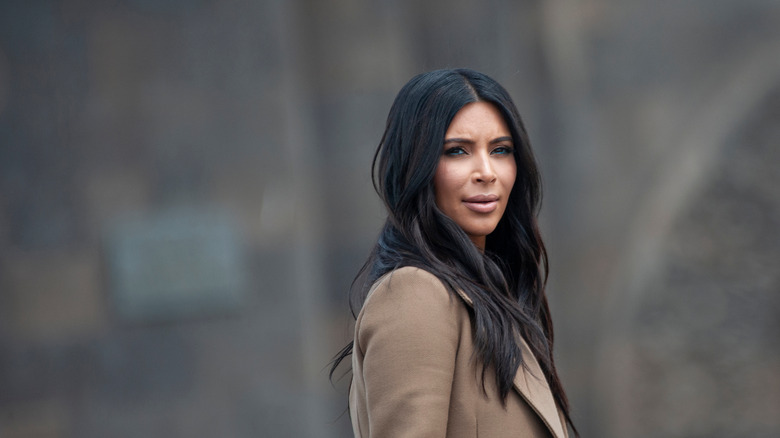 We know that Kanye West loves Twitter — so much so that he wasn't shy about tweeting controversial things about Kim Kardashian and her family. The rapper hasn't said anything on the social media platform lately (he hasn't posted an update since November 2020) but he sure seems to have been using the app recently. West's followers noticed a dip in the number of people he was following, and the next thing they found out was shocking.
Turns out, West unfollowed Kim, Kourtney, and Khloé, Page Six reported on June 11 — just one day after the "Keeping Up With The Kardashians" finale and just a few days after the sisters wished him a happy birthday on June 8. "Kanye unfollowed all the Kardashians on Twitter lol… album is gonna be a masterpiece," wrote one user in response to the drama.
While West has sent a strong message to the Kardashians by unfollowing them on Twitter, his response on Instagram remains to be seen. The rapper — who shares four children with Kim — follows only one person on Instagram, and it's her. And it will be quite a bold move on his part if he decides to unfollow her on Instagram as well.
Source: Read Full Article