The Beautiful South's former vocalist has to cut short her U.K. run with her old bandmate on doctors' orders after she experienced problems with her voice.
AceShowbiz -Singer Jacqui Abbott has pulled out of the reminder of her shows with Paul Heaton on doctors' orders. The former The Beautiful South star has been forced to cut short her run with her old bandmate due to problems with her voice.
The duo's next planned performance is at the Bonus Arena in Hull on Monday, October 25 but Paul is set to complete the rest of the run this year on his own with their live band.
The musician said in a statement on Twitter, "Thank you for all your kind messages and support for Jacqui following the announcement yesterday. Sadly due to medical advice Jacqui will not be able to perform at the forthcoming shows."
Jacqui added, "To miss the last stretch of something we'd waited so long for is truly gutting, and I wish to say to everyone how sorry I am because it's meant from the heart. Paul, the lads, and all the people behind the scenes have been supportive. Thank you for every kind word."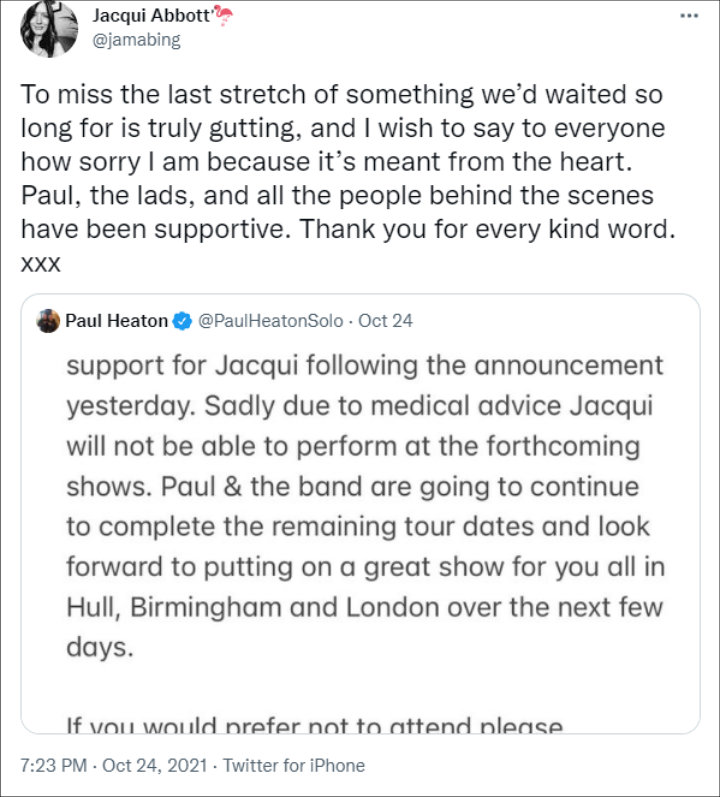 Jacqui announced her exit on her Twitter account.
The upcoming dates include two consecutive nights at the iconic London Palladium, kicking off on Friday, October 29.
Jacqui's exit announcement came after she had to sit out on Saturday night's show at the Motorpoint Arena in Cardiff. "We're really sorry to say that following doctors medical advice Jacqui will sadly be unable to perform tonight in Cardiff," Paul informed fans at the time.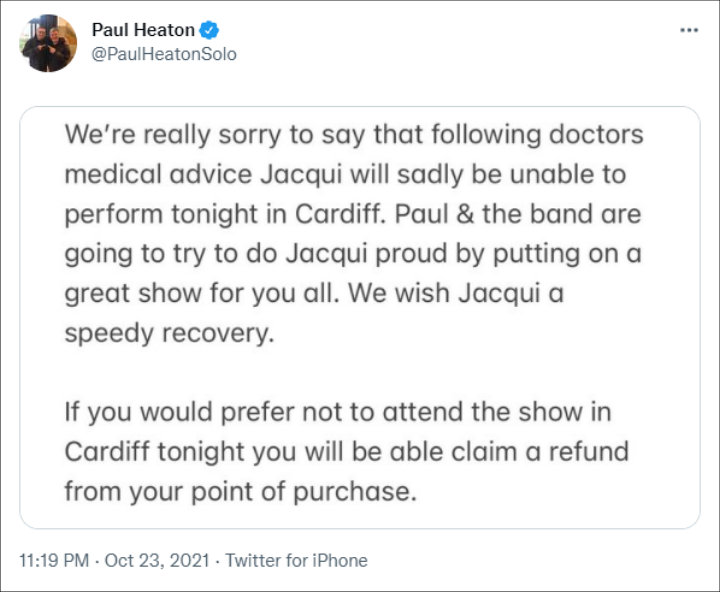 Paul Heaton informed fans about Jacqui's absence for Cardiff show.
"Paul & the band are going to try to do Jacqui proud by putting on a great show for you all. We wish Jacqui a speedy recovery," he went on to state. "If you would prefer not to attend the show in Cardiff tonight you will be able to claim a refund from your point of purchase."
Source: Read Full Article