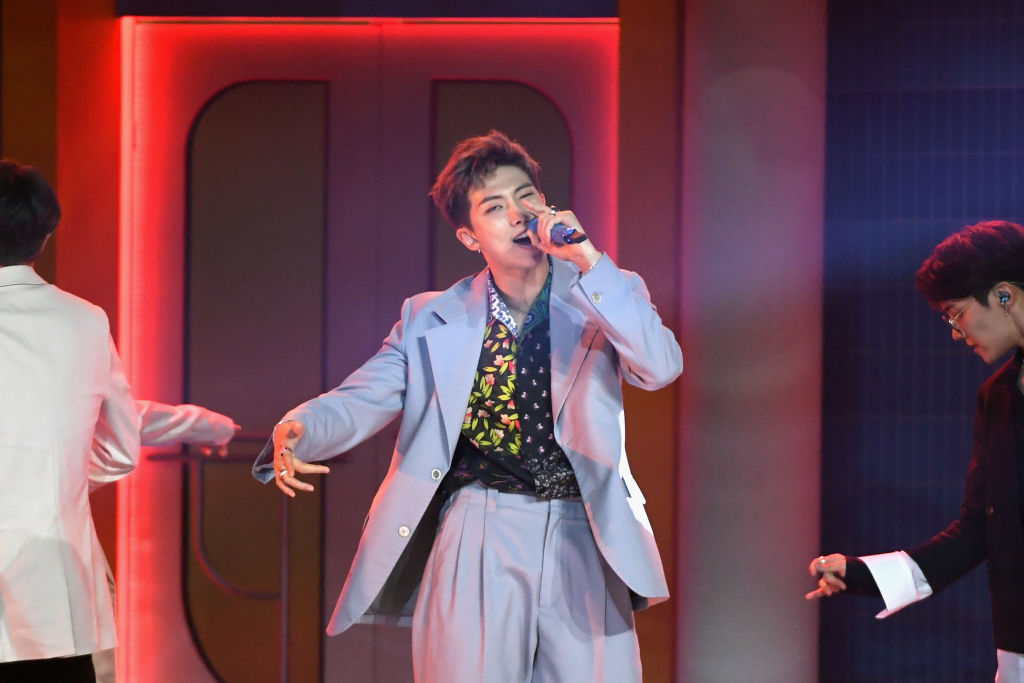 In September 2018, RM delivered a speech to the United Nations General Assembly with the support of the members of BTS. In the iconic speech, RM encouraged everybody to speak their true selves. The speech helped launch UNICEF's initiative, Generation Unlimited. One year later, BTS fans all over the world celebrated the anniversary of RM's inspiring UN speech.
UNICEF shared a video of RM's speech online
To celebrate the one year anniversary of the speech, UNICEF shared a video on Twitter of RM's speech. In the speech, RM encouraged people to embrace their voice regardless of their gender, race, or background.
"'I want to hear your voice… No matter who you are, where you're from, your skin colour, gender identity: speak yourself.' Today marks #1YearSinceSpeakYourself – @BTS_twt's inspiring speech to young people around the world at the #UNGA. #GenUnlimited#ENDviolence," UNICEF tweeted.
RM's UN speech appeared in BTS's 'Bring the Soul' docu-series
BTS's current docu-series shows the members during BTS's Love Yourself World Tour. In the most recent episode of Bring the Soul, fans saw RM rehearsing his speech and the voice over of the speech appeared several times during the episode. Bring the Soul also showed the members' reaction to how they felt about having RM as their leader after the speech. In the car, J-Hope and Jimin discussed what they would do if they didn't have RM as a leader.
"We didn't do anything. It was all out leader," J-Hope said.
"If we didn't have RM… the thought of it kills me," said Jimin.
Fans loved the exchange between J-Hope and Jimin because it showed how much the members care for RM and respect him.
"they know how difficult namjoon's role is because they see it for themselves. they were WITH namjoon during his UN speech. they were with namjoon during their english interviews. they know how difficult of an experience it must've been if he wasn't there," a fan tweeted.
BTS fans trended #1YearSinceSpeakYourself on Twitter
To celebrate the anniversary of BTS's speech at the UN, BTS fans trended #1YearSinceSpeakYourself and #MyDreamMyVoice on Twitter. BTS fans were touched by RM's dedication to gender equality and finding one's voice in the UN speech. The speech also fits with BTS's message of learning to love oneself.
"one whole year since namjoon's un speech. a speech where he encouraged all people, all shapes, sizes, all ages, all gender identities to speak themselves. i couldn't be any prouder of my emotional support kpop boy. #MyDreamMyVoice #1YearSinceSpeakYourself," a fan wrote on Twitter.
"it's been a year since one of the most powerful speeches were spoken. it's already memorized by millions. and is definitely something that will go down on books in history for ever. im so proud of joon <3 #MyDreamMyVoice #1YearSinceSpeakYourself," a fan tweeted.
"joon practiced so hard to memorise his UN speech, a speech that was meant to last 3 minutes but ended being 7 minutes long. he put so much effort into his speech which encouraged people all around the world to speak their truth. #1YearSinceSpeakYourself," another tweeted.
Source: Read Full Article