Can you think of a more glamorous date than the Oscars? We sure can't, but we imagine that Paulina Porizkova and Aaron Sorkin's first date must have gone pretty well, considering that they had their second date on the red carpet, per People. The former supermodel met the famed screenwriter in 2021. Porizkova told the New York Times that a mutual friend offered to set her up. Her only condition was "no rock stars."
Soon enough, she and Sorkin connected via text message, and she was on her way to Los Angeles for their first date. Sorkin invited Porizkova to attend the Oscars with him for the second date in April, and she reluctantly agreed. Porizkova was understandably concerned that walking the red carpet in front of dozens of paparazzi might be a little high-pressure for date number two. Things worked out though, and the couple became inseparable.
It seemed like Sorkin and Porizkova were headed for happily ever after until the news broke several months later that they'd split. Here's the deal.
Aaron Sorkin and Paulina Porizkova were too different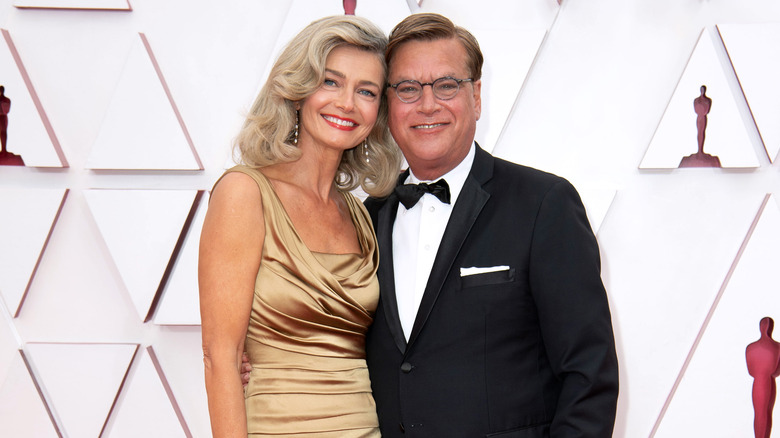 After a glamorous debut, Paulina Porizkova and Aaron Sorkin called it quits in July 2021. Porizkova broke the news to fans via a lengthy Instagram post. "I'm so grateful for [Sorkin's] presence in my life," the former supermodel wrote. "He helped heal me and reclaim myself. There truly may be no better man, no man who's more genuinely 'good'. He's brilliant and witty and funny and sexy," she continued. Sorkin and Porizkova were each other's most public relationship since their respective divorces. Sorkin divorced his ex-wife, Julie, in 2005. Porizkova is still in the process of settling the affairs of her late ex-husband, who left her out of his will following their split in 2018, per People.
As for the cause of her most recent breakup, Porizkova vaguely alluded to fundamental differences between herself and Sorkin. "But it doesn't matter how much we may wish we were birds of a feather – we're still a duck and a goose," she wrote. The accompanying photo was a paparazzi shot of Porizkova and Sorkin, which Porizkova edited to add an emoji of a broken heart. She also took the chance to coyly thank the Daily Mail for the sneaky shot. "Thank you @dailymail for this slightly goofy paparazzi shot."
Ultimately, it seems like Sorkin and Porizkova ended things on good terms, as she's still got his best interest at heart. "As unfiltered as I usually am, [the breakup] involves someone else's privacy," she wrote, referring to Sorkin. "So this is all I'll ever say on the subject.
Source: Read Full Article