On August 27, Sharon Stone revealed on Instagram that her nephew and godson, River Stone, had been found unresponsive in his crib with total organ failure. "Please pray for him," she wrote underneath the photo of her nephew with tubes and electrodes attached to his body. "We need a miracle."
On August 30, Sharon announced via Instagram that River had died. "River William Stone Sept. 8, 2020 – Aug. 30, 2021," she wrote below a video compilation of several home videos of River set to Eric Clapton's "Tears in Heaven." River was the son of Sharon's brother, Patrick, and his wife, Tasha, per a photo Sharon shared on Instagram last fall, when the infant was going home from the hospital for the first time.
Celebrities quickly began flooding Sharon's comments with their condolences. "I'm so sorry lord," wrote Andie MacDowell, with a series of crying emojis. Hilary Swank wrote, "I'm so sorry. Deep heartfelt prayers to your family." River Stone was only days away from his first birthday.
Sharon Stone has three adopted sons of her own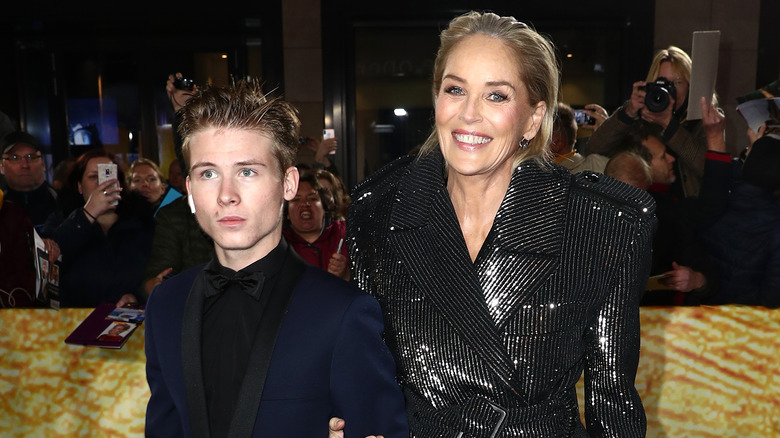 Sharon Stone has three almost-grown sons, all of whom she adopted, according to People. Per the outlet, she adopted Roan, Laird, and Quinn, whom she adopted in 2000, 2005, and 2006, respectively. Stone wrote an essay in British Vogue about her journey to motherhood, revealing that she found out she would be adopting a newborn just one day after giving birth to a stillborn. 
"I felt as if God was throwing me a life raft," she wrote. "I'm now a single mother with three adopted sons, and it has been the great privilege of my life to raise them," she continued. "When you adopt, you realize any child could be your child, any person could be your relative. After that you never see the world in the same way again. I'm connected to everyone on this planet."
In 2017, Stone won Mother of the Year at the Associates for Breast and Prostate Cancer Studies Mother's Day Luncheon, with each of her sons giving a speech he wrote himself. "My mother deserves this award. I love you mom," said Laird, her middle son, per People. Roan, her oldest son, thanked her for teaching him "to treat others the way you would want to be treated and to put your best foot forward." In her acceptance speech, Stone noted, "We have a choice about what we teach our children — we have to stand tall and say yes to love."
Source: Read Full Article