Serge Svetnoy filed the complaint Wednesday in Los Angeles County
Getty Images
In what is the first lawsuit filed in conjunction with the "Rust" tragedy that killed cinematographer Halyna Hutchins, the film's gaffer has sued Alec Baldwin, the film's producers, its assistant director Dave Halls and armorer Hannah Gutierrez-Reed, among others involved with the film, for "general negligence."
Gaffer Serge Svetnoy and his lawyers filed the complaint in Los Angeles County superior court on Wednesday, according to Deadline. The suit seeks unspecified damages and a jury trial, saying that he's suffered "severe emotional distress" as a direct result of the incident. Svetnoy and his lawyers did not immediately respond to TheWrap's request for comment.
"This incident was caused by the negligent acts and omission of Defendants, and each of them, as well as their agents, principals, and employers," the lawsuit reads. "Simply put, there was no reason for a live bullet to be placed in that .45 Colt revolver to be present anywhere on the 'Rust' set, and the presence of a bullet in a revolver posed a lethal threat to everyone in its vicinity."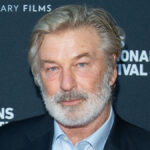 Reps for the producers on "Rust," Baldwin, Gutierrez-Reed and Halls did not immediately respond to a request for comment.
Hutchins was killed on October 21 on the set of "Rust" in New Mexico when Alec Baldwin discharged a gun that authorities have since said contained a "live round" and a "lead projectile." Baldwin was handed the firearm after being told it was a "cold gun," and the bullet killed Hutchins and injured the film's director Joel Souza. A criminal investigation is still ongoing and no charges have been filed.
The lawsuit claims that the defendants failed to implement and maintain industry standards for firearms on set and failed to properly inspect the weapons before passing it along to Baldwin and claims that the production failed to hire a "competent and experienced armorer" or adequate support for Gutierrez-Reed.
"Defendants, and each of them, by their negligent conduct describer below, failed to act with reasonable care, violated relevant and prevailing industry standards, and negligently exercised their assigned and assumed duties in the filming of this motion picture," it continues. "Those duties encompassed responsibilities and required maintaining an industry-appropriate standard of care to prevent just this type of occurrence. These failures caused and contributed to the discharge of a live bullet on the Rust set and the resulting damages to Plaintiff and others."
Svetnoy on Oct. 24 shared a lengthy Facebook post saying that he stood "shoulder-to-shoulder" with Hutchins and held her in his arms as she was dying, adding that "her blood was on my hands." In his post he blamed the fault of her death on "negligence and unprofessionalism."
Source: Read Full Article