Y'all know Jason Momoa is not Aquaman IRL, right? Well, some people don't. The former Game of Thrones star (who is 39, BTW) was minding his own damn business with his wife Lisa Bonet, their kids, and her daughter Zoë Kravitz (casual) in Venice, Italy, when he decided to bless us all by going shirtless. Instead of embracing this gift to the world, some people had really nasty things to say in the comments section of Us Weekly's Instagram.
What else could you need on a holiday weekend? Jason Momoa and Lisa Bonet vacationed in Venice and the photos are must see🔥 Tap the bio for more! (📸: MEGA/AMA)
A post shared by Us Weekly (@usweekly) on
"Omg, what happened to the abs?" Ummm…IDK, what happened to your manners? Look, the rigorous amount of time, planning, and energy that goes into an action star's body is simply not sustainable. Would you want to live on chicken breast alone (like Chris Hemsworth) and work out, like, a million hours a day? I didn't think so. But still, to even call this a "dad bod"?! Come off it.
Let's take another look, shall we? Abs or no abs (although I'm pretty sure those are still abs), Jason Momoa can get it. I will die on this hill. Fight me. I wouldn't fight him, though, if I were you…he's 6'4".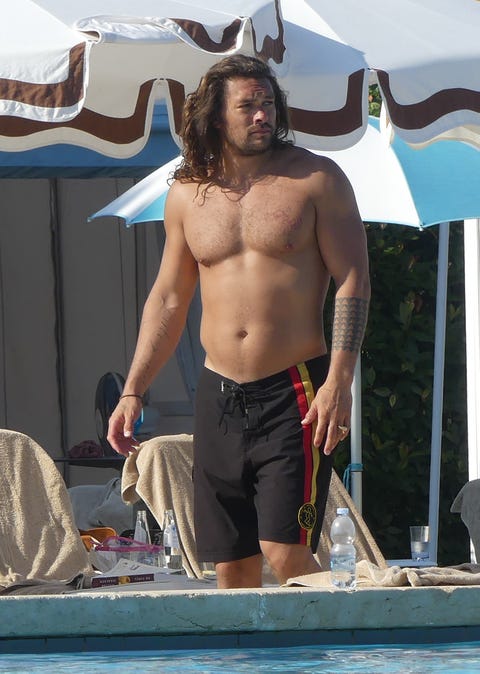 Luckily, Jason's fans are sticking up for the buff bro on Twitter. Just like it's not okay to fat-shame actresses (or anyone, for that matter), it's not cool to take to social media to criticize men's bodies…even if those men are known for their signature muscles.
So apparently people are shaming Jason Momoa's Dad bod… you know the body where he looks like an above average fit man instead of a Spartan Warrior? pic.twitter.com/7s51iv3xC5
People are actually criticizing Jason Momoa for having a "dad bod" in this pic………
……………………….. pic.twitter.com/oLnY0LfiVj
If you're honestly trying to imply Jason Momoa has a Dad bod, then it's clear you don't know what a Dad bod is.
But don't worry, Jason seems completely unbothered and is sharing his own pics from his vacation, TG! Yes, I'm officially done talking about haters. This is now a Jason Momoa appreciation post.
Swim with sharks. It was amazing. My friends started a company @haleiwa_shark_tours We get to swim with my ohana DA MANO. Love sharks. Hanging with @kala_dacaptain @makuarothman @clownin808 @kaimi_kaneholani @_d3mb3r_ @jasonmags_ @i.am.aurelius is making gold cant wait to show u new YouTube episode. Aquaman swimming with Sharks. Just bother @i.am.aurelius cause he likes to take his sweet ass time. 😜😜😜🤣🤣🤣if you are in Haleiwa. Look up @haleiwa_shark_tours Kala will take you out. Tell him Aquaman sent you. Aloha j
A post shared by Jason Momoa (@prideofgypsies) on
Unrelated, please enjoy this video of Jason paddleboarding.
Happy world oceans day I am blessed to be connected by heritage proud Kanaka Maoli my blood is saltwater. I cherish our oceans and our land. Let us celebrate this day. I'm coming home soon Love u ohana I wish I was playing in the waves with you. Let's stop our single use plastic water bottles. #mananalu the wave of change is coming. #endofaugust #worldoceansday aloha j. @leilaniwolfgramm @dahuiofficial
A post shared by Jason Momoa (@prideofgypsies) on
The man doesn't have time for body shamers anyway. He's too busy having a blast on vacation and saving the ocean. Maybe he is Aquaman IRL after all.
Since we couldn't be at the shoot this is my and @realdealmada contribution to the cause Mahalo @lonelywhale and everyone involved in this PSA. Link to the full video in my stories let's get rid of plastic bottles let's clean up Mother Earth and most importantly let's be the change for future generations to come. We all have to take responsibility because the next generation depends on us Aloha j #hydratelike #bethechange #changeiscoming #fuckplasticbottles
A post shared by Jason Momoa (@prideofgypsies) on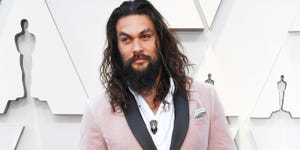 Source: Read Full Article