If you're in the mood for a psychological thriller that will follow you well beyond the closing credits, allow me to present Don't Worry Darling. By now, you're likely aware of the film because you're either (1) a Harry Styles fan, (2) someone generally aware of the current movie landscape, or (3) simply a nosy person with unbridled access to social media (me).
Let's be honest, the past few months have been filled to the brim with a seemingly never-ending feed of source quotes, gossip, nanny tell-alls, and reports of tension on set. Throw in allegations of Olivia Wilde's contentious "special salad dressing" and the rumors around her, Harry, and her ex Jason Sudeikis, and you've got yourself…enough material for a whole other movie script, TBH.
https://www.instagram.com/p/Ci3KS8IvClQ/?utm_source=ig_embed&utm_campaign=loading
A post shared by Don't Worry Darling (@dontworrydarling)
Regardless! Whether you managed to actually see the film in theaters when it debuted on September 23 and wanna relive the experience *or* you've been holding out until you can watch from the comfort of your own home (and with the ability to live tweet your ~thoughts~ IRL), I'm pleased to announce that Don't Worry Darling will be available to stream v soon. Here's everything you need to know about how to watch Don't Worry Darling:
When can I watch Don't Worry Darling online?
Good news! The entire movie will be available to stream in *checks calendar* less than a week. On Monday, November 7, 2022 to be exact.
'Kay, let's talk viewing options
Don't Worry Darling will be available exclusively on one platform: HBO Max. However, not all hope is lost if you (or a friend lol) aren't a customer of the streamer already, since you can subscribe for $9.99 a month or, alternatively, pay $14.99 a month for its ad-free plan. Unfortunately HBO Max doesn't offer free trials, but in the past they *have* announced deals like their January's 2022 promo which "offered new and returning subscribers 20 percent off monthly plans for 12 months." Though that deal is no longer avail, you truly never know when the streamer will launch another one, so keep an eye on it just in case ¯\_(ツ)_/¯.
And for those of you don't want to wait until November 7, Don't Worry Darling is available to rent on Amazon Prime Video right now (!!) starting at $19.99 if you're a Prime customer. Beyond that, the film is set to release on Blu-ray and DVD beginning November 29, 2022.
Remind me of the movie synopsis?
Yes! Ahem, here it is: "Alice (Florence Pugh) and Jack (Harry Styles) are lucky to be living in Victory, the experimental company town housing the men who work for the top-secret Victory Project and their families. Life is perfect, with every resident's needs met by the company. All they ask in return is unquestioning commitment to the Victory cause. But when cracks in their idyllic life begin to appear, exposing flashes of something much more sinister lurking beneath the attractive façade, Alice can't help questioning what they're doing in Victory, and why. Just how much is Alice willing to lose to expose what's really going on in paradise?"
*Cue le dramatic music*
And gimme a cast roundup, pls
Olivia Wilde—who both starred in *and* directed the film–appears alongside a slew of A-list talent, including the aforementioned Florence Pugh and Harry Styles, Gemma Chan, KiKi Layne, Chris Pine, Nick Kroll, Sydney Chandler, Kate Berlant, Asif Ali, Douglas Smith, Timothy Simons, and Ari'el Stachel. You love to see it!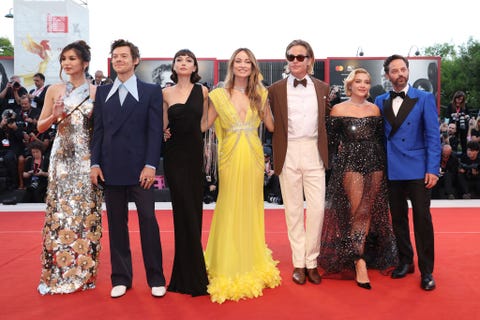 Take me through the drama again for the #mems
To relive everything from the "special" dressing incident to #spitgate, look no further:
This saga is truly one for the books.
Source: Read Full Article