"Yeeeeessss!! Here for thiiiissss!!" said "Spider-Man" actress Zendaya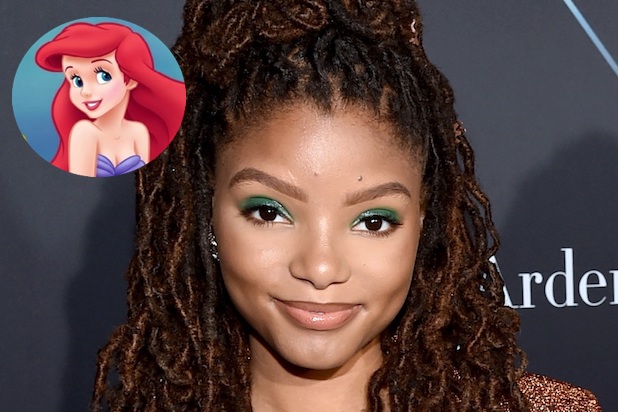 The casting of Halle Bailey as Ariel in Disney's "The Little Mermaid" live-action remake has received support from Lin Manuel-Miranda, Zendaya and others.
"Yeeeeessss!! Here for thiiiissss!!" said Zendaya
"Oh, hey, meet Ariel!" said Lin Manuel-Miranda.
"This is just so damn fantastic," said Broadway Stage Vet Audra McDonald.
"People keep talking about how some things don't need to change in regards to Ariel now being a BEAUTIFUL BLACK QUEEN," said singer, songwriter, actress and model Justine Skye. "If we didn't experience CHANGE we wouldn't be experiencing a damn thing we have today."
Filmmaker Matthew A Cherry tweeted a gif which received over a million views and said "Black Twitter reacting to the news that Halle Bailey from the group ChloeXHalle was cast as Ariel in Disney's Live Action Little Mermaid"
"I literally started crying finding out that Halle from @chloexhalle is going to be Ariel in the live action Little Mermaid! LEGENDARY!!!" said YouTuber Kalen Allen (who is also working with Talk Show Host Ellen DeGeneres)
19-year-old Halle Bailey — one half of the R&B duo Chloe X Halle — will play the mermaid who trades in her beautiful singing voice for human legs. Bailey called getting the role "a dream come true."
Rob Marshall is directing, and the film is produced by John DeLuca, Marc Platt and Lin-Manuel Miranda. David Magee ("Mary Poppins Returns") wrote the script.
"The Little Mermaid" live-action remake will feature the 1989 animated classic's original songs by Alan Menken and Howard Ashman, as well as new songs with music by Menken and lyrics by Miranda.
Production is anticipated to begin in early 2020. Additional announcements regarding "The Little Mermaid" are expected in the coming weeks.
The original "The Little Mermaid" follows princess Ariel, a teenage mermaid who dreams of living on the surface world and marrying Prince Eric. Her fortunes change when a sea witch named Ursula offers to send Ariel to the human world in exchange for her beautiful voice. It won two Oscars for Disney for Best Original Score and Best Original Song for the track "Under the Sea."
Bailey started recording music as the contemporary R&B duo Chloe x Halle in 2015 on YouTube and even caught the attention of Beyoncé. They then released their debut in EP in 2016 and have since appeared on the soundtrack for Disney's "A Wrinkle in Time and were tapped to sing "America the Beautiful" during the pre-game ceremonies for the 2019 Super Bowl.
Source: Read Full Article