Known for his blockbusters, Steven Spielberg changed the summer of 1982 with E.T. the Extra-Terrestrial. The film made everyone from little kids to Princess Diana shed tears, but it's a family-friendly classic that's still quotable 40 years after its release.
Drew Barrymore and Henry Thomas shined alongside their intergalactic, M&M-loving buddy, E.T. While the movie evokes warm and fuzzy memories for fans, there were two aspects that caused Spielberg to feel regretful. And it has nothing to do with when Elliott called his brother "penis breath."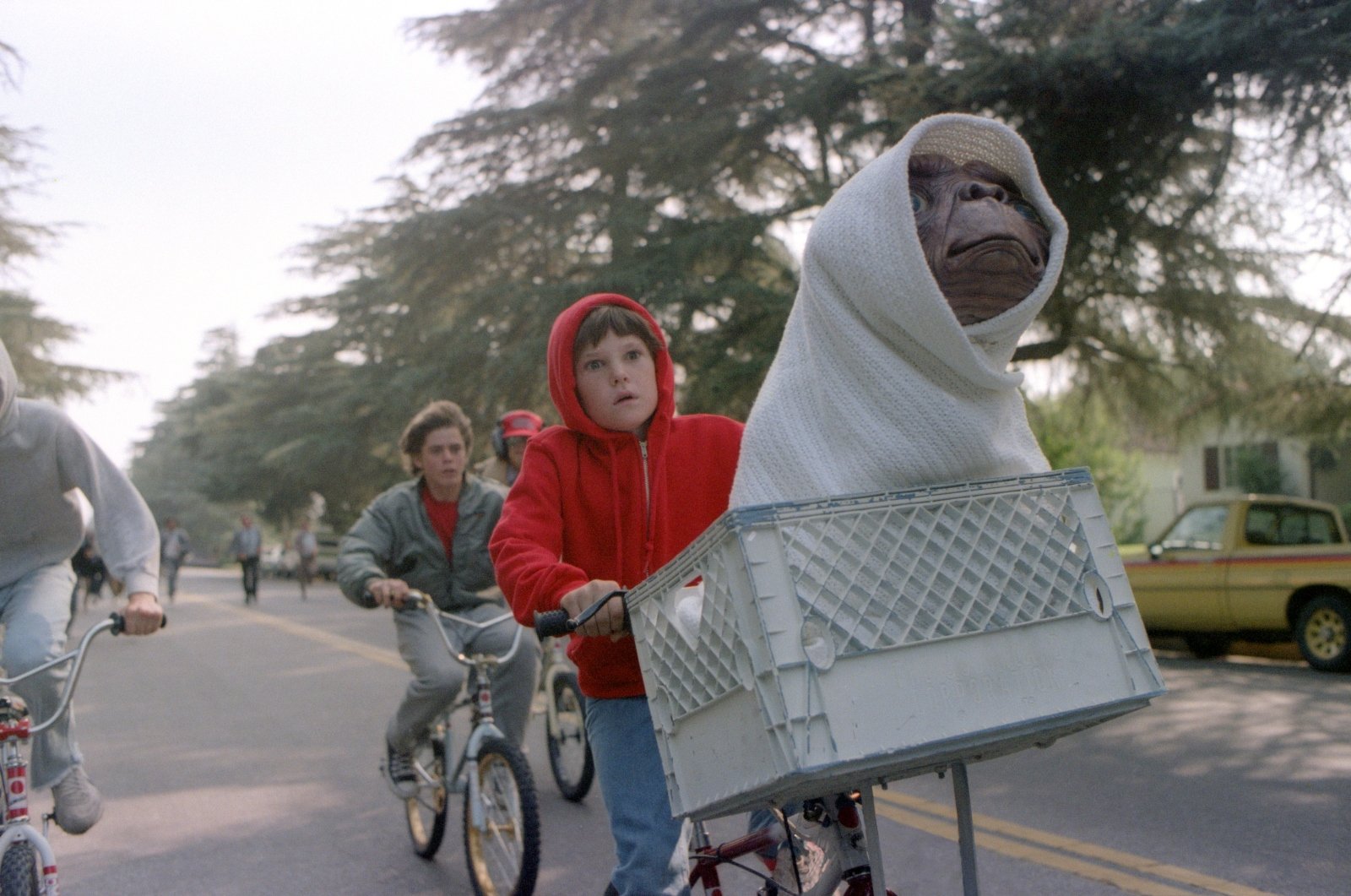 Steven Spielberg lamented over 'E.T.' chase scene
No one is a harsher critic to an artist than the artist themselves. E.T. lives in the hearts of millions as a "perfect" movie, and hits viewers with humor, love, adventure, modern fairy tale themes. It truly earned its Oscars. But in the film's bonus DVD footage, Spielberg once reflected on which parts he would've left out.
"I regret two things in the movie. I regret that a gun was used as a threat to stop children on bicycles. In that last cut before E.T. opens his eyes and the bikes take off with a gun coming up, — not pointing at the kids — but just coming up in a brandishing, kind of at-ready position. I regret that cut," he stated. "And I regret the cut of the cops with guns in their hand running out to the abandoned Econoline van with the dry ice pouring out of the back, and E.T. is gone; he's not in there. I really regret having any guns in the movie."
Spielberg went on to discuss what he would change in a remixed version of the film. "If I ever reissue the picture, I'll delete the shot of the cop holding the gun up — which in the current film causes E.T. to fly. I think those were two distasteful moments for me."
He was referring to the part where Elliott and the boys nearly ran into a police barricade with their bikes after they rescued E.T. from the scientists. E.T. averted disaster by lifting Elliott and crew into the sky.
Spielberg swapped out the guns in later editions
When the special DVD version of E.T. finally hit shelves in 2002, Spielberg made some alterations to the guns. He edited them out and replaced the pistols and rifles with walkie talkies. The radios are shown in the clip below.
However, the original guns appear in the subsequent Blu-ray editions of the film, which switches back to the classic 1982 film. E.T. producer Kathleen Kennedy spoke with Collider in 2012 and shared her opinion on Spielberg's choice to make both swaps.
"To be perfectly honest, I think Steven always regretted having made the decision to do anything to the film. I think he was feeling a certain amount of pressure to be politically correct," she said. "And then he realized that it maybe wasn't the correct [decision]. I think most fans and most people who like classic movies that have stood the test of time, don't want them to be tinkered with."
Where to stream 'E.T.'
Phone home with E.T. by streaming the film on Peacock. Fans can analyze which iteration of the movie is on that platform, or access it on Amazon Prime, YouTube, iTunes, or Vudu.
Source: Read Full Article