When fans heard a Chip 'n Dale: Rescue Rangers movie would come to Disney+, no one expected them to take a turn into a world reminiscent of Steven Spielberg and Robert Zemeckis' Who Framed Roger Rabbit. Walt Disney Studios plans to bring the Chip 'n Dale: Rescue Rangers characters to the streaming service in a hybrid CGI and live-action film with John Mulaney and Andy Samberg as the titular chipmunks. While fans of the classic 90s Disney show might have hoped for a more classic reboot, the fresh take might bring new fans to the Chip' n Dale fan club.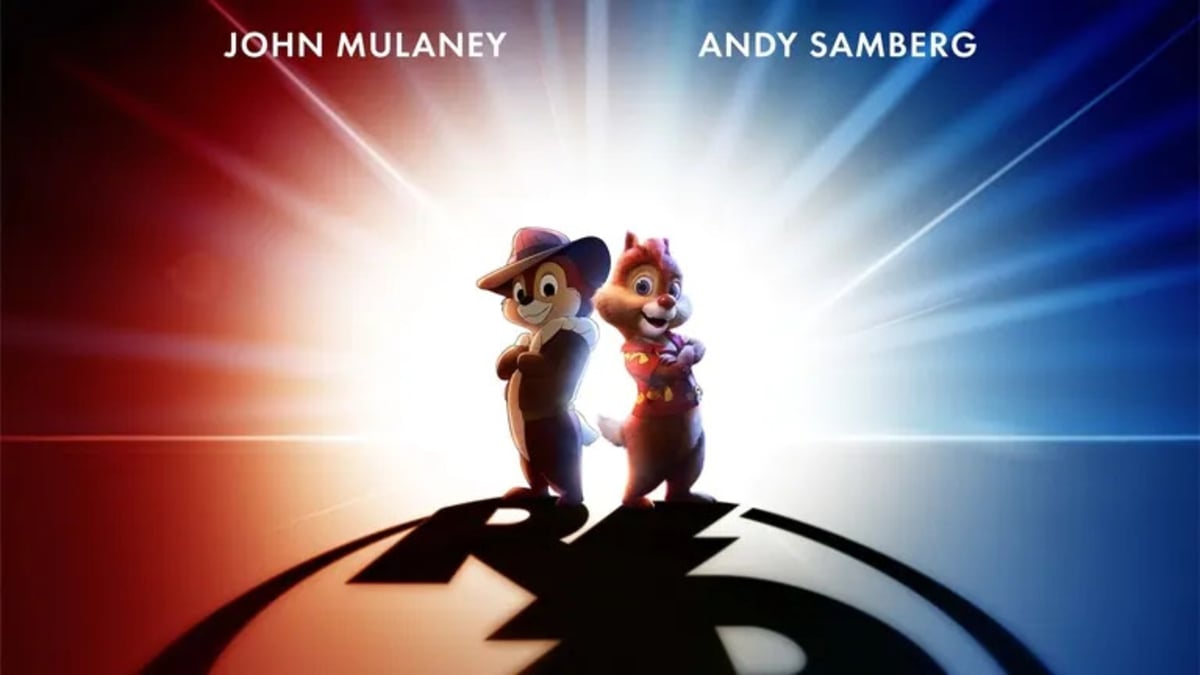 'Chip 'n Dale: Rescue Rangers' seems to take place in a world similar to 'Who Frame Roger Rabbit'
Walt Disney Studios released the Chip 'n Dale: Rescue Rangers 2022 trailer on YouTube on February 15. It started with a fake news source called 'Real Hollywood Stories' reporting on the "history" of Chip and Dale. It stretched from when Chip' n Dale: Rescue Rangers first aired in 1989, meeting Roger Rabbit, through the modern-day.
Chip 'n Dale: Rescue Rangers trailer showed the classic cast of Chip, Dale, Gadget, and Monterey Jack in their original show starting in 1989. The trailer reminisces about the height of the show's popularity. Easter eggs include the Chip' n Dale Rescue Rangers NES video game.
It shows cartoon characters living side-by-side with live-action people. For fans of movies like Space Jam, Cool World, and Who Framed Roger Rabbit, Chip' n Dale Rescue Rangers likely feels very familiar.
Some even compared it to Space Jam 2 when Bugs Bunny teamed up with LeBron James in cartoon and CGI animation.
Dale gets 'CGI Surgery' in the Disney+ trailer
One of the first things fans likely realized is that Chip and Dale do not sound the same.
The black-nosed Chip is played by John Mulaney, stand-up comedian and Spider-Man: Into the Spider-Verse actor. Red-nosed Dale is played by Andy Samberg, Hotel Transylvania star, and one of the most interesting parts of the trailer.
Other actors in the Chip' n Dale: Rescue Rangers cast include Will Arnett, Eric Bana, Keegan-Michael Key, Seth Rogan, JK Simmons, and Kiki Layne.
After Chip and Dale think back on "doing the Roger Rabbit with Roger Rabbit" (though with no sign of Jessica Rabbit), the trailer skips forward to 30 years after their Rescue Rangers success.
When Chip, Dale, and Monterey Jack reunite in the modern-day, Andy Samberg's Dale looks different. Dale tells Chip that he had CGI Surgery. It makes him look more realistic compared to Chip, who retains his classic cartoon design.
The trailer reveals involvement from The Lonely Island and several surprising franchise crossovers.
The 'Chip 'n Dale: Rescue Rangers' movie is a franchise mashup to rival the likes of 'Who Framed Roger Rabbit'
Massive crossover films seem like a dime a dozen nowadays. However, while movies like Space Jam 2 cram in dozens and dozens of references (with some that barely make sense), films like Chip 'n Dale: Rescue Rangers and Who Framed Roger Rabbit, the crossovers feel more essential to the story.
Indiana Jones shows Disney flexing a property besides Star Wars they acquired from the LucasFilm buyout. Chip and Dale are later seen riding a herd of My Little Pony characters.
An animated monster contains several references, like the fist of Wreck-It Ralph, the torso of Little John from Robin Hood, and a fluttering tarp as a reference to Jurassic Park.
The adventure will be vastly different from the animated show from 1989. And with huge names like Will Arnett and Spider-Man: No Way Home actor JK Simmons, anything could happen.
The Chip' n Dale: Rescue Rangers movie debuts on Disney+ on May 20, 2022.
Source: Read Full Article