When arriving on the New York set of his upcoming Apple movie 'Wolves', the 'Bullet Train' star brazes the chilly night shoot in a bright-orange puffer coat and a contrasting green beanie.
AceShowbiz –Brad Pitt lightened up the mood on the set of his upcoming movie. The 59-year-old actor, who has been busy filming "Wolves" with his longtime pal George Clooney, has been spotted wearing a bizarre outfit combination while arriving on the New York set of the film.
On Thursday, January 26, Pitt was working for a night shooting of the Apple thriller alongside his co-star Clooney. He brazed the chilly night shoot in a bright-orange puffer coat and a contrasting green beanie that could remind people of carrot.
The "Once Upon a Time in Hollywood" star completed the look with a pair of multi-colored pants, white Vans, a violet sweater and a red tote bag. He appeared to be in good spirits, flashing a smile while about to enter a car. He also stopped for fans and graciously signed autographs on his way to set.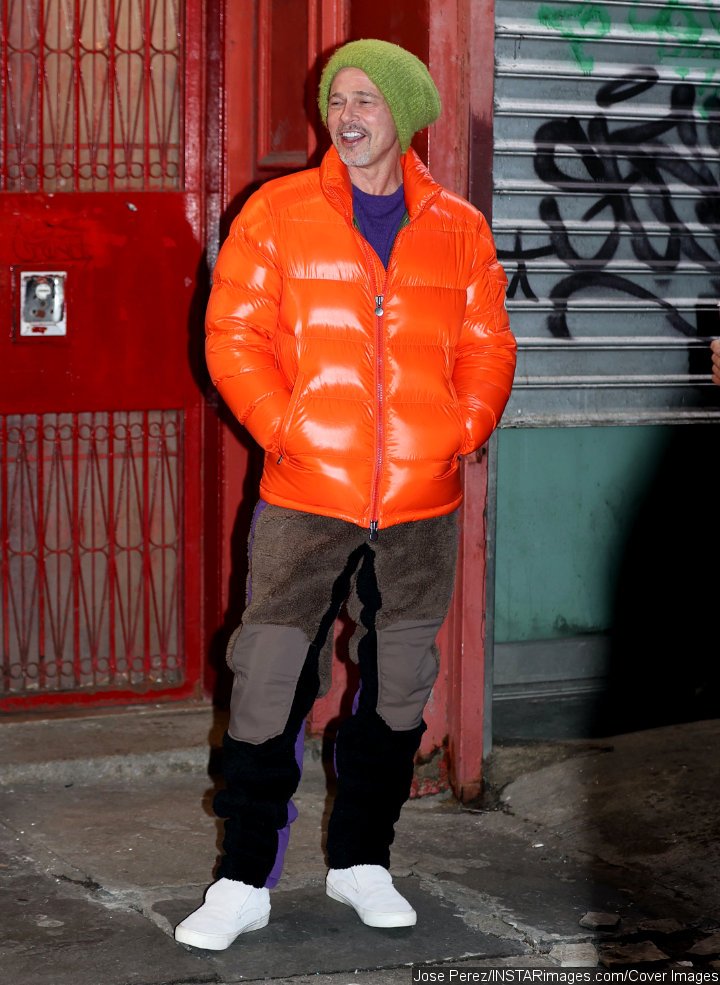 Brad Pitt wore a bright-orange puffer and a green beanie on the New York set of his new movie.
Clooney, meanwhile, opted for less eye-popping look in a black coat, blue jeans and white sneakers. Both actors rocked a smattering of neatly styled silver beard scruff for the occasion.
The duo were seen laughing it up with a crew member in between takes and were later spotted together in a car while on set. At one point, the "World War Z" actor appeared to be explaining something to the "ER" alum with hand gestures, while the latter sat behind the wheel and listened intently.
The two A-listers later changed into their onscreen outfits. They were matching in black leather jackets and gray slacks, with Pitt completing his outfit with a gray fleece zip-up, white button down shirt and black leather shoes. As for Clooney, he rocked a black shirt under a blue sweater for his night on the set.
"Wolves" centers on two lone wolf fixers assigned to the same job. The two actors have been attached to star since September 2021 and produce via their respective production labels, Smokehouse Pictures and Plan B Entertainment.
Jon Watts is writing and directing the thriller in addition to serving as producer. The project reunites Pitt and Clooney, who previously starred together in Ocean's Eleven" (2001) and its two sequels, "Ocean's Twelve" (2004) and "Ocean's Thirteen" (2007), as well as "Burn After Reading" (2008).
You can share this post!
Source: Read Full Article