Nearly all of the world's leaders and dignitaries gathered yesterday to attend Queen Elizabeth II's funeral in Westminster Abbey. Of course President Joe Biden and his wife First Lady Dr. Jill Biden were on the guest list, and they did the most American thing ever: arrived late to a Very Important Event. (TBH, not sure if I should be embarrassed by our leaders or lean into them suddenly feeling far more relatable—still sorting it out.)
What prompted their tardiness, you ask? Traffic. Lol, yep. Part of getting stuck in traffic is their own fault though, truthfully. Instead of joining other leaders at a meeting point and then taking a bus over to Westminster Abbey for the service, the Bidens were allowed to ride in The Beast, the super-protected presidential limousine that travels with POTUS nearly everywhere. The day before, an onlooker spotted the car inching down a London street.
American President comes to a standstill in London traffic near Marble Arch. Might as well have taken the bus. pic.twitter.com/lJ2nNE5kC9
When the Bidens finally did arrive to the service, they were not hastily moved to their seats, but rather "gently told they would need to stand and wait as a procession of George and Victoria Cross-holders went ahead of them," reported The Guardian.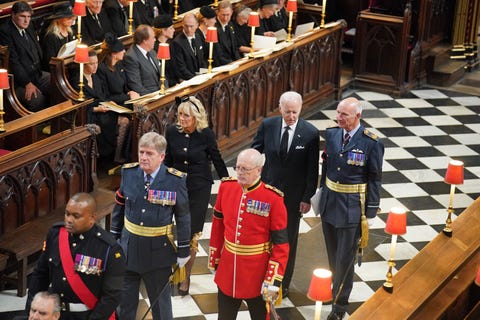 POTUS and FLOTUS finally took their seats at ~10:05 a.m., according to The Guardian, though world leaders were supposed to be seated between 9:35 a.m. and 9:55 a.m. Oops! And get this: Their spots were 14 rows back in the Abbey, with Poland's president behind them and the Czech Republic prime minister in front. The president of Switzerland sat next to Dr. Jill Biden, according to Time.
It's a bit unclear on whether or not these were always supposed to be the Bidens' seats, or if these were a repercussion for their tardiness. (Though an event riddled with so many foreign dignitaries probably calls for a scrupulous seating chart, right?) Plus, the royals make it known that nearly everything has deeper meaning.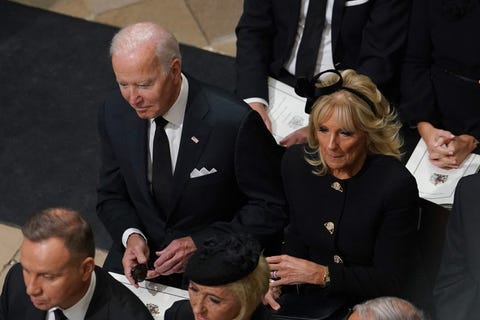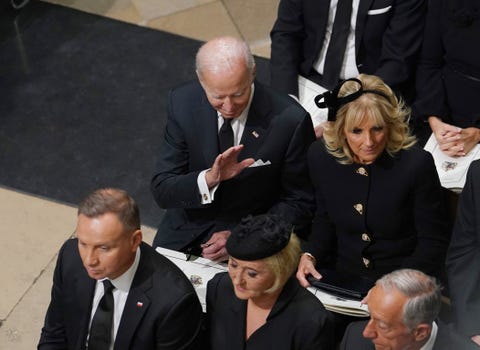 Well, I guess anytime you're late to something important, you can just give the excuse that the president did it too. Thanks, Joe!
Source: Read Full Article