• Netflix surprise released a special from Andy Samberg's The Lonely Island.
• The piece focuses on baseball players Jose Canseco and Mark McGwire.
• Below, our list ranking every cameo in The Lonely Island Presents: The Unauthorized Bash Brothers Experience
On Thursday, Netflix released a surprise comedy special titled *deep breath* The Lonely Island Presents: The Unauthorized Bash Brothers Experience. The 30-minute music video epic centers on the titular Bash Brothers of the late '80s Oakland Athletics, Jose Canseco and Mark McGwire (played by Lonely Island's Andy Samberg and Akiva Schaffer, with while Jorma Taccone playing various roles throughout the special).
Given the trio's Saturday Night Live roots, and considering their wildly-underrated, star-studded 2016 feature film Popstar: Never Stop Never Stopping, it's not a surprise that the Lonely Island managed to rope in a few of their famous friends for Bash Brothers. There are plenty of cameos in the special (and some are better than others), but we'll lump them together based on how they appear on screen, whether it be in a group, together, or simultaneously, and rank them worst to best. It'll make sense: trust us.
4. Jim O'Heir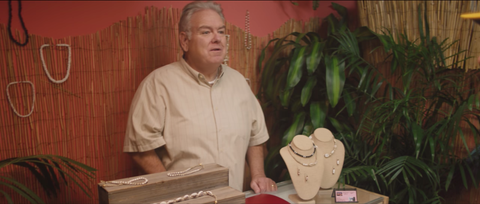 Netflix
Parks and Recreation's Jim O'Heir, who played the lovable loser Jerry/Terry/Larry Gergich on the beloved NBC sitcom shows up for mere seconds as an object of Mark McGwire's roid rage (The slugger very abruptly threatens him with a switchblade). We're just getting started.
3. Jenny Slate/ Hannah Simone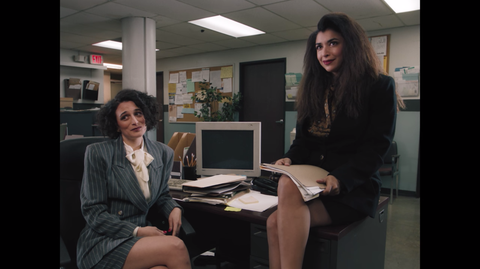 Netflix
Samberg's Canseco and Schaffer's McGwire are eager to prove how desirable they are to the ladies. So when they see Jenny Slate and Hannah Simone in an office, they're eager to make their play (spoiler: it doesn't work). From there, they enter the special's centerpiece song: "Oakland Nights," where they show off their Silk Robes and Kimonos, in an effort to convince the SNL and New Girl stars that they're worthy (another spoiler: it still doesn't work).
2. The Val Gals (Stephanie Beatriz, Alana Haim, Este Haim, Danielle Haim, Maya Rudolph)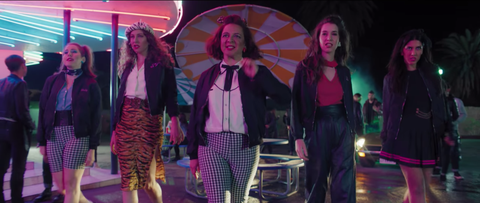 Netflix
This sequence is so unbelievably good. An establishing point here is that a good portion of this special revolves around McGwire and Canseco loving IHOP, so let's get that out of the way. This segment, situated in an IHOP parking lot, features all three sisters from the band Haim, SNL alum Maya Rudolph, and Brooklyn Nine-Nine's Stephanie Beatriz. It is so funny—a rap/song/chant combination that finds the Bash Brothers going back and forth with these five women, with lines like "It's not phrased, weird at all, shake four halves of butt."
Bonus points if you can even look at Samberg and Schaffer dancing in this sequence without busting out laughing: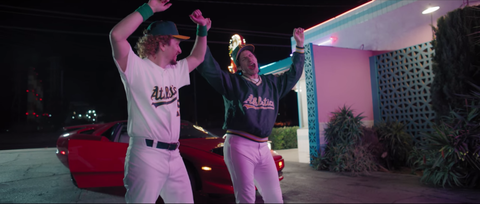 Netflix
1.Sterling K. Brown/Sia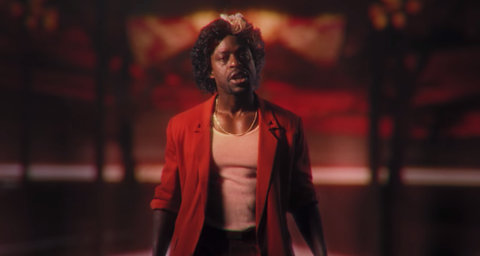 Netflix
The top spot on our list goes to the singer of the very catchy hook in "Oakland Nights." With the voice and hair of Sia and the appearance of Sterling K. Brown (an Emmy winner for both This is Us and American Crime Story), this character might just be the greatest compound cameo of our times.
Bash Brothers is perfection, and The Lonely Island members are what make it so special. But all of these cameos don't hurt, either—and when you can combine Sterling K. Brown and Sia into one entity, I mean, why the heck not?
Source: Read Full Article