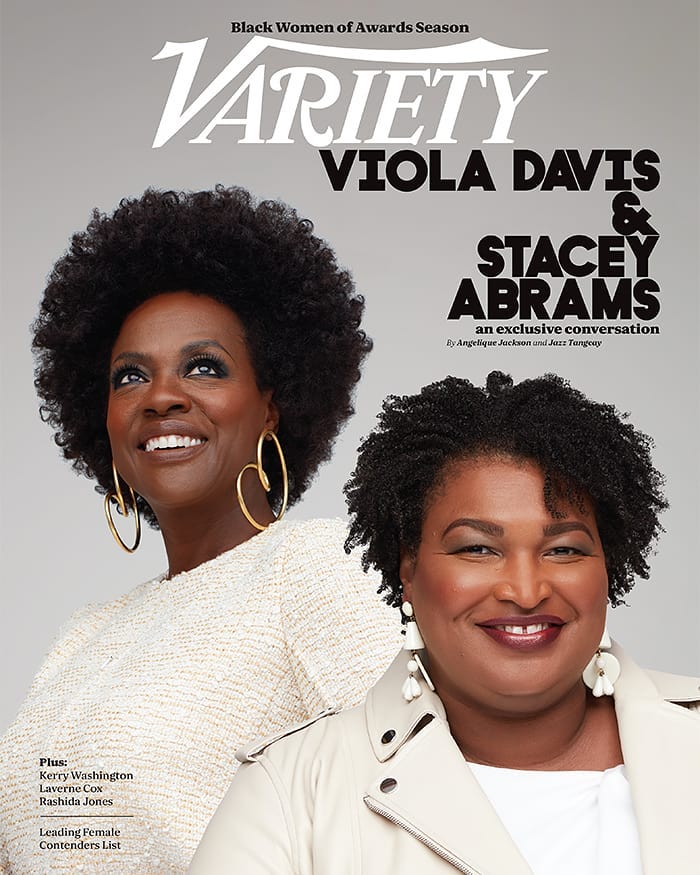 Viola Davis should be on a high right now. Besides stunting on us in her Icy Park gear (Viola looked damn good ya'll), her career is taking off later in life. Her latest film, Ma Rainey's Black Bottom, was a tour de force and she received Golden Globe, SAG and Critics Choice nominations for lead actress. There's Oscar buzz around her performance and if she's nominated as expected she'll have the most nominations for a Black actress in history. (Currently she ties with Octavia Spencer with three Academy Award nominations.) Viola has an Oscar for Best-Supporting Actress for her role in Fences. She's just a Grammy away from an EGOT. Viola had a conversation with Stacey Abrams for Variety. She discussed making Oscar history and the lack of material for artists of color in the film industry. Below are a few excerpts:
"For me, it's a reflection of the lack of opportunities and access to opportunities people of color have had in this business," she says. "If me, going back to the Oscars four times in 2021, makes me the most nominated Black actress in history, that's a testament to the sheer lack of material there has been out there for artists of color."

Davis currently shares the record for the most nominated Black actress in the history of the Academy Awards, tied with close friend Octavia Spencer with three nods apiece. Both women have a supporting actress trophy at home (Davis won in 2017 for "Fences," while Spencer won in 2012 for "The Help").

"Am I grateful that I absolutely have gotten to that point in my life after everything that I've been through, and my path, my journey? I'm very grateful for that, extraordinarily so. But I just can't express enough how important it is to lead a life of vision and purpose," Davis says. "The conversation that no one is having, the sort of cognitive discussions that people are not having is the process to getting there — the tools and the access that was given to these artists, in order to get to a place where their work can be seen."

She explains: "When you start having those conversations, you see what a huge deficit and huge discrepancy is still out there for artists of color, which is why a lot of times we don't have a seat at the table. It's not because we don't have the talent, it's not because we're not working hard. It's because of fundamental truths that we are not given the same permission, tools and everything that we need to even start on the same level, or to be on the same playing field."

"There are a lot of white actresses out there, who are fairly young — in their 20s or 30s, who have been to the Academy Awards just as many times as me or more than me," the 55-year-old star continues. "It is a reflection of their talent — but it's also a reflection of their opportunities. That's what it is. It's a reflection of how they had the chance — those three, four or five roles that were so good that brought them to that place. [Being a Black actress] is like having a fabulous body, but not having the right clothes to show it off."

In evaluating the number of nominations for contemporary actresses, for comparison's sake — in 2016, Oscar-winner Jennifer Lawrence set a record as the youngest person to earn four nominations at age 25. In 2020, Saoirse Ronan became the second-youngest to earn four nods; she was also 25, but a few months older than Lawrence was at the time of her fourth nomination. Oscar-winner Kate Winslet (who currently has seven nods) was the youngest actress to reach five nominations; she was 31 when she was recognized for 2006's "Little Children."
[From Variety]
Viola is always spitting truth. I will never forget that interview where she said "If I am the Black Meryl Streep, then pay me Meryl Streep money." That was the mic drop heard all over the world and she is right. Hollywood has always engaged in racist practices. I am loving how a lot of Black artists are starting to form their own production companies (like Viola's JuVee Productions) and platforms (like Ava DuVernay with Array Crew) that give access to Black and Brown film workers. I am firm believer that if we wish to have more opportunities in the film industry, that we will have to create them ourselves. That is what I grew up with seeing with Spike Lee, Eddie Murphy and John Singleton to name a few. I also believe that we will have to force Hollywood's hand in demanding more representation by boycotting if necessary and withholding our dollars. It would seem folks only respond to money or the lack thereof. I love how Viola stays on Hollywood's back about the lack opportunities for BIPOC and I love that she is following that up by creating her own damn table. I will continue to stan Viola. She has been a real one these last two decades. I do hope her star continues to rise and that she and her husband create some amazing content.
https://www.instagram.com/p/CLpb9-oh6_G/
A post shared by VIOLA DAVIS (@violadavis)
https://www.instagram.com/p/CLP4wRShgwt/
A post shared by VIOLA DAVIS (@violadavis)
https://www.instagram.com/p/CK7v-IgBPGA/
A post shared by VIOLA DAVIS (@violadavis)
— Viola Davis (@violadavis) February 3, 2021
Photos via Twitter, Instagram
Source: Read Full Article