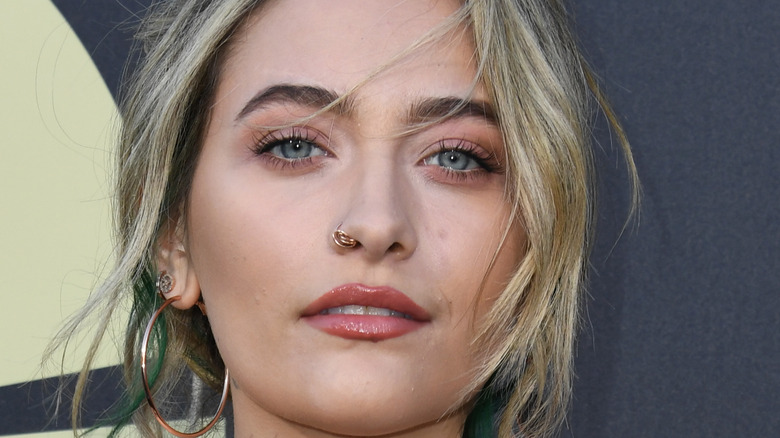 Jon Kopaloff/Getty Images
By Angela Andaloro/Sept. 13, 2021 9:09 am EDT
Paris Jackson has spent her adulthood making a name for herself. The 23-year-old is a model, an actress, and a musician. Her talent is evidence of her tremendous roots. She is the only daughter of the late King of Pop, Michael Jackson.
Unlike her father, Paris is known to have a passion for expressing herself with her body as her canvas. The members of the first generation of Jacksons were unlikely to have tattoos because of the strict religious household they grew up in (via The Independent). Paris fell in love with getting inked at a young age, getting a vast number of tattoos soon after turning 18 in 2016.
It's hard to say which of the tattoos were Paris' first because she got so many in a matter of a few months. At the heart of her collection of tattoos are two themes: her sentimental bonds with the people and music she loves, and deep spiritual introspection of the self. 
Many of Paris' tattoos honor her late father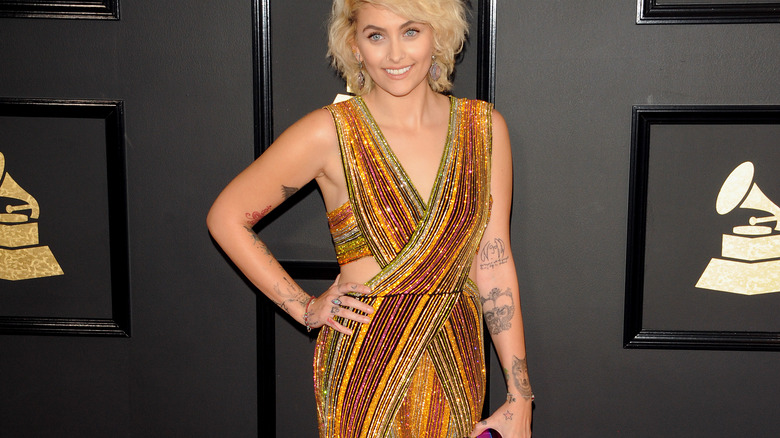 Paris Jackson was just 11 years old when her father, Michael Jackson, died unexpectedly (per Newsweek). The loss was tremendous for Paris, big brother Prince Michael, and little brother Bigi. 
Jackson has chosen to honor her late father in a number of pieces she has. On her left forearm, she has Michael's eyes from the "Dangerous" album cover. The "Bad" logo is inked on her right hand in bright red ink (per Rolling Stone).
The other tattoos Jackson has in honor of her father focus less on his legacy as the King of Pop and more about their close relationship. Near her clavicle, she has "faith, trust, and pixie dust," in memory of her dad's love of "Peter Pan," according to Stylecaster. Michael reportedly would call his little girl "Tinkerbell." She also has "queen of my heart" in his handwriting on her left wrist (per Cosmopolitan).
Paris also has some sentimental tattoos honoring others in her life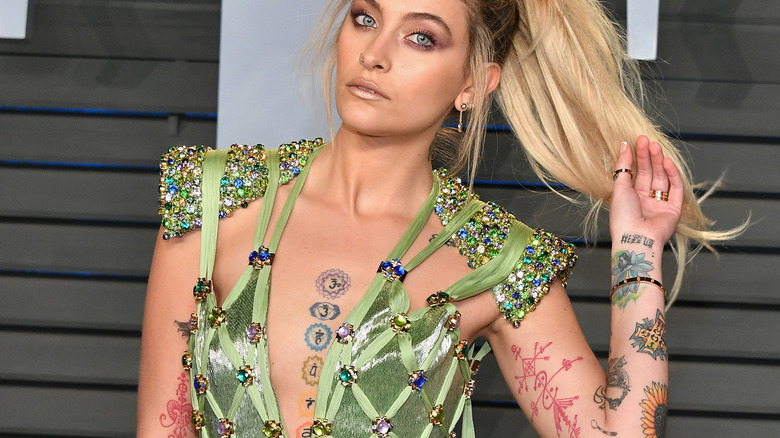 Paris Jackson has chosen to celebrate a lot of her relationships with ink. She has tattoos honoring each of her brothers, for example. In Prince Michael's case, the two have matching tattoos. Prince Michael has the yin and Paris has the Yang (per Glamour). When she debuted a photo of the tattoos on Instagram, she opened up about her relationship with her big brother.
"Sometimes I feel like my big brother and I always think the same thoughts, he just doesn't have a filter and always vocalizes them," she wrote. "Though total opposites, like my gooko and i, the inseparable yin and yang work together finding and causing balance within each other. matchies with my bestie @princejackson!"
Bigi is still too young for tattoos, but the Millennium Falcon with a white-ink B next to it on her right ankle is in his honor (via People). There's also her matching tattoo with godfather Macaulay Culkin. The two share matching spoon tattoos, signifying an inside joke between them (per People). 
Paris has many music-related tattoos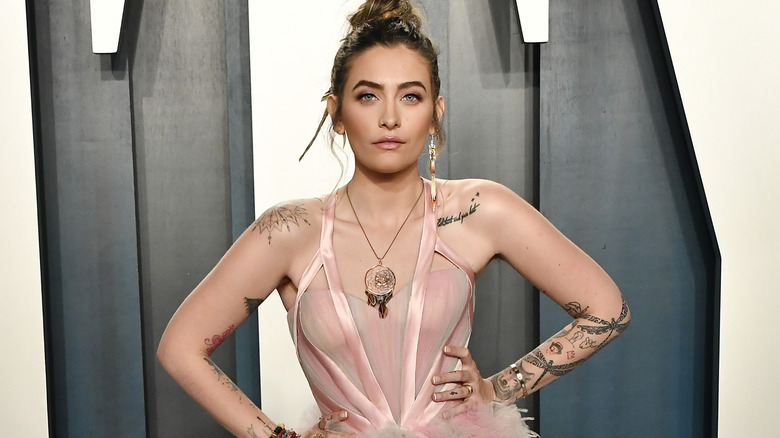 Paris Jackson has many music-related tattoos. She has the single art from Manchester Orchestra's "The Mistake" on her left arm, per The Daily Mail. Beneath it is a John Lennon tattoo that has the classic outline drawing of the musician with "Imagine" lyrics in his handwriting (per Body Art Guru). 
Inside her lip, Jackson tattooed the word "Motley" in honor of Motley Crue, a lifelong favorite. She also has the "Dr. Feelgood" album art tattooed on her right bicep (per Tattoo Boy Girl). She also has the symbols for "Led Zeppelin IV" on her left arm.
Next to an outline of a bird on its back, she has the title of butch walker's fifth album, "I Liked it Better When you Had No Heart."
Paris also has a lot of spiritual tattoos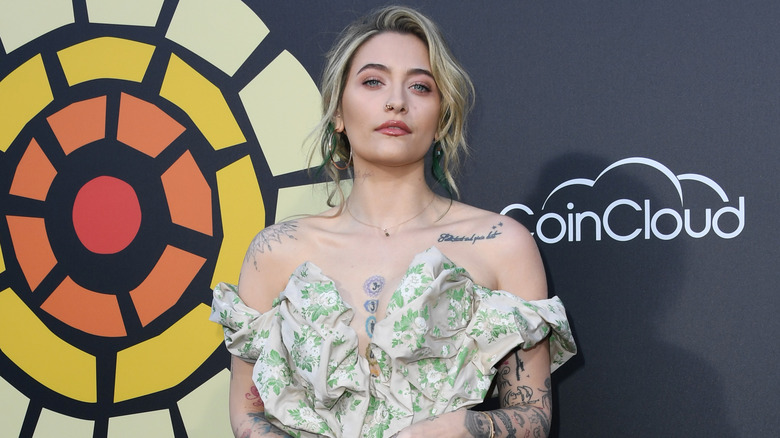 Another common theme in Paris Jackson's many tattoos is spirituality. In 2017, Jackson debuted her largest and most intense tattoo to date. Jackson had the chakras tattooed from her sternum to her navel and in the corresponding spot on her back. It was at that point that Jackson started getting some questions from fans about her extreme ink decisions, which she tackled in an Instagram post about tattooing as an art form.
"The craftsmanship of tattoos will always be a controversy. some people like them, some people absolutely hate them. i appreciate art, i always have. especially when that art means something to me," she wrote in the since-deleted post (per Insider). She also opened up about how tattooing has helped her recover from a darker time in her life.
"Today [sic throughout] i can look at my inner forearms and see art that has meaning for me, i don't see a dark past anymore. my scars and past of self-hatred have been covered by loving marks, creativity, ingenuity.. and depth. Sure i will always carry my past with me, but i see ink as a way of changing for the better, always improving. they represent strength for me."
Paris has many Native American-inspired tattoos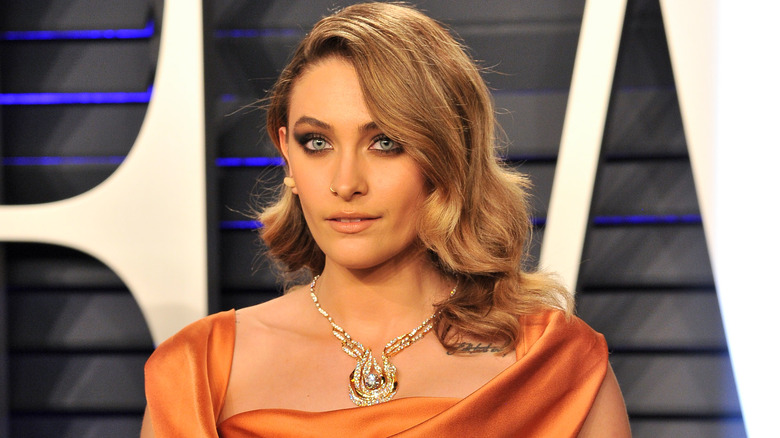 Paris Jackson has advocated for Native Americans rights throughout the years. She has a number of tattoos that are inspired by Native American culture. She has a wolf tattoo on her left arm, reflecting on her solitary nature (per Tattoos Boy Girl). She also has Native American art-inspired feathers tattooed behind her right ear, one of her earliest pieces. 
On her left ankle, Jackson has a special thunderbird design. The design was done by Stephanie Big Eagle, a participant of no DAPL movement and a descendant of Okewi Sakowin, also known as the Great Sioux Nation (per Body Art Guru). She explained that the thunderbird "represents Great Spirit, who watches over and guides all of the protectors at Standing Rock" (per Painful Pleasures).
Jackson also has a stag with a heart between its antlers, pierced by an arrow, which was her first tattoo done by artist Connor Garrity. 
Source: Read Full Article