Barely a day goes by without a dramatic update on Meghan Markle and Prince Harry's upcoming docuseries, and now Page Six is out here reporting that the couple are "are at odds with Netflix and even their own production team" about what will make it into the show.
"Harry and Meghan are having second thoughts on their own story, on their own project," a source tells Page Six, while another adds that "Harry and Meghan are panicked about trying to tone down even the most basic language. But it's their story, from their own mouths."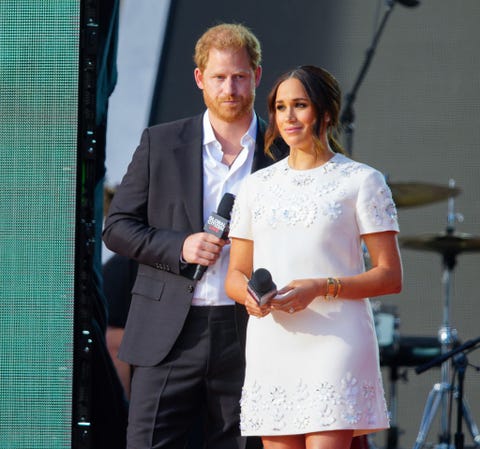 Apparently, the couple want to "cut chunks" from the docuseries, but Netflix isn't here for it.
"They've made significant requests to walk back content they themselves have provided — to the extent that some Netflix staff believe, if granted, it will effectively shelve the project indefinitely," a ~Netflix source~ explains. "Netflix is standing by the filmmakers."
Meghan and Harry are said to want to delay the docuseries until 2023, but "Netflix has made it clear that the project is going forward," so sounds like it could drop right after The Crown as originally planned.
Meghan spoke a bit about the docuseries during her interview with The Cut, and implied that it focuses on her relationship with Prince Harry. "The piece of my life I haven't been able to share, that people haven't been able to see, is our love story," she said, adding that she hopes "love wins" is "the sentiment that people feel when they see any of the content or the projects that we are working on."
Meanwhile, King Charles is reportedly waiting to make decisions about Archie and Lilibet's Prince/Princess titles until after the docuseries airs and Harry's memoir is published. A source told royal author Katie Nicholl, via Vanity Fair, that the titles "depends a lot on what happens in the coming months, particularly with Harry's book and their TV show."
Source: Read Full Article