Sad but true fact: Celebrity marriages don't always work out (and tbh, considering the intense scrutiny that A-listers face, it's more surprising when celeb relationships do stand the test of time). However, Nicole Kidman and Keith Urban are one of the rare Hollywood couples who've managed to make their love last, and after more than 15 years of marriage, these two are still going as strong as ever. Ofc, it hasn't always been smooth sailing for them, and while Nicole Kidman and Keith Urban's relationship timeline is pretty damn swoon-worthy, they've also hit some speed bumps along the way.
Nicole first met the country singer and American Idol judge back in 2005, just about four years after her ex-husband, Tom Cruise, filed for divorce. She and Tom had been married for over a decade, and as Nicole later told Vanity Fair, meeting Keith changed everything. "I would probably say that two very lonely people managed to meet at a time when they could open themselves to each other," she said. "We were a mixture of frightened and brave."
Since then, they've dealt with rehab stays, cheating rumors, and tons of career changes, but through it all, they've managed to keep cheering each other on. Ya love to see it!! Ahead, everything you need to know about Nicole and Keith's long-time love, including all the challenges they've faced along the way.
January 15, 2005
Nicole and Keith were introduced in January 2005 by actor Geoffrey Rush at the G'Day LA gala ball, a Hollywood event honoring Australians in the entertainment business. And though sparks flew right away, it apparently took Keith several months to actually ask Nicole out on a date.
As Nicole later recalled on The Ellen DeGeneres Show in 2017, "I remember thinking I had such a crush on him and he wasn't interested in me…He didn't call me for four months." According to Keith, he had her number, but he just didn't feel sure enough in himself to actually use it.
"I wasn't in a very healthy place in my life," he explained during a 2018 appearance on Interview, an Australian talk show. "I'd never have thought she'd see anything in a guy like me. But at some point, I plucked up the courage to call those numbers and she answered, and we started talking and we talked and talked and talked and talked and it was effortless."
February 8, 2006
It wasn't until February 2006 that Nicole and Keith made their debut as a couple at the 48th Annual Grammy Awards. And though they didn't walk the red carpet together, they did look very cozy in the audience.
May 16, 2006
After just about a year of dating Keith, Nicole hosted the 30th anniversary gala for the organization UNIFEM, after which she casually revealed that she and Keith were engaged. "He's actually my fiancé," Nicole said of Keith while chatting with People. "I wouldn't be bringing my boyfriend."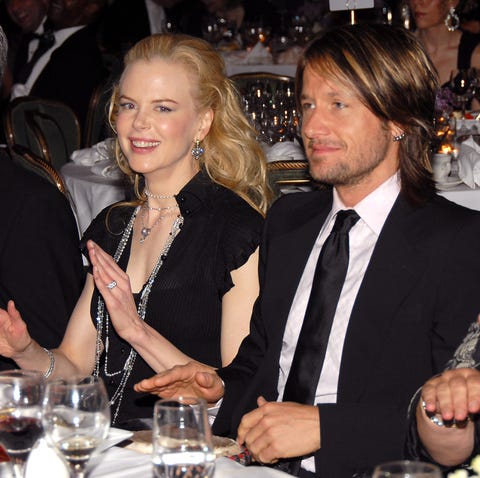 Keith's publicist later confirmed the news, telling Today, "They are very happily engaged," though he declined to discuss details of their wedding plans.
June 25, 2006
A little over a month after engagement news broke, Nicole and Keith tied the knot at Cardinal Cerretti Memorial Chapel on St. Patrick's Estate in Manly, Australia. The star-studded event included guests like Russell Crowe, Hugh Jackman, Naomi Watts, and Rupert Murdoch, among others.
https://www.instagram.com/p/BkeOI0ZgPMW/?utm_source=ig_embed&utm_campaign=loading
A post shared by Nicole Kidman (@nicolekidman)
"…when Nicole and Keith looked at each other it was like they were the only two people in the room," a source later told People. "They are so deeply in love. It was the most incredible wedding."
October 19, 2006
At Nicole's urging, Keith decided to check himself into the Betty Ford Center in Palm Springs for drug and alcohol addiction four months after their wedding day. "I deeply regret the hurt this has caused Nicole and the ones that love and support me," Keith said in a statement at the time, adding, "With the strength and unwavering support I am blessed to have from my wife, family, and friends, I am determined and resolved to a positive outcome."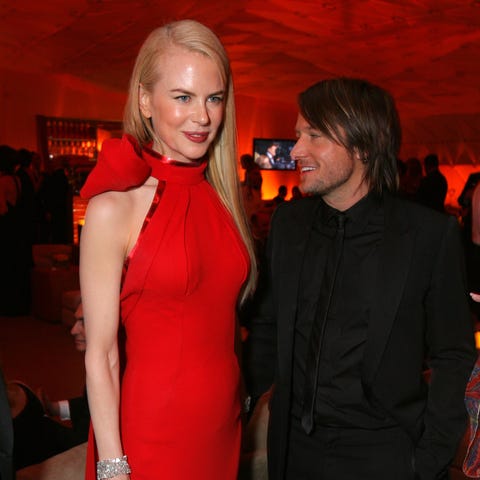 During a 2010 appearance on The Oprah Winfrey Show, Keith explained how the incident only made his bond with Nicole stronger. "It was really a profound moment in so many ways," he said of the intervention. "The way in which Nic handled that moment was just perfect…Everything was just designed, I believe, for that moment to fuse us together."
December 24, 2006
During Keith's rehab stay, model Amanda Wyatt made claims that Keith had cheated on Nicole multiple times with her leading up to their June 2006 wedding. "I feel sorry for Nicole. Keith cheated on her repeatedly with me, right up to just before they got married," Amanda told The Daily Mail in December 2006. "He's done it once, and he'll probably do it again." Neither Keith nor Nicole ever commented on the claims.
September 11, 2007
In a tell-all interview for Vanity Fair's October 2007 cover story, Nicole opened up about supporting Keith through his rehab stint. "I've learned an enormous amount having a relationship with someone who is in recovery," she told the magazine. "I'm more than willing to walk it with him. The two of us are very committed to our relationship." Later, she added, "We were in a very, very, very bad, painful place, and have managed to step through it, and I hope that gives some people some hope who may be in the same place."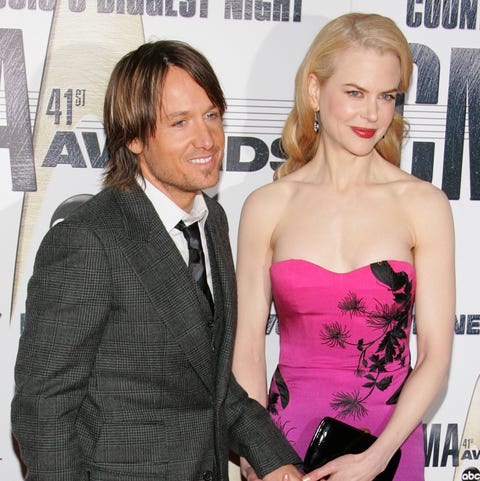 Nicole also spoke about wanting to start a family with her new husband. "I'm yearning to have one. I think I would be very sad if I wasn't able to have a baby," she said. "Keith knows I want one, and he has been getting there slowly."
January 7, 2008
Not long after Nicole expressed her desire to have kids with Keith, her rep confirmed they were "thrilled" to be expecting. And though Nicole was due to start filming the post-World War II drama The Reader, she decided to pull out of the project due to her pregnancy and was replaced with Kate Winslet.
July 7, 2008
Less than a month after celebrating their two-year wedding anniversary, Nicole and Keith welcomed their first child together, Sunday Rose. According to People, the name is a combination of Keith's grandmother, Rose, and Australian art patron Sunday Reed.
https://www.instagram.com/p/Bk8YmOKlIDW/?utm_source=ig_embed&utm_campaign=loading
A post shared by Nicole Kidman (@nicolekidman)
Though Sunday Rose is Keith's first child, she is actually Nicole's third, since she shares two adopted children, Bella and Connor, with Tom Cruise.
December 29, 2010
Just before the new year, Nicole and Keith welcomed their second child, Faith Margaret, via surrogate. "Our family is truly blessed, and just so thankful, to have been given the gift of baby Faith Margaret," the couple said in a statement. "No words can adequately convey the incredible gratitude that we feel for everyone who was so supportive throughout this process, in particular our gestational carrier."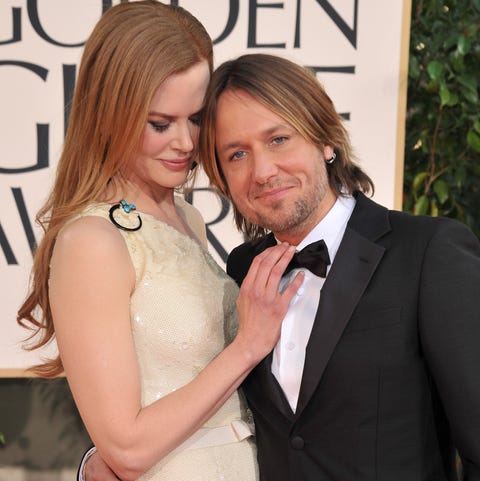 Fans were shook by the news, especially since Nicole and Keith didn't spill the beans until weeks after the fact (and even managed to keep their new addition a secret when they attended the Golden Globes in January 2011).
January 5, 2011
Not long after welcoming their second daughter, Nicole gushed about Keith in an interview for Harper's Bazaar with Jennifer Aniston. When asked whether it was love at first sight with Keith, Nicole told Jennifer, "I remember thinking, 'Oh, my God, if you ever gave me a man like that, I promise I would be completely devoted for the rest of my life.' Something that wild. I remembered praying after I met him that I'd meet somebody, if not him, like him."
May 3, 2012
Likewise, Keith couldn't help but gush about Nicole during his own interview with the Australian Women's Weekly. When asked what first attracted to him to Nicole, he said it was impossible to choose just one thing. "She's my spiritual other half," he told the magazine. "We ask ourselves if we would like to have met each other in our 20s, so we could have had more time together, but the trade-off may have been that we wouldn't have had the same amount of life experience to bring together and really make something of substance."
September 14, 2014
After unexpectedly losing her beloved father to a heart attack in 2014, Nicole turned to her husband for support. As she later explained to Ellen DeGeneres, "He has been so good to me for nine years, but for the last sort of month—which has been a really tough time for me—when you have your partner who just literally carries you through a tough time, he's been amazing to me."
https://www.instagram.com/p/CQXt6CuHp9D/?utm_source=ig_embed&utm_campaign=loading
A post shared by Nicole Kidman (@nicolekidman)
Later, she added, "To have my husband to step up in that way, it makes me cry. He's amazing. And literally, at times…to be literally carried by your partner, physically at times, because I was so devastated, it's just like, 'I'll do anything for that man.'"
November 5, 2014
Pause for a cute moment: Keith decided to show a lil PDA on the red carpet at the 2014 CMA Awards by grabbing Nicole's butt:
Cheeky!!
July 20, 2015
During an interview with Vogue, Nicole said she wished she'd met Keith earlier in life…if only so they could have had more children together. As she explained, "I wish I could have met him much earlier and had way more children with him. But I didn't. I mean, if I could have had two more children with him, that would have been just glorious. But as Keith says, 'The wanting mind, Nicole. Shut it down.'"
June 16, 2016
During an interview with Rolling Stone, Keith got candid about how Nicole helped him get sober by urging him to go to rehab. "I caused the implosion of my fresh marriage," he told the magazine. "It survived, but it's a miracle it did. I was spiritually awoken with her. I use the expression 'I was born into her,' and that's how I feel. And for the first time in my life, I could shake off the shackles of addiction."
https://www.instagram.com/p/BHFBk16BDkm/?utm_source=ig_embed&utm_campaign=loading
A post shared by Keith Urban (@keithurban)
Not long after, Keith posted an presh throwback on IG from their first meeting back in 2005 in honor of their 10th wedding anniversary. "Our very first photo together 2005, minutes after being introduced to each other," he captioned the pic. "HAPPY ANNIVERSARY BABY. LOOOOOOOOVE YOU!!!!!!!!!"
February 26, 2017
Another award show, another butt grab—though this time, Keith decided to grab Nicole's butt at the Academy Awards.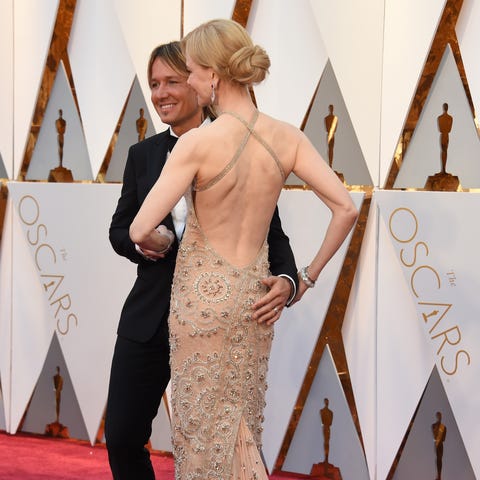 These two T-R-U-L-Y can't keep their hands off each other.
October 24, 2018
Nicole revealed the "secret" to her happy marriage with Keith during an interview with Harper's Bazaar, explaining that they're all about making time for each other. "Obviously, I work hard, but when I'm off, I'm off," she told the magazine. "Keith and I are very good at immediately clicking off because we have a really good life in Nashville that's very simple, quiet, and nourishing because we've made it like that."
March 8, 2019
During an interview with iNews UK, Keith revealed that the ~risqué~ 2018 song "Gemini" from his album Graffiti U was actually written about his wife. "The song is actually about Nicole—and she loves it," he said at the time. "It's a fun song. My cowriter Julia Michaels asked me to describe Nicole and that's what came out."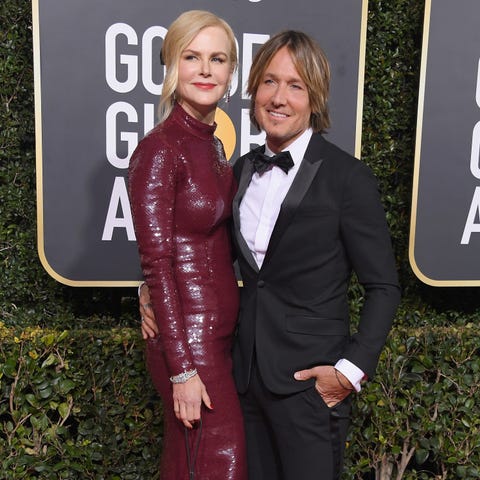 However, Nicole later confessed she was *slightly* embarrassed by the NSFW lyrics (especially the line "She's a maniac in the bed, but a brainiac in the head"). As she explained during an appearance on the Kyle and Jackie O radio show, "I don't sensor his art, but it is a little embarrassing. It's better than saying, 'God, I'm so bored. Make an effort, Nicole!'"
May 29, 2019
While chatting with Entertainment Tonight, Nicole credited Keith with helping her get through some of her more difficult scenes for the second season of Big Little Lies. "I have the most extraordinary partner in life. I will always say that about him," she told Entertainment Tonight. "I'm one of the very fortunate women in the world to have had a wonderful father, and I have a wonderful husband, and I'm just very—I love to be able to say that because to talk about the good men that have influenced me and affected me."
June 25, 2021
For their 15th wedding anniversary, Keith posted a mushy selfie of himself and Nicole from the previous Christmas. "Happy anniversary babygirl !!!!!!!" he captioned the photo. "my life started when you said 'I do' 5475 days ago today."
https://www.instagram.com/p/CQkDFFMrgZu/?utm_source=ig_embed&utm_campaign=loading
A post shared by Keith Urban (@keithurban)
And Nicole decided to go a v different route, posting a racy pic to her grid that showed Keith licking her neck. Hot!
January 28, 2022
While promoting Being the Ricardos on CBS Mornings, Nicole took the opportunity to gush about her hubs to co-host Gayle King. "I met him later in life, and it's been the best thing that's ever happened to me," she said of Keith. "That man is the best thing that's ever happened to me."
Thanks for helping us believe in true love, you two.
Source: Read Full Article