Okay y'all, Khloé Kardashian has been having A TIME recently: Earlier this week, she had to deal with court papers filed by her ex Tristan Thompson's ex-girlfriend Jordan Craig claiming that the stress Khloé and Tristan's relationship caused her resulted in "serious pregnancy complications." Now, fans are out here thinking that Khloé got a nose job and consequentially looks like mom Kris Jenner.
But that's not even the end of it! Khloé's ex-husband Lamar Odom spent most of the last month promoting his new memoir, Darkness to Light. And in it he shares some pretty intimate details about his relationship with Khloé, including talking about their joint income, how he would hide is drug addiction from her, and how one time he threatened to kill Khloé while he was high. Oh—and there's also tons of non-Khloé related bombshells in the book too, like Lamar revealing that he's slept with over 2,000 women, as well as a very detailed retelling of how he used a prosthetic penis to pass a drug test in 2004.
There was speculation at the time that Khloé and her fam might be kinda pissed about Lamar sharing these pretty personal anecdotes with the public. However, it looks like Khloé isn't mad about it at all—she actually seems proud of how far Lamar has come.
Yesterday, Lamar shared on Insta that his book was a #6 New York Times Best Seller, and even tagged Khloé in the post, thanking her.
Wow don't know where to begin. We did this! We made @nytimes best sellers list for my first book, Darkness To Light! What felt like a lifetime of writing and working on this project finally came to Light and I am grateful to YOU ALL! Your continued support and love is appreciated! It took a lot of courage for me to get so raw and candid with you all but I wanted you guys to get MY true story! I want to thank the best kids in the world @iamdestinyodom and Lamar Jr. ya'll are my rock. Thanks for sticking with me during my hardest times. My true fans, my friends and family love ya'll, @khloekardashian , @benbellabooks and my entire publishing team, my co-author Chris Palmer and last but not least the best publicist in the world @evesarkisyan for always doing your thing. #darknesstolight #nytimesbestseller
A post shared by Lamar Odom (@lamarodom) on
Her response to all of this? "Look at God!!! Congrats Lammy! Keep shining ✨🙏🏽"
How far we've come. #CommentsByCelebs
A post shared by Comments By Celebs (@commentsbycelebs) on
We can all only hope that Khloé and Tristan will eventually get to this level of supportive ex-hood.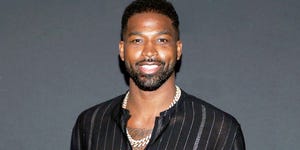 Source: Read Full Article