It's no secret that some of your fave celebs have a little extra cosmetic help to make them feel their best, but Jennifer Lopez is letting it be clear that she is not one of them. After posting a vid of her skincare routine last week, a person in her Instagram comments had the nerve to tell J.Lo "you definitely have Botox. And tons of it. And it's all good. Just saying." (Um, rude???)
Thankfully, J.Lo didn't let the user's comment slide and wrote: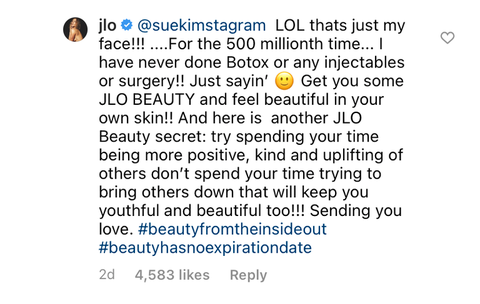 In a new interview with People, J.Lo addressed the rumors again and was pretty adamant that her skincare line, JLO Beauty, is the only thing she uses on her face. And as for Botox? Yep, J.Lo has no issue with others doing what they'd like with it, but she isn't one of those people.
"I don't judge anybody," J.Lo said. "If you want to do Botox and injectables, that's fine! But I don't want people lying on me and saying, 'Oh, she's trying to make believe that this stuff works.' No, I'm telling you what I do that works! Please don't call me a liar. I don't have to lie about things. I've been pretty honest about my whole life."
J.Lo also added that if she were to get Botox, she would be completely transparent about it instead of lying to her fans. "If I had, I would say, 'Yeah, you're right,' but I don't want people going, 'Stop lying, you're doing this, you're doing that,' when that's just not true," she said. "I just felt it had to be set straight, but in a loving way. And one of my big beauty secrets is that I try to be kind to others and lift up other women. I think that that is important for us to do for each other instead of trying to tear people down."
That all said…lemme get my credit card ready so I can purchase one of her products real quick.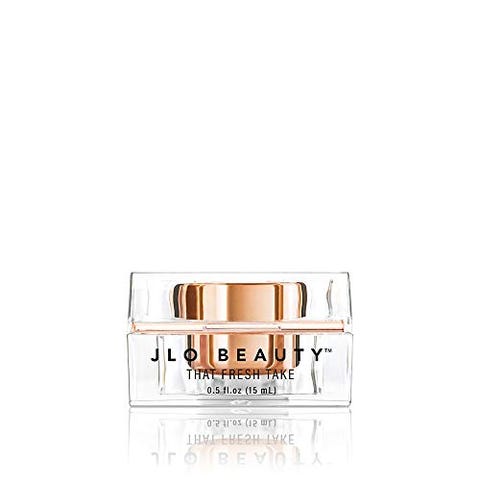 Source: Read Full Article