Dove Cameron is a force to be reckoned with. The singer/actor/musical theater star/Emmy winner is seemingly keeping twelve irons in the fire at all times, and the regular cadence of projects has not misted her perspective one bit. The artist is gearing up for the 2022 VMAs tomorrow—where she'll be headlining the pre-show alongside Saucy Santana and Yung Gravy while also nominated for Best New Artist—and before you watch her take the stage, it's worth taking a closer look at the actual body of work she's being recognized for.
One of her songs, "Boyfriend," features Dove embracing her queer identity, and it absolutely blew up on TikTok. Her most recent release, a music video for "Breakfast," has already hit 1.5 million views in less than four days and is an incisive commentary on power dynamics that was conceptualized after the Supreme Court overturned Roe v Wade. Melding catchy music with messages that carry greater weight is basically a Dove signature at this point, and she wouldn't have it any other way.
Before she performs tomorrow and possibly (hopefully) wins her first Moonman trophy, Dove took a moment to answer some of Cosmopolitan's questions about her music, the VMAs, and, of course, the "Breakfast" video, below.
The 2022 MTV VMAs pre-show will broadcast live on Sunday, August 28 from the Prudential Center in New Jersey at 6:30 p.m. ET. The show will start at 8 p.m. ET. For the third consecutive year, the 2022 MTV VMAs will simulcast on The CW Network, making the show available to an expanded broadcast audience in addition to BET, BET Her, CMT, Comedy Central, Logo, MTV2, Nickelodeon, Paramount Network, Pop, TVLand, and VH1.
Tell me about when you found out you were nominated for Best New Artist.
I remember waking up to a bunch of texts like, 'Congrats on the nomination!' And I had absolutely no idea. That is really wonderful, something acknowledging work I've done.
I'm always, like, two feet in front of me, folding laundry writing in 100 journals, and trying to just get through my day, that the awareness that other people are perceiving me is fairly low. And I know that sounds funny for someone whose job is to make things and then put them out into the world, but I think because I'm consumed with making the things, it's like boiling 100 pots. When someone's like, 'Oh, yeah, I've seen your thing.' I'm always like, 'What? Oh, right. Yes, there are cameras when we filmed that show.' And so I was really shocked. I think I probably cried, and I called my mom and I was like, 'Mom, you don't understand, this is the biggest deal.' I'm very moved.
#VMA Best New Artist Nominees
🚀 @babykeem
🚀 @DoveCameron
🚀 @whoisgayle
🚀 @Latto
🚀 @thisismaneskin
🚀 @pledis_17
"Boyfriend" was such a surprise for me, the way it unfolded, and I didn't expect anyone to ever hear it, let alone have it be on mainstream radio or make sort of any sort of mainstream impact. The fact that it's a queer song, and I'm probably nominated this year based on that queer song, is just all the more meaningful because I think it connects us all, and I feel like I exist solely for for human connection. So it's very exciting. I'm still trying to wrap my head around it.
Congratulations on all the success, we love "Boyfriend" over here. You said you called your mom when you found out about your nomination, how did she react?
My mom is perpetually, like, joyously surprised. She's so the antithesis of the stage parent. It was funny, when we moved to L.A., I was the one being like, 'This is what we need to do, and this is where I need to go.' I was 13, being like, 'Mom, come on.' My mom is so supportive, she wouldn't care if I was doing any line of work. She wouldn't care if I was like, 'I'm gonna go be a nomad in the woods.' She'd be like, 'I love it for you and your spirit journey.' Whatever makes me happy is what she wants me to do, which is wonderful.
And so whenever I call her with some piece of good news, I always kind of have to be like, 'Mom, this is so amazing!' And she's like, 'I know,' and I'm like, 'No, Mom, you think everything's amazing.' I have to hit her over the head with what a big deal this is. But she's always so supportive. She wakes up supportive.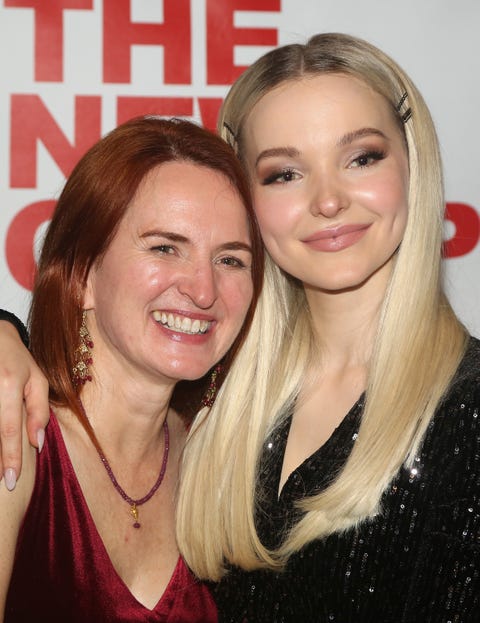 You know, I'm very lucky to have the family that I do. I told my sister [about the nomination] and my sister loves to send long monologue texts about how she's like, 'I knew when you were 2, and I was 9, and you're the sun child of whatever.' My family is in a perpetual state of support and euphoria, and I'm the black sheep. So they were very happy, as they usually are.
Your new music video for "Breakfast" is quite powerful. Why did now feel like the right time to put it out in the world? And what do you hope fans take away from it?
We had no idea we were going to be making such a political statement or a video with as much emotion when "Breakfast" was released. And then when Roe v Wade got overturned and I was up in Canada shooting the second season of Schmigadoon!, I was waking up every day sobbing. I was unable to even look at my phone. I think so much of the world was feeling that way.
I was feeling like I was thrust back into the throes of my worst depressive times. I was listless. And I was lucky because my mother was able to fly out, because I was like, 'Hey, SOS, I actually think I'm not okay right now.' That's something I've really learned about my mental health, I just don't do it alone anymore. I always communicate if I feel like I'm about to be in a space that feels like I need help and attention. And I texted her, I was like, 'Hey, can we get on a phone call?' And she was like, 'I think I'm gonna fly out to see you.'
While we were out there, we were diving deep into what could be done. I was tearing my hair out, because it took such little time to dismantle Roe, but it's going to be 50 years until we make any sort of serious headway with getting our rights back. And I was just crying every day. I was filming and I was getting my job done, obviously, I was doing everything I absolutely had to, but anything beyond that…I was having a hard time even eating.
The label was very kind. I said, 'I really don't know how to promote this song right now. I'm feeling so phony. I don't know how to be present on the internet when I feel like I don't even know how to walk.' And they were like, 'Absolutely, take time.' I said, 'I'll be back when I have something to say.' Then we started to talk about what it is that I wanted to say, and what conversation I felt we should be having. I didn't want my young fans to feel so overwhelmed by the news cycle and to feel so disempowered that they forgot this is their issue, and they forgot there's something to be done, and they forgot there's a use for their their pain and their anger and their passion. I don't want young women to feel so disillusioned that we just give up the fight.
We started to think about what that would be, what is the emotion we wanted to convey in a video that would hopefully unite young women and people who care about women into feeling like they're a part of the conversation and to feeling like democracy is a part of their daily language. And I feel like hopefully, we really did that. That's something I plan to do in every possible way for the rest of my career. I plan to keep it going literally until the day I die. There's nothing more important than making the world better for the populace, and it's all of our responsibility. If you have a platform, it's double your responsibility. Triple, 100 times over!
That is a beautiful answer. Is there anything else you want Cosmo readers to know?
Yeah, absolutely. I really want Cosmo readers to know about these four organizations that I plug at the end of my video: Supermajority, HeadCount, EMILY's List, and National Network of Abortion Funds. With the upcoming election in November—"Roe-vember" as me and my political group have started to refer to it—is so important, we can't let the wind in the sails die down. We can't forget what we're fighting for. We also have to remember that the pro-choice camp, we are the majority. It's not so stacked up against us that nothing can be done. I don't want people to feel they're powerless in this. Their voices can be heard.
We're unstoppable, you know. Gen Z and this younger generation that I feel so lucky to be part of is so liberal, is so hope-filled, is so determined, and is so pissed off. I don't want anyone to forget that, because it feels like the world is burning. I really implore everyone to look into Supermajority and EMILY's List and National Network of Abortion Funds especially, and I will be employing HeadCount at my music events going forward, hopefully next year. Remember that democracy is for you. It's not supposed to work against you. And we've got this. We are the majority, don't give up! We're going to come out and show up and show out in November. I am proud of us, and I believe in us. Don't give up the fight. This is not the end.
This interview has been lightly edited and condensed for clarity.

Source: Read Full Article