Sharing their thought on weight stigma, the 'Heart Attack' singer reminds others, 'Even if your intention is pure, it might leave that person awake at 2 am overthinking that statement.'
AceShowbiz –Demi Lovato has issued a warning over the damaging effect of weight loss compliments. Less than a week after coming out as non-binary, the "Skyscraper" hitmaker urged others in a series of powerful Instagram Story posts against making such remarks, arguing that it could be "harmful."
On Sunday, May 23, the "Heart Attack" hitmaker explained why they believe weight loss compliments can be destructive. Their lengthy message began with, "Idk who needs to hear this but complimenting someone on their weight loss can be as harmful as complimenting someone on their weight gain in regards to talking to someone in recovery from an eating disorder."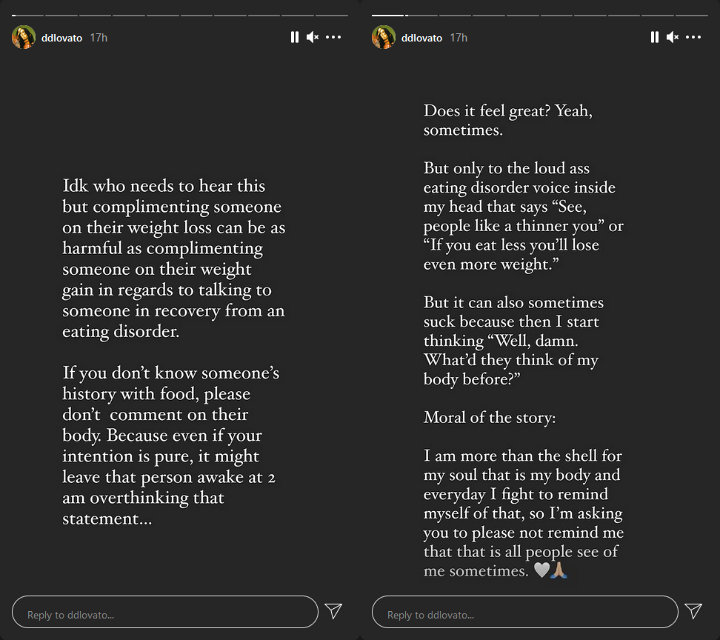 Demi Lovato issued a warning over the damaging effect of weight loss compliments.
Demi, who has struggled with an eating disorder, urged people to stop commenting on others' bodies. "If you don't know someone's history with food, please don't comment on their body," the 28-year-old singer pleaded. "Because even if your intention is pure, it might leave that person awake at 2 am overthinking that statement…"
In the following Story, the "Sorry Not Sorry" singer continued, "Does it feel great? Yeah, sometimes." They added, "But only to the loud a** eating disorder voice inside my head that says 'See, people like a thinner you' or 'if you eat less you'll lose even more weight.' "
"But it can also sometimes suck because then I start thinking 'Well, damn. What'd they think of my body before?' " the "Camp Rock" star said. Elaborating further, they penned, "Moral of the story: I am more than the shell for my soul that is my body, and every day I fight to remind myself of that. She then concluded her post, noting, "So I'm asking you to please not remind me that that is all people see of me sometimes."
Demi's statement came just four days after they came out as non-binary. At the time, the ex-fiancee of Max Ehrich revealed that they have changed their pronouns in a clip they posted on Instagram from the first episode of their "4D with Demi Lovato" podcast. "Today is a day I'm so happy to share more of my life with you all – I am proud to let you know that I identify as non-binary and will officially be changing my pronouns to they/them moving forward [love]," they announced.
Source: Read Full Article