After the 'Maleficent' actress' failed hair extensions go viral, the former 'Vanderpump Rules' star says she wants to know 'who decided to give this queen unblended extensions.'
AceShowbiz –Angelina Jolie's failed hairstyle at "Eternals" premiere at the Rome Film Festival is facing backlash after going viral on social media. Among those who criticized the "Maleficent" actress' "unblended" extensions was "Vanderpump Rules" alum Stassi Schroeder.
On Monday, October 26, the 33-year-old former reality star took to her Instagram Story to share a photo that saw Angelina posing on the red carpet. She even drew a neon purple arrow on the image to point out exactly where the actress' real hair stopped and the extensions started.
"Before I say goodnight, I'd like to know who decided to give this queen unblended extensions," Stassi captioned a photo of the back of Angelina's head. The New York Times best-selling author added, "Okay, what I'm truly asking is who is fired right now?"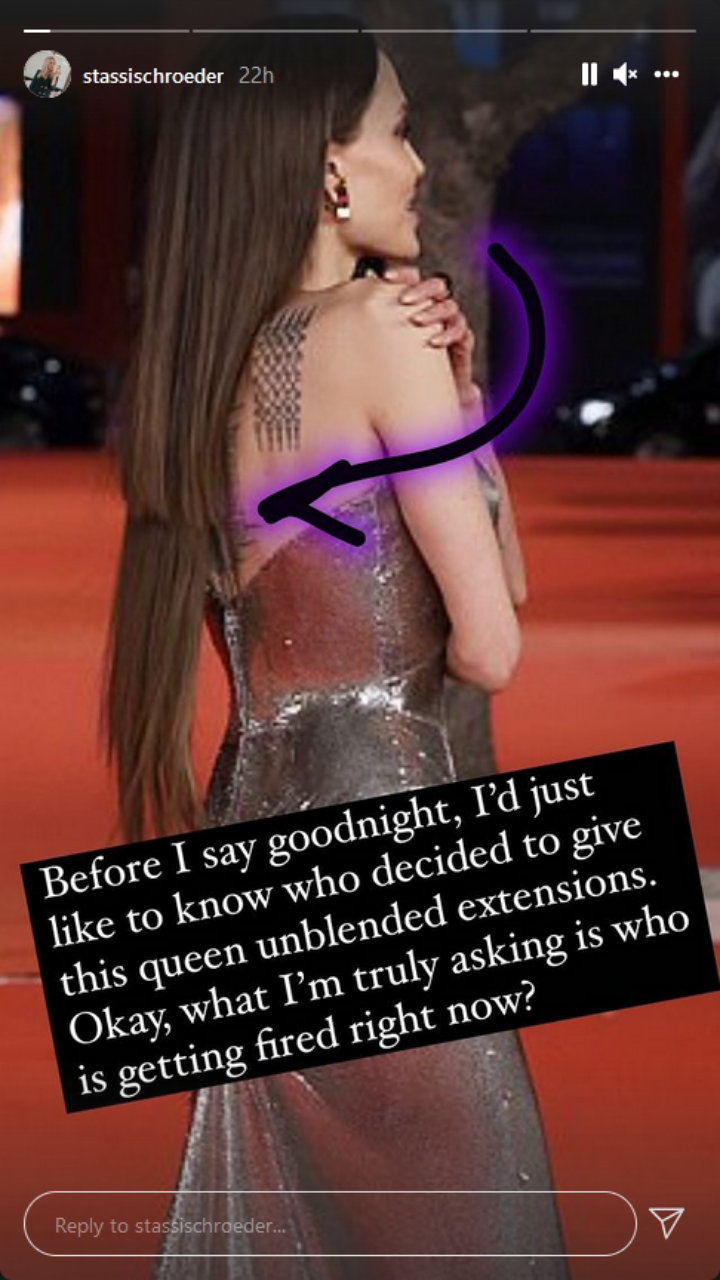 Stassi Schroeder called out Angelina Jolie's failed hair extensions.
Stassi wasn't the only one to call out the mishap. Angered fans wasted no time taking to Twitter to criticize Angelina's failed hair extensions. "Where is the loyalty? Who let Angelina Jolie leave the house with these extensions?" a user questioned. Another person quipped, "The dress is perfection but did one of the children get angry and take a scissors to her hair in the middle of the night?"
"How do you let Angelina Jolie walk a red carpet with her hair extensions looking like this, somebody getting fired," a separate Twitter user wrote. Another penned, "Who did Ms Jolie this dirty with those hair extensions."
While many slammed Angelina's failed extensions, there's still a fan who came to the star's defense. "If anyone can pull off s**t extensions it's Angelina Motherf**king Jolie. Send tweet," a social media user argued.
For the "Eternals" premiere, Angelina looked glam in a strapless dress made from the fashion house's iconic metal mesh, a fabric made by Gianni Versace back in the '80s. To create her elegant look, the mesh was draped around her body, gathered at the breast and waist, making it look like the garment was practically poured onto her.
Angelina completed the look with her straight hair, some simple Vhernier jewels and a pair of silver and open-toed heels. The 46-year-old actress walked on the red carpet with her two daughters, 16-year-old Zahara and 15-year-old Shiloh. For the special occasion, Zahara wore a Grecian-style white gown from Catwalk Designer Vintage. In the meantime, Shiloh wore a black a-line Versace dress with yellow and black sneakers.
Source: Read Full Article