A fellow concertgoer took photos of the 'Eternals' star and the 'Save Your Tears' hitmaker attending the private concert of Mustafa the Poet in Los Angeles.
AceShowbiz – Angelina Jolie and The Weeknd have just added fuel to rumors that romantically link them to each other. Days after they were caught enjoying a dinner date together, the alleged lovers were spotted on another "secret date."
In Deuxmoi's Instagram Story, a fan took photos of the "Lara Croft: Tomb Raider" star and the "Can't Feel My Face" singer at Mustafa the Poet's private concert in Los Angeles. The two stars were not seen sitting side by side in the snaps, but they seemed to be in the same dimly-lit room.
Angelina sported a dark jacket and flashed a smile in one of the pictures as she posed with a fellow concertgoer. In another photo, The Weeknd was seen wearing a denim jacket on top of a dark T-shirt while also wearing dark shades.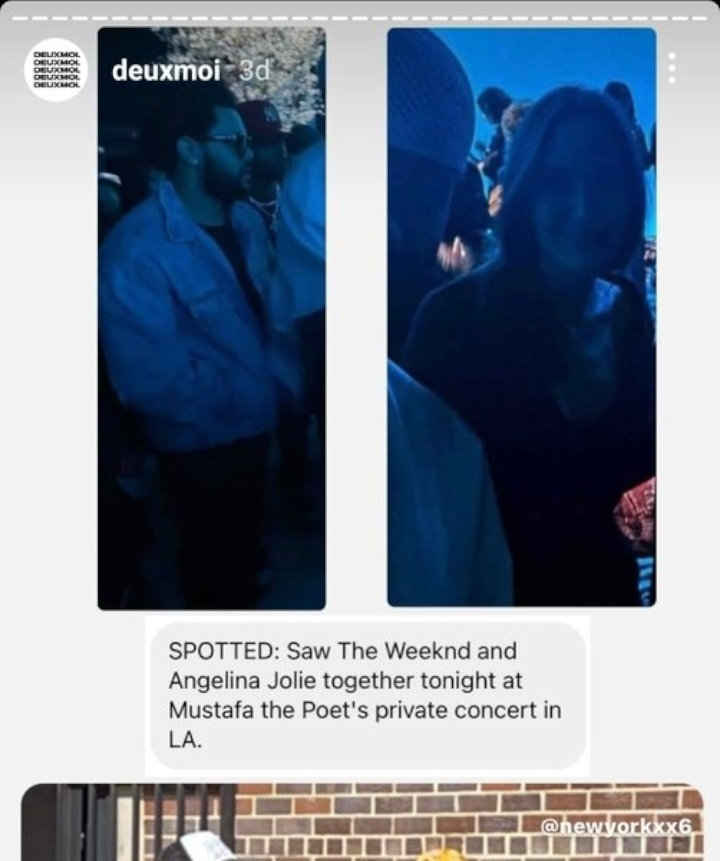 Angelina Jolie and The Weeknd's were spotted on another 'secret date.'
The Weeknd was reportedly with a group of friends at the concert, while Angelina was sitting with her daughters Shiloh, 15, and 16-year-old Zahara.
Their private concert outing came just days after Angelina and The Weeknd were spotted leaving celebrity hot spot Giorgio Baldi in Santa Monica on July 1. As reported by The Sun, the 46-year-old actress and the 31-year-old musician spent hours at the high-end Italian restaurant before leaving separately.
Despite their night out that set the Internet into a frenzy, a source close to the "Save Your Tears" hitmaker told the publication that they are "just friends." The so-called insider spilled, "Ange has been in contact with Abel for a while, he was in New York at the same time as her and the kids."
"They met up for lunch in private. She took Pax along because he's a big fan and they got along really well, he was obviously thrilled," the source added. "They are just friends, but who knows it could be more in the future, he's made no secret of the fact he has a huge crush on her."
Another explained to Page Six, "They're clearly not trying to hide [the dinner date]. He's definitely focused on getting to the movie business. He has the new HBO series he's starring in."
Source: Read Full Article